'Tulip Fever' Trailer: The Delayed Weinstein Company Drama Is Finally Coming Out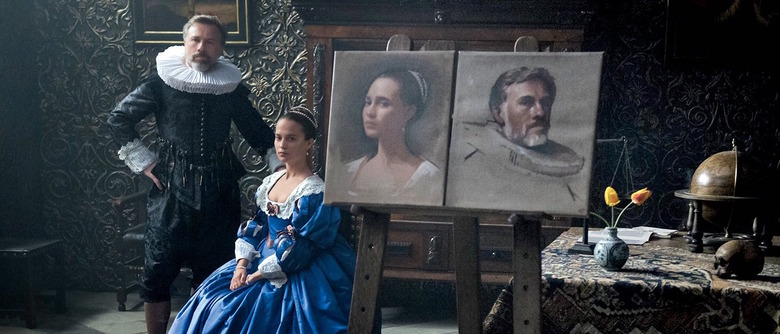 It was almost a year ago the first trailer came out for Tulip Fever. Director Justin Chadwick's (Mandela: Long Walk to Freedom) period drama was originally scheduled to come out last July, but The Weinstein Company pushed the release date back twice. Days before it was set to open in February, the distributor again postponed its release.
About three years after the drama, which stars Alicia Vikander, Christoph Waltz, and Dane DeHaan, was shot, it's finally coming out in August. Below, watch the Tulip Fever trailer.
Last July, The Weinstein Company explained the reason for the delay was so that Vikander and Waltz would have more availability to promote Tulip Fever at a later time. They're both busy actors, so the move made sense. TWC didn't provide reasons for the delays that followed, but Chadwick's drama is far from the first movie to sit on the shelf for a little too long at the studio.
Legendary playwright Tom Stoppard ("Rosencrantz and Guildenstern Are Dead") wrote the adaptation of Deborah Moggach's novel. Moggach's story is about a young woman in 17th Century Amsterdam, Sophia (Vikander), who's married to a wealthy older man (Christoph Waltz). She begins an affair with the man hired to paint a portrait of her and her husband, Jan (Dane DeHaan). Appearing beside DeHaan in the film is his Valerian and the City of a Thousand Planets co-star, Cara Delevingne, along with Judi Dench, Jack O'Connell, Tom Hollander, and Kevin McKidd.
Here's the Tulip Fever trailer:
Romance and intrigue don't mix well in this trailer. The music that starts when Jan enters the trailer isn't appropriate, and when it's repeated later, it's only more jarring. It sounds more like what we'd expect from a modern day thriller, not a forbidden love story set in 1634. The production design and costumes stand out, as they tend to in period pieces, but even the shots of Jack O'Connell make this trailer more awkwardly paced and structured.
Since audiences aren't accustomed to seeing Zach Galifianakis in a movie like Tulip Fever, his sudden appearance towards the end is a slightly jarring as well. Galifianakis is a good actor, though, so at the very least, the trailer leaves me interested in seeing his work in Chadwick's film.
Here's the official synopsis:
Set in 17th century Amsterdam, Tulip Fever follows a married woman (Alicia Vikander) who begins a passionate affair with an artist (Dane DeHaan) hired to paint her portrait. The lovers gamble on the booming market for tulip bulbs as a way to raise money to run away together.
Tulip Fever opens in theaters August 25.