'Once Upon A Time In Venice' Trailer: Bruce Willis Wants His Dog Back From Jason Momoa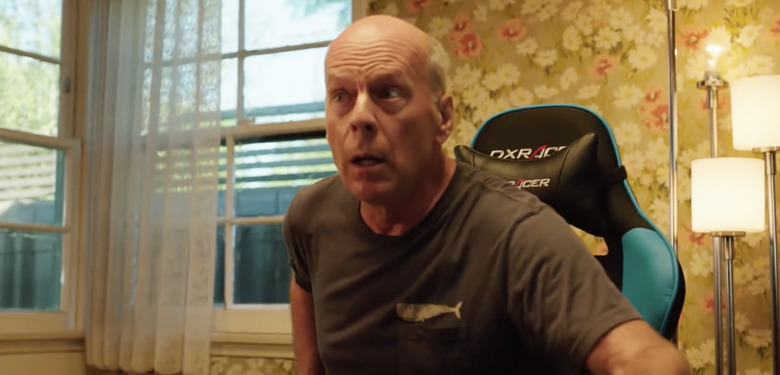 It looks like Bruce Willis is on the verge of following in the footsteps of John Cusack and Nicolas Cage by starring in movies that no one sees or cares about. Did you see The Prince, Vice, Extraction, Precious Cargo or Marauders? Those are all real Bruce Willis movies released in the past few years that almost no one knew existed. Now another entirely forgettable movie is on the horizon for the actor, but this one looks batshit crazy enough that I just might have to see it.
Once Upon a Time in Venice follows Bruce Willis as a Los Angeles private investigator who gets caught up with some dangerous people after they steal his dog. But this isn't a serious tale of revenge for man's best friend like John Wick. No, instead this looks like a movie that is desperate to be a Shane Black or Quentin Tarantino movie, but the trailer has been cut by someone who just learned how to use iMovie on their Macbook.
Watch the Once Upon a Time in Venice trailer after the jump.
Once Upon a Time in Venice Trailer
What's frustrating is that I would love to see Bruce Willis in a dark comedy like this, something in the vein of The Nice Guys or The Big Lebowski. But the trailer makes this movie look absolutely lame. There's no room for the jokes to land, which aren't that good, to begin with; there's no rhythm to the editing, not even to the awful soundtrack; and it just looks like a complete clusterfuck. There's a moment where Bruce Willis is skateboarding naked and another where he's running through a hallway in drag. What the hell is going on here?
The only redeemable part might be Jason Momoa as a friendly but deadly drug dealer, if only because it might let him spread his charismatic, comedic acting chops a little bit. It's just a shame that he doesn't have a better venue to showcase those talents than this poor excuse for a John Wick remake that looks like it was directed by the guy who made Dude, Where's My Car?.
Bruce Willis is inexplicably joined by John Goodman, who will hopefully be a bright spot in the film, as well as Silicon Valley star Thomas Middleditch and X-Men franchise star Famke Janssen. And if you remember how bored Bruce Willis seemed in Cop Out (especially if you have heard stories from director Kevin Smith), then you pretty much know how this is going to work out, because it's from the same writing duo of Robb & Mark Cullen.
Steve Ford (Bruce Willis) is a down but not out L.A based Private Investigator whose professional and personal worlds collide after his loving pet Buddy is stolen by a notorious gang. A series of crazy circumstances find him doing the gang's bidding, while being chased by two vengeful Samoan brothers, a loan shark's goons, and a few other shady characters. They say a dog is a man's best friend, and Steve shows how far a man will go to be reunited with him.
Once Upon a Time in Venice arrives on June 16.