Cool Stuff: Three Stunning 'La La Land' Prints Are For The Fools Who Dream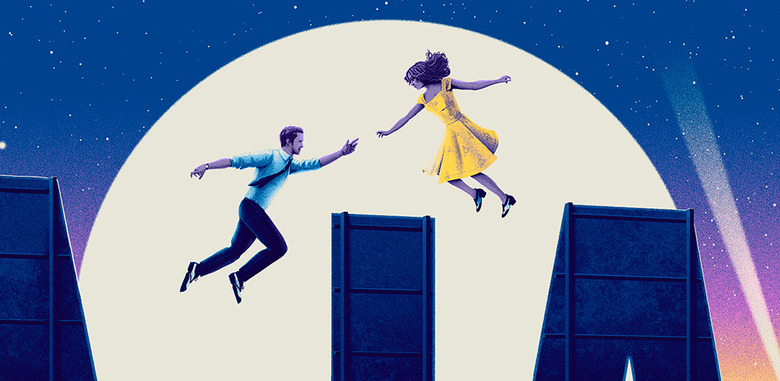 Today brings the Best Picture nominee (and mistaken winner) La La Land to Blu-ray and DVD for audiences to watch over and over again. Personally, I know that I'm excited to watch that uplifting opening musical number, even if it means getting my heart broken at the end of the movie. In addition to bringing La La Land into your home, there's another item that you can purchase to show your love for the classic-style musical.
Hero Complex Gallery has release three gorgeous La La Land prints, two by Stan & Vince and one by Patrick Connan, each paying tribute to the movie starring Ryan Gosling and Emma Stone. Check out out after the jump along with details of where and when to get them.
First up, here's the regular version of Stan & Vince's La La Land print, "Here's to the Fools Who Dream...":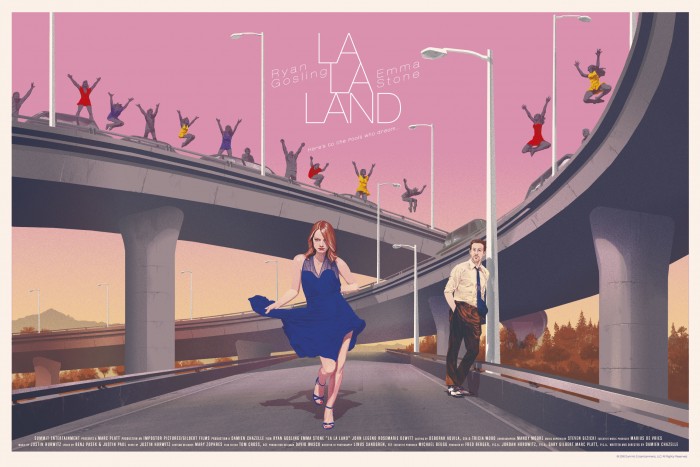 Secondly, here's the variant version of the same print with the starry night aesthetic from the official poster: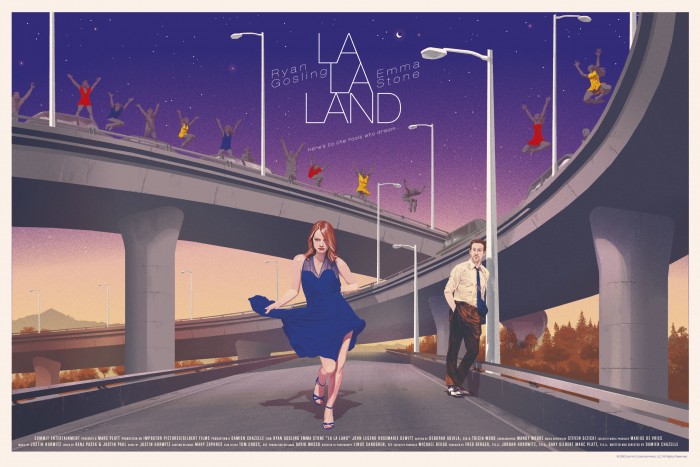 And finally, here's Patrick Connan's print, "City of Stars", which is my favorite of the releases: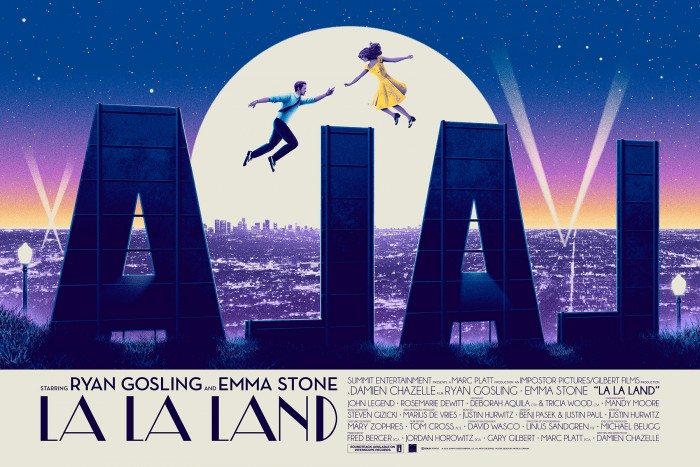 The regular version of Stan & Vince's print has an edition of 325 and will cost $60 while the variant has an edition of 250 and will cost $65. Both measure 24x36 inches. Meanwhile, Patrick Connan's print has an edition of 325 and will cost you $60.
All of the prints go on sale at 1pm ET/10am PT over at the Hero Complex Gallery shop right here.
A devotee of the jazz legends Bud Powell and Thelonious Monk, Sebastian (Ryan Gosling) plays a mean piano himself and is determined to uphold the values of the old masters. His plans include opening his own club, but to make ends meet he's stuck playing tepid cocktail jazz in a humdrum Los Angeles restaurant. Mia (Emma Stone) is a movie buff with an eye for the classics who aspires to be a serious actress. For the moment, the closest she comes to seeing stars is serving lattes in the canteen on the Warner Bros. lot.
Sebastian and Mia meet cute no less than three times before diving headlong into a life-altering romance, but is their love strong enough to weather disappointment, compromise, and ever-burgeoning periods apart?
La La Land is available on home video now in various formats.