Dwayne Johnson And Jason Statham Are Getting A 'Fast And Furious' Spinoff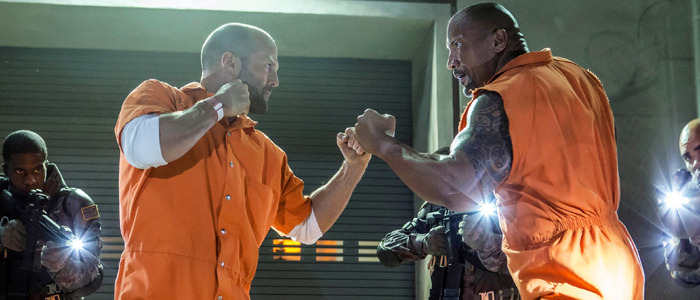 Buckle up, Fast family. There's a new Fast and Furious spin-off in the works, and it features two of the series' biggest names and breakout stars: Dwayne Johnson's Luke Hobbs and Jason Statham's Deckard Shaw. Hit your NOS tank and read all of the Fast and Furious spinoff details below.
Deadline brings word that it's still early in the process, but Universal has had discussions with writer/producer Chris Morgan, who's written all of the Fast films since 2006's Tokyo Drift, to return to write the screenplay. The site claims the idea is that Hobbs forms "an unlikely alliance" with Shaw, and the movie "could conceivably be made while they are figuring the next Fast film."
The rivalry between Hobbs and Shaw was one of the best parts of The Fate of the Furious, and it seems like there's certainly no beef between the two actors, since Johnson recently tweeted about how great Statham is:
Ha completely broke character. It's the fun of our real life chemistry. Great guy. For the record, he broke first. #fateofthefurious https://t.co/VVFyIioipu

— Dwayne Johnson (@TheRock) April 18, 2017
In fact, recent reports indicated that Vin Diesel axed a post-credits scene that featured Johnson and Statham that may have set up this spin-off, so the seeds for this idea have already been planted. Universal has been teasing the idea of spin-offs of this franchise for years, but considering The Fate of the Furious just had the biggest worldwide opening weekend of all time, it makes sense that they're looking to keep riding that high.
It would also make a ton of sense for the studio to make this spin-off soon and place it somewhere after The Fate of the Furious but before Fast 9 on the saga's twisted timeline. That way, fans will still have a new Fast and Furious adventure to look forward to, and Morgan, Diesel, and the rest of the creative team can hone the idea for Fast 9 until it's perfect. The production and logistics on these films are notoriously complicated, and because it's such an undertaking, it often means that filmmakers are gearing up for a sequel almost immediately after the latest entry hits theaters. That insanely quick turnaround time was why Justin Lin ultimately left the franchise after Fast & Furious 6, so giving the creative team a bit of a breather to craft a more satisfying narrative for the main story might be just what this series needs.
(Plot spoilers for The Fate of the Furious ahead.)
Plus, a break could give Morgan some time to maybe figure out how to bring Han back into the fold, and time for Toretto's son, who we discovered was named Brian at the end of Fate, time to grow up a little, so Diesel isn't carrying a baby around for all of Fast 9. Maybe this spin-off could be a natural breaking point for the main series to jump ahead a few years in time, possibly with Brian Toretto as a teenager when the action resumes.
(End spoilers.)
And in addition to all the reasons it makes sense and help the overall franchise, it would just be super fun to watch Johnson and Statham team up to bicker and punch their way across the world to solve some sort of huge case together in a Fast and Furious spin-off. Think about the hand to hand fight scenes they could pull off together! I'm imagining The Rock hurling Statham across the room at a bunch of baddies like Colossus tossing Wolverine at a Sentinel. Tell me you wouldn't pay to see that!