'Free Fire' Clip: Sharlto Copley Has Some Nice Cardboard Armor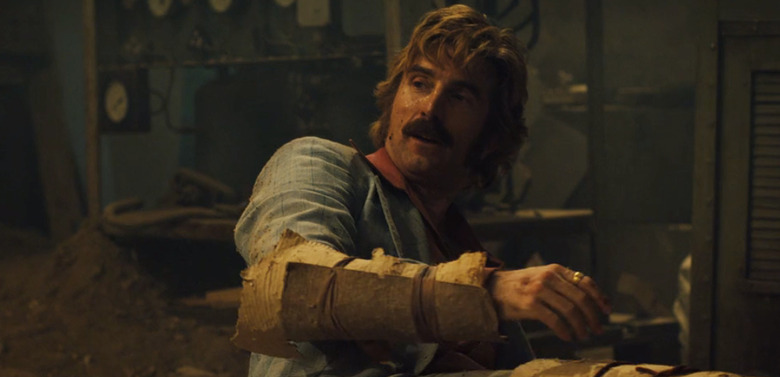 If you're lucky, this weekend brings the action shoot'em up flick Free Fire to a theater near you. It's the latest film from High Rise and Sightseers director Ben Wheatley. But don't worry if you think the filmmaker's work is a little too weird or twisted for your tastes, because this is easily his most accessible film yet.
Free Fire follows a black market arms deal gone wrong in 1970s Boston as an IRA buyer (Cillian Murphy) and a South African gun runner (Sharlto Copley) end up in a gun fight in the middle of an abandoned warehouse, with both their sides exchanging shots, trying to get the money and attempting to make it out alive. It's relentlessly brutal, but it's also extremely funny, as evidenced by a new clip from the movie that will probably make District 9 fans grin a bit.
Watch the Free Fire clip below.
As you can see, the clip (via The Playlist) shows us part of the movie after everyone has been shooting each other for awhile. They're all doing the best they can to hide behind anything they can find in the warehouse, but they've all been shot at least once. Every single bullet wound will make you cringe and laugh at the same time. It's like if The Raid had a comedic edge to it. I don't think I've ever simultaneously winced in pain and laughed this much in any movie before. It's a big part of what makes Free Fire so unique.
Though Cillian Murphy and Sharlto Copley are the ones who made the deal, there are plenty of others involved in this gunfight on each side, and each of them is amazing. There's Armie Hammer, the coolest guy in the room with a tremendous beard; Jack Reynor who has a temper and a sarcasm streak that brings plenty of laughs; Sam Riley as a cracked out addict who decides to get high before and in the middle of the gunfight; and Brie Larson, a tough, badass young woman who gets down, dirty and bloody with all these boys.
This movie is an absolute riot. There's tension, excitement, and some of the most amusingly violent gun fights you've ever seen. Outside of the obvious fatalities brought upon by the bombardment of bullets, there are some other surprising deaths that only a filmmaker like Ben Wheatley could deliver. Plus, the 1970s setting makes it feel unlike any other action flick in recent memory without hitting you over the head with the motif just for the hell of it.
Angie Han caught the movie at Toronto International Film Festival last year and called it explosively entertaining, and she was even quoted in the trailer and on a quad poster. If you need any more convincing, here's the letter that Ben Wheatley wrote to those who have signed up for A24's newsletter:
Hey A24 newsletter people, thanks for reading this.
I know theres a lot of movies to see this weekend... There are blowing up cars, talking candlesticks, and robot ladies who are confused about if they are real or if they are robots or something. But also thanks to the great men and women at A24 there is also a film called FreeFire.
Free Fire has many things going for it... It is under 90 minutes! Which means more time at the bar. It has Brie Larson swearing like a docker. It has Armie Hammer in the same beard he had in Birth of a Nation. It has many many laughs... which are needed in these dark and desperate times.
This film has also been proven scientifically to make you smarter (through its clever subtexts) but can also be enjoyed on the surface level (like all those action films that got you liking movies in the first place). It has Sharlto Copley acting in his actual accent (though maybe a slightly higher pitched version). And the film also features the work of John Denver and The Real Kids.
This, I'm sure you agree, is a compelling set of reasons to see Free Fire tonight, then return on Saturday with your friends, and then visit a matinee on Sunday with your elderly relations.
Thank you,
Ben Wheatley.
Director of Free Fire