'Star Wars: The Last Jedi' Will Dig Underneath The Surface Of Poe Dameron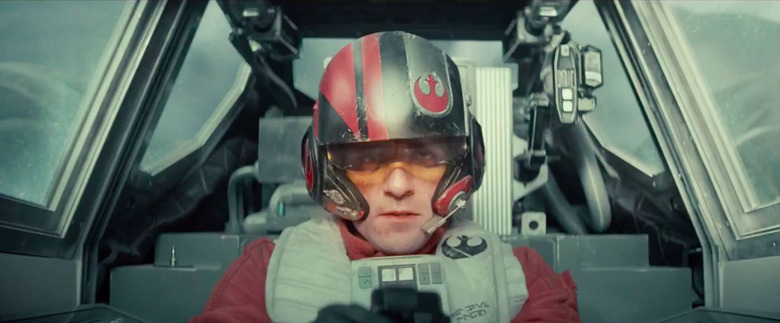 Poe Dameron (Oscar Isaac) is a straightforward, no fuss hero. In Star Wars: The Force Awakens, he's all about doing the right thing. There isn't anything boring about that, either. Every once in a while, it's refreshing to see a character as heroic as Poe, someone who's not going to question or doubt himself.
Maybe we'll see him wrestle with more conflicts in Star Wars: The Last Jedi, though, which revealed its first teaser last week. According to Isaac, we will learn more about the best damn pilot in the galaxy in Rian Johnson's (Looper) sequel.
Until The Last Jedi comes out, Isaac can say next to zilch about the film. While speaking with Movieweb, to promote his new drama, The Promise, Isaac gave this comment to the outlet:
Well, you know I can't say anything about the thing itself. But...He will be challenged, in a very intense way that will reveal a lot more about his character.
The idea we'll learn more about a character in a sequel doesn't come as a huge surprise, but with the stakes rising or getting more personal in Johnson's sequel, it's promising to learn they'll effect Poe Dameron somehow, and help reveal more about him. Apparently, his own comic shows more of history.
As Johnson explained to USA Today, he doesn't want to tell us more about these characters through backstory. As Isaac said, he's interested in how their actions define them when a challenge arrives:
I wanted to know more about each of them, and that doesn't just mean information or backstory. Figure out what's the most difficult thing each of them could be challenged with now, let's throw that at them and dig into what really makes them tick by seeing how they handle that.
In The Force Awakens, we know Poe is committed to the Resistance and that he's a great pal to Finn (John Boyega), but there's likely more underneath the surface of his bravura. He's a character we like and root for already, despite knowing little about him. He's got plenty of charm, but there's clearly more to be learned about Poe Dameron.
Isaac had more to say about a memory of the late Carrie Fischer than he did about Poe's upcoming adventure. The actor and Fischer shared a more physical scene together in the sequel, which the Ex Machina star recounted to the Business Insider:
It was basically my first day [on set] and we did about 25 takes total. Half of them were on me and half of them were on her. I can't give anything away but there was a scene where there was some physicality there and it was shot just over and over and over. She relished the physicality of it, let me just say. It was pretty intense. It will be funny to see what they cut together based on that.
Star Wars: The Last Jedi opens in theaters December 15.