'Guardians Of The Galaxy Vol. 2' Deleted Scenes Revealed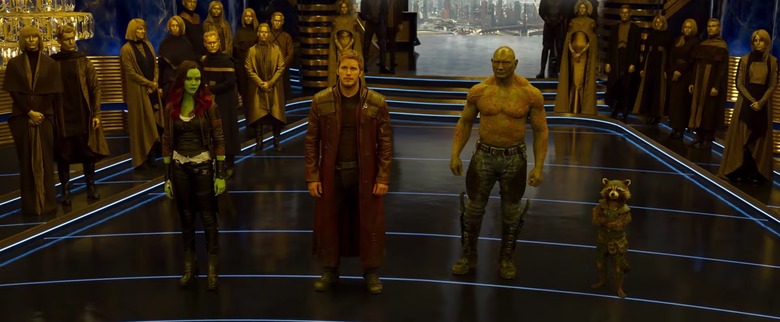 Guardians of the Galaxy Vol. 2 was already bursting at the seams with new allies, new enemies, Kurt Russell, Sylvester Stallone, and a whopping five post-credits scenes — so director James Gunn can be forgiven for being a little generous with cuts.
Nathan Fillion's cameo in Guardians of the Galaxy Vol. 2, was sadly one of the scenes that ended up on the cutting room floor alongside a scene with tons of Easter eggs, according to Gunn. But thanks to the whirlwind Guardians press tour, we're getting more details about these cut scenes every day.
Fillion posted an image from the scene on his Instagram, with the caption, "From a scene you won't see in Guardians of the Galaxy Vol. 2. Is the movie still spectacular without it? Yes."
From a scene you won't see in Guardians of the Galaxy Vol 2. Is the movie still spectacular without it? Yes.
However, Gunn contradicted Fillion, saying the photo that he posted wasn't actually a deleted scene — just Fillion being Fillion on set.
Fillion was set to cameo however, reportedly playing Simon Williams, AKA Wonder Man, a part-time superhero, part-time Hollywood star.
A few set photos that leaked last year revealed that the scene was going to take place at the Simon Williams Film Festival, which featured a series of satirical movie posters like a faux romantic comedy called Oh, Rebecca!; a movie called Tony Stark which is a clear riff off Steve Jobs; and Arkon, a Conan the Barbarian-type movie that seems to be the film which Fillion is in costume for in the Instagram photo. It's likely that the crew shot photos of Fillion for these movie posters on the lot, and he screwed around on set while in wardrobe for the picture.
A fun fact for you: Arkon is actually a Marvel character himself, which is as meta and self-referential as you can get.
Speaking of self-referential, another scene that Gunn had to scrap was one that had the most Marvel Easter eggs of the movie. At a recent press junket, Gunn revealed that a significant amount of the film's Easter eggs were cut:
"Unfortunately we had a sort of terrible cutting — one of our scenes we cut was with Grandpa Quill on earth, and we had a lot of Easter Eggs in that scene. As much as we had in the collector's museum, probably more."
It's not a huge loss for fans of Guardians of the Galaxy, but it would've been fun to see what Gunn — who is exceedingly creative with his background references — could have cooked up this time.
Gunn said he plans to share a picture of the deleted scene on social media at some point, but don't expect to see it on Blu-ray. Meanwhile, we still have the movie itself to look forward to, which inches closer to theaters every day and continues to garner critical praise.
Guardians of the Galaxy Vol. 2 hits theaters May 5, 2017.