Michael B. Jordan And Michael Shannon To Star In HBO's 'Fahrenheit 451'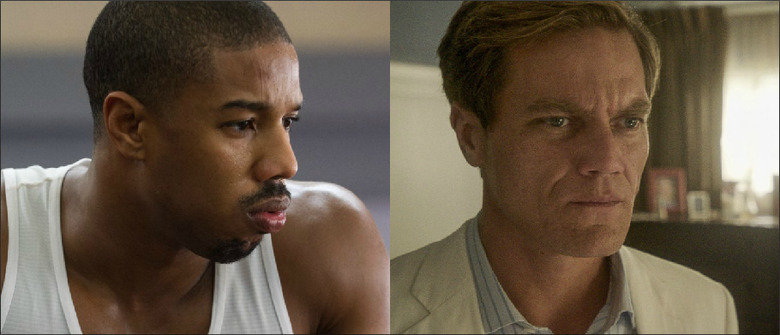 Michael B. Jordan and Michael Shannon are teaming up to star in Fahrenheit 451, the HBO Films adaptation of Ray Bradbury's sci-fi dystopian novel.
Well, "team up" is a misnomer, as Jordan will be playing the young, disillusioned "fireman" in a dystopian future who abandons the government-sanctioned burning of books, while Shannon will be playing his former mentor with whom he clashes.
Deadline reports that HBO is adapting Bradbury's classic dystopian novel, published in 1953, with Jordan and Shannon starring in the lead roles. Ramin Bahrani, who directed Shannon in 99 Homes, will be helming the adaptation and co-writing the script with his 99 Homes co-scribe Amir Naderi.
HBO has only put the adaptation into development, but Variety notes that "project is moving toward a production commitment at HBO." If it does, Jordan will play Guy Montag, the fireman at the heart of the story, while Shannon will play his antagonistic superior, Captain Beatty.
Here's the synopsis of Fahrenheit 451 below:
Set in the 24th century, Fahrenheit 451 tells the story of the protagonist, Guy Montag. At first, Montag takes pleasure in his profession as a fireman, burning illegally owned books and the homes of their owners. However, Montag soon begins to question the value of his profession and, in turn, his life.
The HBO film wouldn't be the first iteration of the story — Francois Truffaut adapted Fahrenheit 451 in 1966, and it went on to become a cult classic. Since then, a new adaptation has been bouncing around Hollywood — Mel Gibson held the rights for his own adaptation at one point, but abandoned the project in 1999. At one point, director Frank Darabont was looking to adapt it, with Tom Hanks in the lead role.
Bradbury wrote the book as a commentary on media censorship, and a condemnation of the suppression of free thought. If HBO's adaptation moves through, it would be the latest in a new surge in politically-charged dystopian sci-fi fare that have eerie modern-day parallels, following series such as The Handmaid's Tale, The Hunger Games, The Giver, and the television adaptation of Minority Report.
In a polarizing media environment in which the President of the United States throws about accusations of "fake news" at unflattering depictions of him, Fahrenheit 451 seems like a clear choice for the next socially aware sci-fi film. Hopefully this project won't be burned before it gets off the ground.