Joss Whedon On 'Batgirl' Casting: 'I Doubt It Will Be A Name'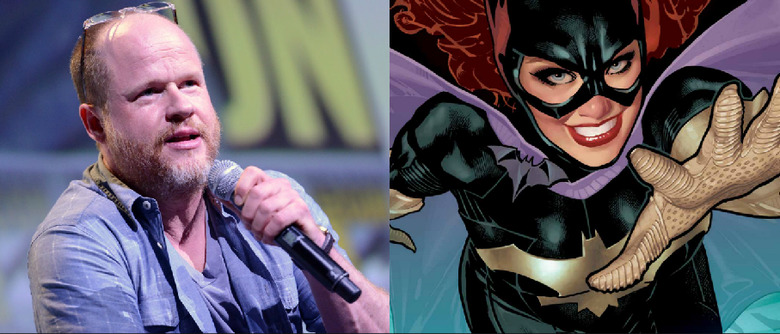 Joss Whedon all but confirmed that he is helming Warner Bros.' Batgirl film, going so far as to humor the inquisitive reporter asking him about casting for Barbara Gordon.
In the midst of his media-trained reply, Whedon implied that he won't be looking at a "name" actress, but rather an unknown actress to embody the police commissioner's daughter-turned-vigilante.
We previously reported that Whedon was in negotiations with Warner Bros. to write, direct and produce Batgirl, making the jump from shaping the Marvel Cinematic Universe with his Avengers films to the DC Extended Universe. But in a case of "not denying" the fact, Whedon spoke excitedly with Variety on the Guardians of the Galaxy Vol. 2 red carpet about his plans for the Batgirl film.
"I have so many things to say about her, I'm very excited to see a girl in the cowl," Whedon said.
But Whedon has not put any thought to casting the role yet, saying, "I don't have my eye on everybody. I'm creating this character, I'm in a dialogue with her, and then we'll see who joins that later on."
The answer makes sense since the film is probably in very early stages, especially if Whedon just settled his deal with Warner Bros. in the past month. But thanks to some diligent wheedling from the Variety reporter, Whedon suggested that if he were thinking of casting, he would go with a fresh face rather than a well-known actress. He said:
"I doubt it will be a name, I think this is something where you go and find Batgirl and then you cast her. I'm not against movie stars, they're great, but you need somebody who's going to be just right. And in situations like this, the name carries a lot of weight so it's not as critical."
He ended the interview with a very Whedon-esque joke: "Definitely Vin Diesel."
Who should play #Batgirl in Joss Whedon's upcoming movie? We asked @Joss Whedon #GotGVol2Premiere pic.twitter.com/rmznGQeMSj

— Variety (@Variety) April 20, 2017
An unknown actress would unfortunately put to bed our list of potential actresses to play Batgirl, but perhaps a fresh face would be for the best. The DCEU has been struggling to find its footing to say the least, and some of that could be attributed to its tendency to cast big-name actors in iconic roles — making it difficult for audiences to forget the star for the character. Ben Affleck, despite putting in one of the better performances as Batman, will always be Ben Affleck, and Will Smith has such as built-in legacy as a blockbuster hero that he arguably made his Deadshot more noble and heroic than was warranted for a movie about villains.
I only hope if they cast an unknown actress as Barbara that she's not some young ingenue barely out of her teens. Though Whedon's lighthearted style is suited toward teen girl characters (see: Buffy the Vampire Slayer, his Kitty Pryde-focused run on Astonishing X-Men), it would be refreshing to see a Batgirl who is well into adulthood — self-assured and confident. And with an older, wizened Batman who has gone through at least one Robin, it would make sense that he's been warily working with Barbara for several years now.
As an outspoken feminist, it's easy to see why Whedon is making the jump over to DC, which is currently outgunning Marvel on female-led projects, first with its upcoming Wonder Woman film helmed by Patty Jenkins (out June 2), and now with its Batgirl and Gotham City Sirens projects on its slate.