Cool Stuff: This 'Rogue One' Fan Built An Incredible Life-Size K-2SO Puppet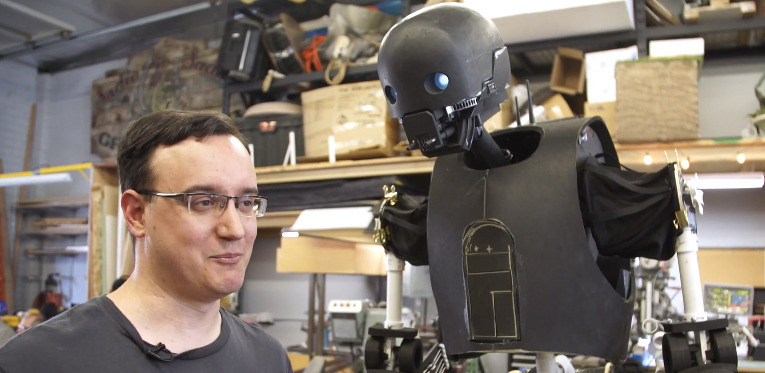 There are plenty of dedicated Star Wars fans out there who pour money into creating intricate, detailed costumes that allow them to dress up as their favorite characters. There are even more technically skilled fans who have been able to build working versions of droids like R2-D2. But how does a fan build a droid like K-2SO?
The reprogrammed Imperial droid from Rogue One: A Star Wars Story isn't the kind of droid brought to life by a man in a suit like C-3PO, and it's not the kind of droid that can easily be built so that it can be operated from inside or with remote control lie R2-D2. But one fan didn't want to give up on his dream of creating a build of K-2SO to show off at conventions, so he embarked on creating a life-size K-2SO puppet, and even though it's not quite finished, it's still impressive as hell.
Here's a look at the life-size K-2SO puppet from the folks at Tested:
Darren Moser is the man bold enough to build himself this K-2SO replica that he controls from behind like a giant puppet. Tested got an up close look at his creation at an RPF party, a super nerdy gathering where builders show off their props, replicas and works in progress.
Using PVC pipe and black sculpted foam, Moser is on his way to having a screen accurate K-2SO that he can walk around with at conventions. The head is 3D printed based on a replica that he found online, and inside of it is a wireless camera that feeds a video signal to an iPad on the back of the droid that allows Moser to see where he's going. To make the puppeteering look a little mor natural, Moser will dress up as an Imperial officer, making it look like he's just there doing some work, looking for Rebel scum.
If you'd like to keep track of Moser as he continues this impressive work-in-progress, stay tuned to this website. In addition, be sure to check out our interview with K-2SO motion-capture performance and voice actor Alan Tudyk as well as Industrial Light & Magic animation supervisor Hal Hickel about how the droid was created for Rogue One.