Theme Park Bits: 'Avatar' Land Details, A New Club 33, And The Future Of Immersion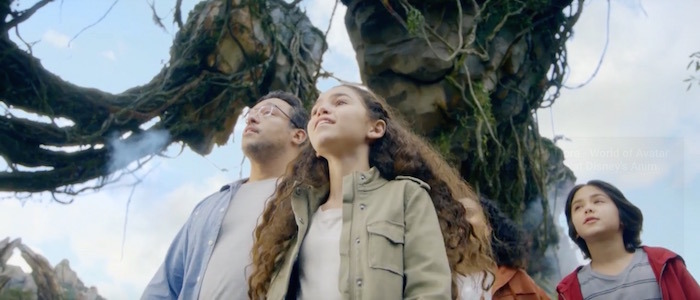 Int this edition of Theme Park Bits:
Walt Disney World is building a new gondola transportation system.
The Guardians of the Galaxy – Mission: Breakout! exterior is finished.
Club 33 is coming to Walt Disney World.
A theme park designer talks about the future of immersive entertainment.
Take a look at the details of Pandora: The World of Avatar.
Disney reveals images of the drinks exclusive to Pandora: The World of Avatar.
A new video explores how you build an alien ecosystem in a theme park.
More projection mapping is coming to Disney nighttime shows.
The rumors are true: Walt Disney World is building a new gondola system to connect some of its parks and resorts. According to the Orlando Sentinel, official documents point upcoming construction that will link Hollywood Studios, Epcot, the Caribbean Beach Resort, the Pop Century resort, and the Art of Animation resort by a skyway, which each car carrying up to 10 passengers. Disney hasn't commented officially yet, but they have released this statement:
We are always looking to explore new transportation options that will make the resort experience even more magical for guests. We're excited about our future plans on this front and look forward to sharing details at a later date
Due to its size, Walt Disney World has always been a pain in the butt to navigate. Either you drive between parks and pay outrageous fees to park every time, you rely on the hilariously inefficient bus system, or you try to make use of the monorail, which doesn't connect every major location on property. The gondolas won't fix every issue, but at least it's a start.
Speaking of extravagant updates to Walt Disney World, Club 33 is officially coming to the east coast. As many Disney fans already know, Club 33 is an exclusive club with ridiculous membership fees that originated at Disneyland. Being a member means being rich and Disney theme park royalty. Members of other Club 33's will not have access to the four new clubs opening in Walt Disney World's four theme parks – a new membership will be required.
Meanwhile, it looks like the exterior of the Guardians of the Galaxy – Mission: Breakout! is finished. Formerly the Twilight Zone Tower of Terror, this Disney California Adventure attraction is now a fortress belonging to Taneleer Tivan, AKA the Collector. The Disney parks blog has released the photos above, along with these details:
The fortress shimmers with colorful and sparkling details; pipes cross and climb the exterior, carrying the organic matter the Tivan Group has mined to power the massive generator that powers the entire building, keeping every cage locked and the valuable collection secure. Rising and falling gantry lifts peek out of doors exposed through the corroded, burnt metal, and it even looks as if the structure may have taken laser fire and blasts. Has someone tried to attack the facility?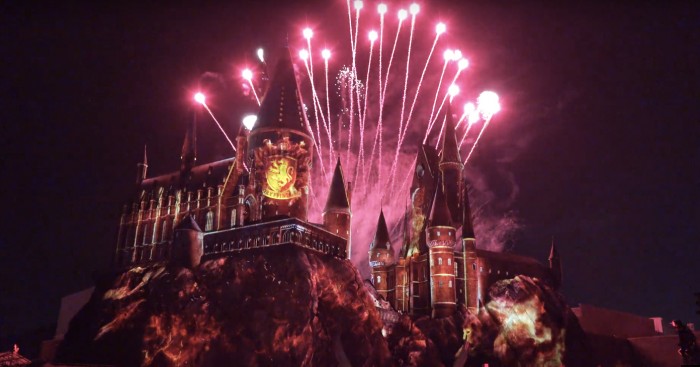 Before we return to Disney, Waypoint published an excellent interview with theme park designer David C. Cobb, where he discusses the future of interactive experiences, especially with Universal Studio's Nintendo Land on the way. This anecdote, about Universal's Wizarding World of Harry Potter, suggests the future of theme parks:
Not just the rides. My first trip to Wizarding World Orlando, I walk behind the 3 Broomsticks restaurant and I see a table full of kids in school robes with their heads in books. Who reads books at a theme park? I walked up and asked what they were reading. They were doing their homework. Wait what? They explained they went to the junior high right behind the park and have season passes. Their parents let them come to the park and do their homework. They're doing their real homework in a fake school in cosplay. Universal didn't design that into the park but it's happening.
With Disney's Star Wars land doubling down on being wholly immersive in unexpected and profound ways, expect to start seeing a lot more of this.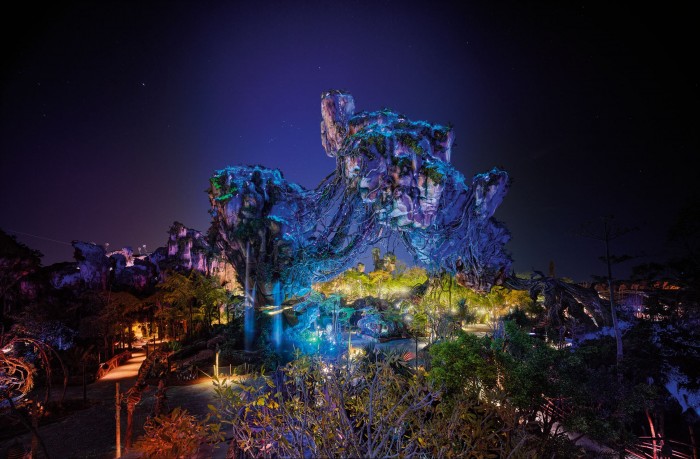 Theme park aficionados have to read this new Bloomberg article, which begins with a tour of Pandora: The World of Avatar from Imagineer Joe Rohde and looks into the future of Disney parks in general. This paragraph, from near the start of the story, is a testament to the amount of detail Disney puts into their work:
The hoops jingle when Rohde moves, which he's doing a lot on this chilly morning in March. He points with both index fingers at a seemingly innocuous manhole cover inside Pandora: The World of Avatar, an attraction scheduled to open on May 27 in Disney's Animal Kingdom Park in Orlando. Rohde bends his knees and practically starts to shimmy as he explains that the manhole cover is no mere sewer lid, but part of an elaborate, immersive illusion. Look closely, he says. The cover is decorated with the logo of Resources Development Administration, the earth-based company that, in James Cameron's 2009 film, descends on Pandora with a squadron of mercenaries and a scheme to extract unobtainium, a valuable mineral beneath the soil of this lush moon inhabited by the blue-skinned Na'vi race.
We have covered other details in a separate post, which you can read right over here.
Speaking of Pandora, the Disney parks blog has revealed a few of the beverages that will be available for purchase in the land. Cocktails include the Pandoran Sunrise and the Mo'ara Frozen Margarita. Wine will be supplied by the appropriately named Banshee winery, who will offer Banshee Chardonnay, Banshee Pinot Noir, and Dreamwalker Sangria. Beer drinkers can look to Hawkes' Grog Ale and Mo'ara High Country Ale. Teetotalers will want to seek out the Night Blossom. Naturally, just about all of these are available in souvenir glasses.
And if you're not Pandora'd out, there's this cool new video where Disney Imagineers describe the process of building an alien ecosystem that makes sense, a necessity for any land in the Animal Kingdom theme park.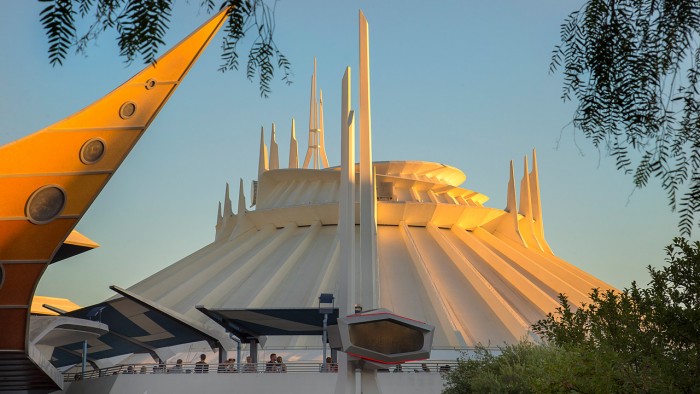 Although the Star Wars-themed Hyperspace Mountain was popular, Disneyland has finally decided to return one of their most popular rides to its original form. Staring on June 1, the classic Space Mountain will return, just in time for the ride's 40th anniversary. Hopefully, it'll be allowed to breathe for a little while before inevitably getting re-themed for another special occasion!
Projection mapping technology has changed Disney's nighttime shows forever, adding a new dimension to the usual fireworks. Naturally, the technology that transforms the castles in the company's parks will play a major role in the new "Happy Ever After" show, which is set to debut next month. You can see some of it in action in the video above. Here's show director James Silson:
With projection mapping technology, you can create an immersive environment for guests, taking them inside the films of Disney. It enables us to flood the palate and give our guests an opportunity to experience many of our characters' worlds in the same show.
SeaWorld has been in trouble these past few years, as the controversies surrounding the parks' treatment of animals has encouraged tourists to take their business elsewhere. So it makes sense that the parks have responded with more traditional rides with animal and nature themes rather than new animal exhibits. After all, these are the kinds of attractions that don't court controversy. Enter Infinity Falls, a new water ride coming Summer 2018 to SeaWorld Orlando. Here's the description:
Rush the rapids on SeaWorld's all-new river ride Infinity Falls coming Summer 2018. Climb aboard your raft for a journey of discovery down this lost jungle river. Wind your way around soaking fountains and waterfalls as you pass the remains of an ancient civilization. Hang on as the roaring world class rapids send you flying through chutes before you plunge down the tallest drop of its kind into churning whitewater. Your adventure ends at Harmony Village with a greater connection to the world's rivers, inspired to spread the message of conservation. Explorers are wanted for the next expedition through Infinity Falls, coming to SeaWorld Orlando!