Star Wars Land's Signature Dark Ride Incorporates Aspects Of 'The Last Jedi' & 'Episode IX'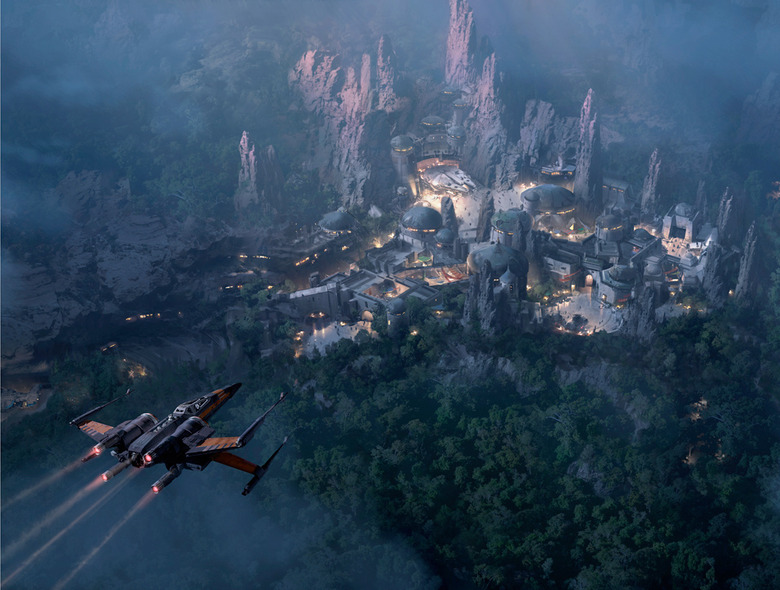 We are only two years away from being able to step inside the Star Wars galaxy in Disneyland and Walt Disney World's Star Wars-themed lands. This past week, we have learned a lot about Star Wars Land's highly immersive experience, including how your own personal interactive story will follow around the land and the possibility of a fully immersive resort hotel experience that would allow you to sleep and live on a starship.
A new Bloomberg article focusing on Disney World's upcoming Avatar-themed land gives us a few new details about the Star Wars experience and it sounds awfully cool.
Both Star Wars Lands Will Be Virtually Identical
Star Wars Land will be set on a yet unspecified planet that flourished in the "sub-light-speed era." Both versions of the land, in both Orlando and Anaheim, will be "virtually identical." This is the first confirmation of something we have suspected since the lands were first announced at D23 Expo a couple of years back. The author mentions that the Imagineers have built two different models for the two separate lands but that they look pretty much the same. The reason for the two models must be due to the formation of the available land being different.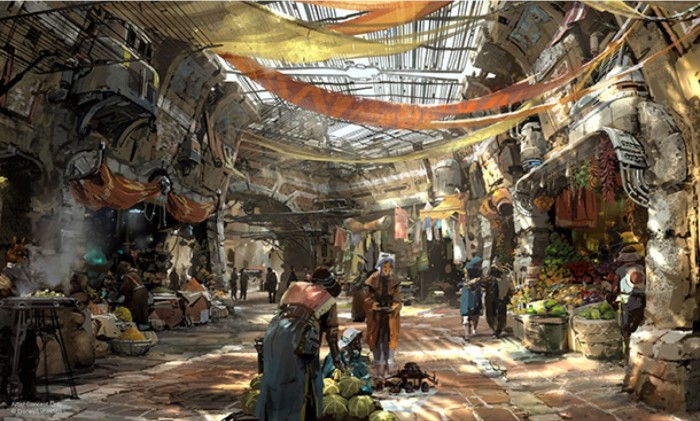 The Exotic Marketplace Will be Filled With Items You Can Buy From Around the Galaxy
Visitors will enter Star Wars Land through "a doorway in a surrounding berm, plunging into one of the science fiction saga's familiar-looking desert outposts." The exotic marketplace is described by the land's lead creative Scott Trowbridge as "like a souk street market filled with stalls where you can buy fragrances and spices and clothes and toys and equipment from all across the galaxy, sometimes from the black market, but don't ask too many questions."
There isn't a lot of new information here, but it's good to know that the merchandise will include items from "all across the galaxy" and not just the standard Star Wars merch you can buy anywhere. "In-world" souvenirs are one of my favorite parts about Universal Studios' Wizarding World lands.
I wonder what will be available on the black market. Also, the idea that there is a black market at all makes me think that alcohol will be served for the first time (outside of Club 33 and special events) in this area of the Disneyland resort.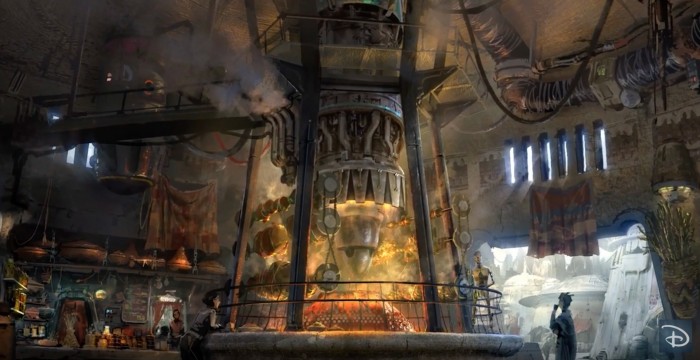 Even the Cooks in the Cantina Will be Alien Creatures
We've heard that Star Wars Land will have a Cantina experience where guests will be able to eat and drink alongside aliens from all over the Star Wars galaxy. One of the "cooks" at the venue will be a large fish-headed creature, which Trowbridge describes as "awesome" and gives a tip that we should "just ask for the special, it will be worth it." I'm wondering if this will be an off-menu secret item like you'd find at In N Out and other popular restaurants and chains. It's likely that the Cantina will incorporate experiences with the food like Disneyland's Trader Sams, so when you order a certain menu item something magical may happen in the surrounding area because of it.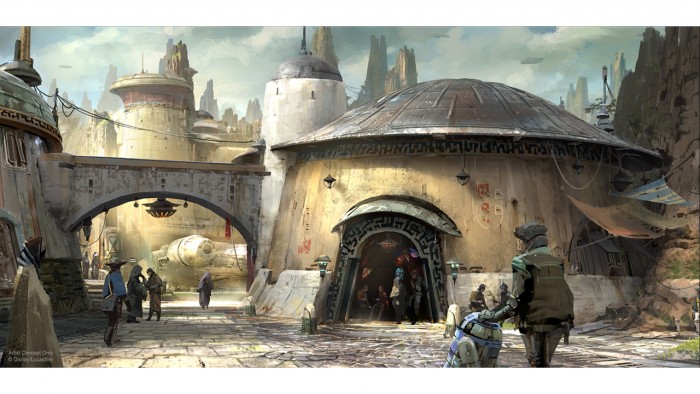 The First Order Will Have A Spaceport; the Resistance Will Have a Secret Base
Star Wars Land will also feature a First Order spaceport and an ancient forest compound where members of the Resistance can be found. We were told at Star Wars Celebration that park guests would be able to join either side of the fight, crew up with smugglers, or take on a secret mission of a local bounty hunter. So I assume the First Order and Resistance bases will be key areas to begin these interactive experiences.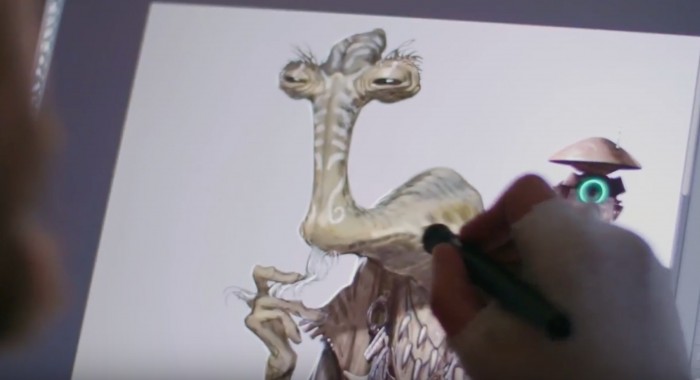 You Will Recognize Some of the Characters in This World
Star Wars Land will feature aliens, droids, and beasts, allowing guests to meet some favorite characters (although the article doesn't reveal the names of the characters who may be walking around).
One Ride Could Incorporate Aspects of The Last Jedi and Episode IX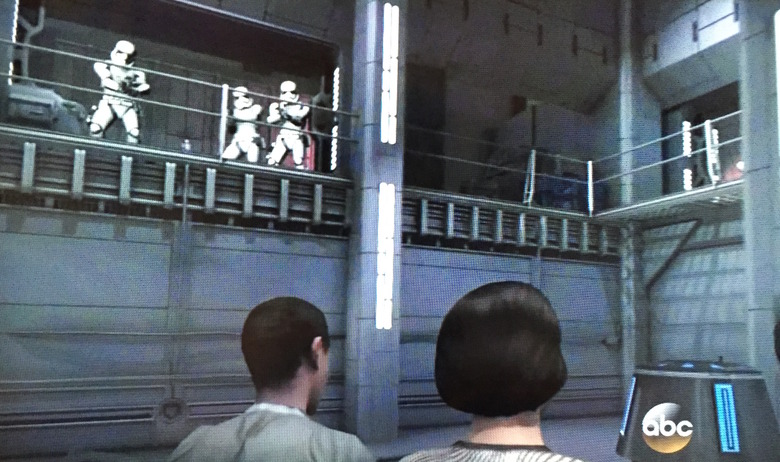 The dark ride that will put guests in the middle of a battle between the Resistance and First Order is described by Trowbridge "a very epic battle, everything that makes Star Wars Star Wars." The ride will also incorporate aspects of future films, which is why details for this ride are being kept tightly under wraps for now: "We're looking at this through the lenses of an audience that's arriving in 2019 and what they know." This land will probably open around the same time Star Wars: Episode IX hits theaters, so this ride could probably incorporate ideas from both Rian Johnson's Star Wars: The Last Jedi and Colin Trevorrow's ninth film of the Skywalker saga.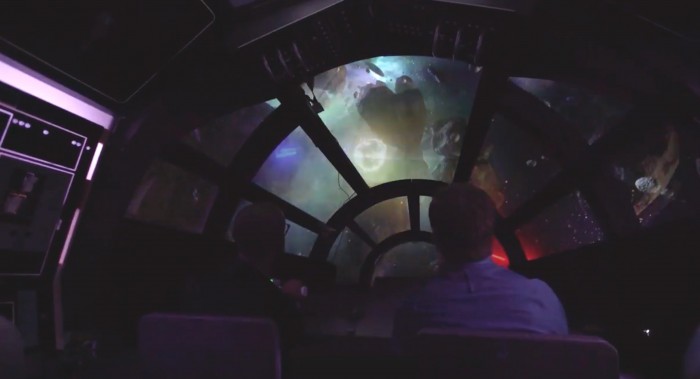 The Millennium Falcon Ride Sounds Like a Flight Simulator
As for the Millenium Falcon ride, which will put park guests in control of one of the galaxy's fastest ships, the Bloomberg writer was able to experience an early prototype of the attraction. The ride vehicle is described as "a round, black sphere resembling a small Death Star." Inside is a cockpit surrounded in front by a screen. At first, it looks like you are in some kind of docking bay, ready for takeoff, but then: "From there, they can go for a test run in an Imax-like environment, navigating their way through tunnels and out into space, where they must dodge the Imperial fleet's TIE fighters."
The IMAX-like environment comment seems to suggest that there will be other ride vehicles looking at the same huge screen, almost like Disney's Soarin' ride. But that's really not clear as how interactive could the ride be if the decisions you make didn't reflect on the screen (for example, shooting TIE Fighters).
Walt Disney Imagineering has been using the prototype mock-up to test the ride with subjects aged from 3 to 79 behind the controls, which should tell us something about the age/height restriction of the attraction. Remember that Disney head Bob Iger mentioned that he already tried out the Millennium Falcon ride during the investor's conference? This prototype is what he tried.
We've previously learned that one rider would pilot the vehicle while his "flight crew" assist in other ways, making this an evolution of the ideas utilized by the Mission: Space ride over at Florida's Epcot. We don't know a whole lot more beyond that, but I'd assume that the flight crew will also have significant roles in the experience, like firing at ships and putting shields up. I'm not sure Disney has said how many people will ride in each vehicle, but I'd guess a total of four or six per cockpit.
The author of the Bloomberg article mentions some pilots crashing out of the gate, but at Celebration, it was mentioned that guests would probably make it to the final destination – it's just a matter of how much damage they have added to the infamous ship. I assume this will be like an "on rails" arcade game. Also, it was mentioned that if they put too much damage on the Falcon, that might anger a certain someone and that could lead to a "confrontation" later in the streets.