'Unbreakable Kimmy Schmidt' Season 3 Trailer: Kimmy Goes To College, Titus Goes Full 'Lemonade'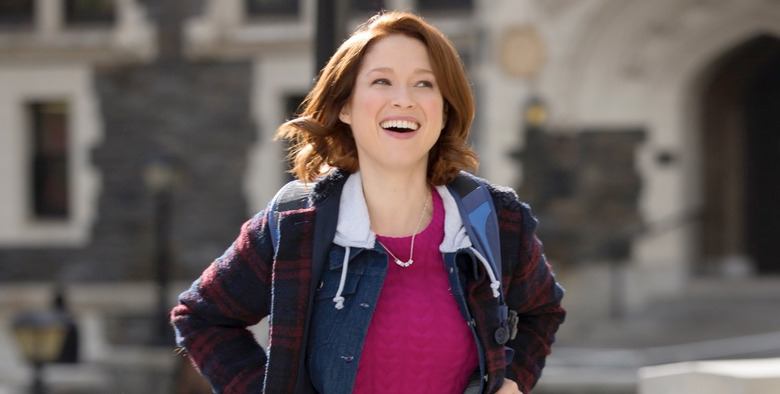 Kimmy Schmidt (Ellie Kemper) has come a long way since being rescued from a crazy cult that tricked her into living in an underground bunker for 15 years. She learned a whole lot about the world in the first season of her show, dealt with some of the issues that she buried deep within her mind in the second season, and now for the upcoming third season, she's setting out to make something of herself by going to college.
Unbreakable Kimmy Schmidt is returning to Netflix in May with an all-new season, and the latest trailer for the series from 30 Rock executive producers Robert Carlock and Tina Fey promises plenty more silliness. Plus, we'll also get the return of several prominent guest stars, including Jon Hamm as Reverend Richard Wayne Gary Wayne, and Fred Armisen as Robert Durst.
Watch the Unbreakable Kimmy Schmidt season 3 trailer below.
We only get a hint of what it will be like to see the naive, happy-go-lucky Kimmy Schmidt in college, but you just know that the experience is going to throw her for a loop. But the more pressing matter is Reverend Richard Wayne Gary Wayne wanting a divorce, because we didn't even have any idea that they were married. There's a chance that Kimmy didn't know either, considering how shocked she was at this revelation at the end of the second season, so perhaps we'll find out how that came about in one of the many flashbacks we get throughout each season.
Meanwhile, Titus (played by Titus Burgess) is dealing with a bit of jealousy when he sees another man hanging out at his boyfriend Mikey's house. Though he insists that he's not overreacting, an entire musical sequence dedicated to recreating Beyonce's acclaimed Lemonade indicates otherwise. More than likely, it will all be a big misunderstanding. Plus, Lillian (Carol Kane) will be breaking up with Robert Durst this season. We're not sure what Jacqueline White (Jane Krakowski) will be up to, but it will probably be elite and white.
As usual, this season will be filled with some outstanding guest stars. This season will see the return of Anna Camp, Mike Carlsen, Josh Charles, David Cross, Tina Fey and Amy Sedaris while new guest stars will include Laura Dern, Daveed Diggs, Rachel Dratch, Ray Liotta, Andrea Martin and Maya Rudolph.
Here's the official, vague synopsis for the third season of Unbreakable Kimmy Schmidt, debuting on May 19.
In the Season 3 premiere, Kimmy finds herself in an unfamiliar position with the Reverend back in her life. Titus returns from his cruise and auditions for an exciting new role. Lillian has to break up with her boyfriend Robert Durst.