'Captain Marvel' Will Be Directed By Anna Boden And Ryan Fleck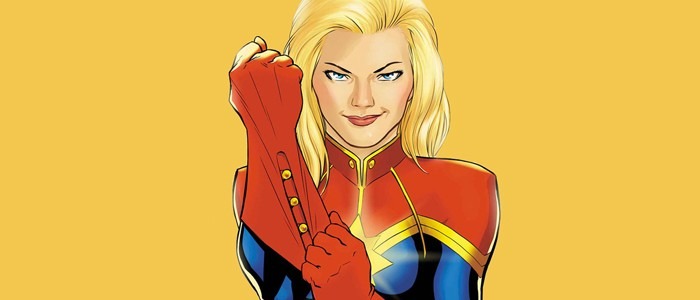 The director of the Captain Marvel movie has a big responsibility: they have to introduce a character who isn't particularly well known outside of comic book shops to a wide audience while also shouldering the burden of making the first solo female superhero movie set in the Marvel Cinematic Universe.
And now, we know who Marvel Studios has tasked with the gig: the directing team of Anna Boden and Ryan Fleck.
The hiring of Boden and Fleck continues Marvel Studios' trend of hiring outside-the-box (and often lesser-known) filmmakers to take on their superhero movies. Most recently, the duo directed the 2015 gambling drama Mississippi Grind, but they have previously helmed the psychiatric hospital-set comedy It's Kind of a Funny Story and the sports drama Sugar. Fleck made his feature debut with the Oscar-nominated Half Nelson (Boden co-wrote the screenplay), a high school drama starring Ryan Gosling that also featured future MCU mainstay Anthony Mackie.
The news comes our way via Variety, who report that "...the studio had met with several contenders and sources say the studio not only wanted to make sure that the search was thorough but that the script was in the right shape before tapping who would direct it." That script is being written by Inside Out's Meg LeFauve and Guardians of the Galaxy co-writer Nicole Perlman. As you've surely noticed, that means three out of the four people steering the creative ship on Captain Marvel are women, the result of Marvel actively pursuing female talent to bring this character to the big screen.
Academy Award winner Brie Larson has already signed on to play Captain Marvel herself. Although the nature of her character within the MCU has yet to be revealed, the comic book version of the character is Carol Danvers, an Air Force Pilot who gains super powers following an accident involving an alien. Her powers include flight, super strength, and the ability to project energy blasts. She's one of the coolest people in Marvel comics and a character with a dedicated fan base. Marvel is clearly hoping that the same magic touch that transformed Doctor Strange and the Guardians of the Galaxy into household names will apply here.
Boden and Fleck are an interesting choice for a superhero movie, reflecting Marvel Studios' habit of finding talented filmmakers experienced with smaller budgets and promoting them into the blockbuster league. If a gonzo genre director like James Gunn and television directors like the Russo brothers can deliver in this realm, then why not two people best known for character-driven dramas?
Captain Marvel is due out on March 8, 2019.