'Guardians Of The Galaxy Vol. 2' Clips: The Death Button And A Sovereign Fleet Create Problems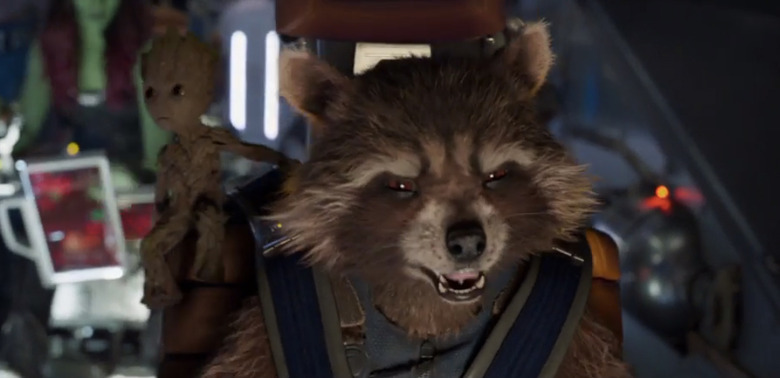 Now that Guardians of the Galaxy Vol. 2 is only just over a couple weeks away, Marvel Studios is making a huge push of new footage in the form of TV spots and clips, especially with the cast making the publicity rounds on late night TV shows and whatnot. Two more clips have just surfaced online featuring plenty of Bradley Cooper as Rocket Raccoon, that wonderful Baby Groot (Vin Diesel), and some trouble for the rest of the crew on board the Milano.
Watch the new Guardians of the Galaxy 2 clips below.
We've already seen a variation on this clip in one of the trailers that was released for the Marvel Studios sequel, but it plays out a little differently in the cut from the movie. It's clear that the voice for Baby Groot was played with a bit more as post-production went on and some different takes were used to give it a different vibe when the clip hits theaters. I continue to be amazed at how quickly I forget that Bradley Cooper is doing the voice of Rocket Raccoon; he's just fantastic with that voice.
This clip reveals the beginning of an action sequence following the meeting the Guardians of the Galaxy have with Ayesha (Elizabeth Debicki), the Golden High Priestess of the Sovereign People. As has been hinted at in the trailer, Ayesha is a little stuck-up and looks down on the Guardians of the Galaxy, which doesn't sit too well with Rocket Raccoon. That's why he took it upon himself to steal some of their batteries, which are apparently pretty valuable since Ayesha sent a Sovereign fleet to chase them down. The clip also gives us a taste of how hilarious Drax the Destroyer (Dave Bautista) is going to be in the movie, with many early reactions saying that he steals the movie.
As we see more and more from Guardians of the Galaxy 2, I'm really liking what I see. There was a point when I thought that the film might be pandering too much to younger fans, but it appears that the same tone and style that made the first Guardians of the Galaxy my favorite Marvel Studios film to date has stuck around. I cannot wait to see this movie.
Set to the backdrop of 'Awesome Mixtape #2,' Marvel's Guardians of the Galaxy Vol. 2 continues the team's adventures as they traverse the outer reaches of the cosmos. The Guardians must fight to keep their newfound family together as they unravel the mysteries of Peter Quill's true parentage. Old foes become new allies and fan-favorite characters from the classic comics will come to our heroes' aid as the Marvel cinematic universe continues to expand.
Guardians of the Galaxy Vol. 2 lands in theaters May 5.