Arnold Schwarzenegger Will Narrate 'Wonders Of The Sea 3D' Documentary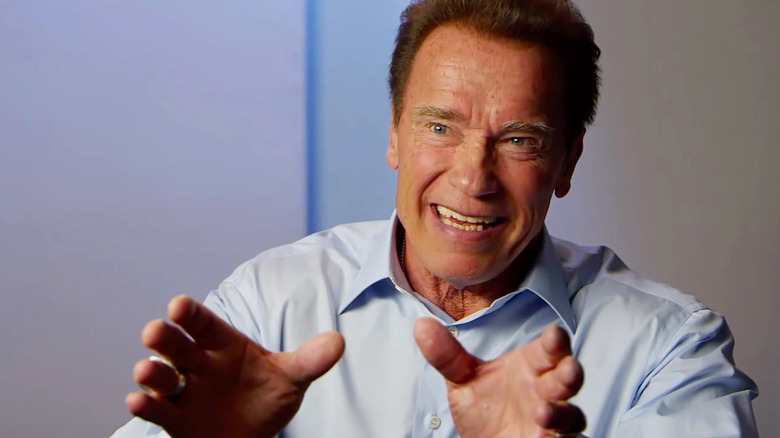 Ask anyone you know and they could probably pull out an Arnold Schwarzenegger impression for you. The star of The Terminator, Predator, and Conan the Barbarian has one of the most distinct voices in Hollywood, but he's rarely done voice over work and has never narrated a documentary film before. That changes with Wonders of the Sea 3D, a doc about ocean conservation that's co-directed by the son of famed explorer Jacques Cousteau.
See what Arnold Schwarzenegger narrating a doc looks like in the promo reel below. (Spoiler alert: it's pretty fantastic.)
Wonders of the Sea 3D Promo reel
My favorite part of this is how it almost seems like this is the first time Schwarzenegger has ever heard of the concept of a 3D film. You can tell he's being completely genuine as he's trying to sell us on the idea, but he's talking about this like it's a VR experience or something. The footage might be cool, but aside from rare exceptions in flying scenes in movies like Avatar and How to Train Your Dragon, 3D has rarely given me the sensation of being immersed in a new environment.
My second favorite part, of course, is that Arnold begins the video wearing a navy blue jacket, but only wears it for the first 17 seconds. Like...why even wear it at all?
I love Schwarzenegger's voice, and the idea of him narrating a documentary is kind of hilarious to me. I feel like this has the potential to be the best comedy of 2017. Can you imagine? "Look ovah deah at da fishes, and da crabs, with da walking, an da swimming." I want Schwarzenegger to start doing Herzog-style voiceovers in all sorts of nature documentaries. What's the over/under on how quickly he drops one of his famous one-liners in this film?
All kidding aside, though, ocean conservation is a topic that's near and dear to Schwarzenegger's heart, as evidenced by the work he did as the Governor of California to address climate change and a Showtime documentary he's executive producing alongside James Cameron called Years of Living Dangerously. Here's hoping that even if people go see this with the intention of getting a kick out of his narration, everyone will walk away having learned a little more about what we can do to save the planet.
Jean-Michel Cousteau and Jean-Jacques Mantello co-directed this film, which is being presented at the Cannes Film Market next month. It's scheduled for release sometime in 2017.
Filmed over 3 years from Fiji to the Bahamas, Jean-Michel Cousteau, his children Celine and Fabien, and their team take us on a voyage to discover the ocean as never seen before and learn more about the threats that put our ocean at risk. Its poetic, entertaining, thrilling educational and environmental qualities, as well as its enthralling music, set WONDERS OF THE SEA 3D apart from academic documentaries. The film aims at attracting and uniting the general public around the need to protect the ocean.