Disneyland Teases Its 'Summer Of Heroes' With New Video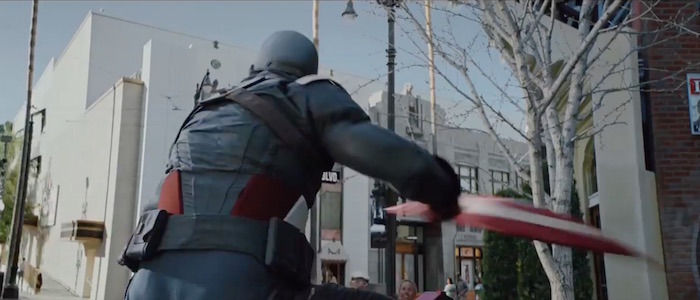 Earlier this year, the Disneyland Resort announced its "Summer of Heroes" event, where the Marvel superheroes would invade the Disney California Adventure theme park, just in time for the opening of the new Guardians of the Galaxy – Mission: Breakout! attraction. In addition to the new ride, the summer looks to offer all kinds of superhero-themed events for visitors both young and old. A new video teasing the event has arrived, featuring various Marvel characters doing their thing across a few very familiar areas.
Disney theme parks have always excelled at providing a cinematic experience and this video does a fine job of selling the excitement inherent in encountering Marvel heroes at Disneyland, of all places. Or rather, California Adventure. Anyway, the video puts a big spotlight on Spider-Man, Black Widow, Captain America, and the Guardians of the Galaxy.
Marvel heroes have become increasingly common at Disney theme parks, with Iron Man even getting his own ride at Hong Kong Disneyland, but it's still a peculiar image for many theme park fans. As someone who grew up vacationing at Florida theme parks, I'm used to Universal Studios, with its Marvel Superhero land at Islands of Adventure, ruling this particular corner. Universal still controls the theme park rights to most of the major Marvel characters east of the Mississippi, which is why events like this are hitting the west coast and not Walt Disney World in Orlando. Anyway, seeing Spider-Man swing by Disney iconography can't help but feel odd to me! But hey, I guess I'd better get used to it.
Summer of Heroes will kick off when Guardians of the Galaxy – Mission: Breakout! opens on May 27, 2017. Here's what else you can expect:
Guardians of the Galaxy: Awesome Dance Off! – "Don't be surprised if you run into the Guardians of the Galaxy on their way to the Milano, with Star-Lord firing up his old-school boom box to get the party started. Gamora may prefer to stand back and observe, but everyone else is bound to get in the groove and show off their moves during this awesome rock 'n' roll bash!"
Super Hero Encounters – "For the first time, citizens of Earth will come face-to-face with Groot, one of the Guardians of the Galaxy! You can also step up to meet the First Avenger, Captain America, along with everyone's favorite web slinger, your friendly neighborhood Spider-Man."
Avengers Training Initiative – "Black Widow and Hawkeye assemble young recruits for a series of tests to see if they have what it takes to join the ranks of the Avengers."
Heroic Encounter: Black Widow – "Black Widow will arrive on the scene several times throughout the day in an armored Avengers vehicle for her heroic encounter with park guests."
Grab a Piece (or Bite) of the Action – "All that heroism making you hungry? Want a token as proof of your adventures when you get home? Special themed merchandise and food will be available throughout Hollywood Land."