Disney's Proposed 'Star Wars' Hotel Could Allow You To Sleep In A Starship And Live In The Story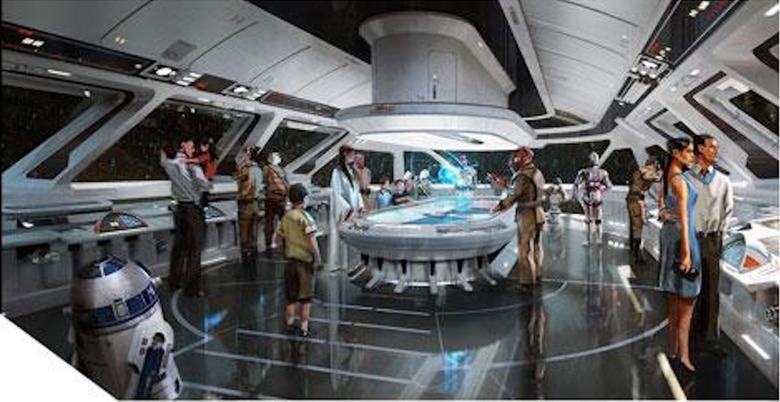 Disney has recently begun surveying guests about a possible Star Wars resort hotel which could be built at Walt Disney World. According to the information presented in the survey, the hotel would allow guests to take a vacation on an "actual" Star Wars Starship. Below, we've gathered all of the details about this proposed Star Wars hotel experience.
The Disney survey in question is being conducted by a contracted third party through Swagbucks.com and was first noticed by WDWNT. The proposed hotel would not just be a place where you return after riding the rides, but an all-inclusive, two-night immersive resort experience.
Of course, this is just a survey and not an announced concept, but it certainly points to some ideas Disney appears to be developing. After all, many theme park ideas began their lives as survey subjects. And the included concept art just looks super cool.

The resort would offer a two-day story set in the Star Wars galaxy, where you would be surrounded in a continuous, story-driven entertainment experience as it unfolds over the course of the stay. You would be able to have personal interactions with Star Wars characters and live performers throughout the starship. And it's your choice to experience the story by actively participating or just observing the action.
Guests could engage in the story with programs such as flight training, ship exploration, lightsaber training, and personalized secret missions, both on the starship resort and throughout the upcoming Star Wars-themed land at the Hollywood Studios theme park. Disney already offers experiences like the Jedi Training Academy in their parks, but this proposed lightsaber training could be with the new lightsaber technology that Walt Disney Imagineering recently patented.
Recently, we learned that the interactive experiences in Star Wars Land would follow you around and that you could develop a "reputation" that would effect experiences throughout the land and in other attractions. If you haven't yet read about that, you can get all of the details right over here. It sounds like this new hotel resort would allow the experience and story to follow you back to your accommodations.

The proposed hotel would offer all inclusive meals during your stay: buffet breakfasts, lunches, and signature evening dining, along with featured entertainment and dinner shows. A two-day visit would include five meals total, including two buffet breakfasts, one lunch, and two signature dinners with evening entertainment. This is the kind of package that Disney is already offering on the Disney Cruise ships and they are excellent at it.
Staying at the starship hotel would give guests exclusive park admission to the still unnamed Star Wars Land (set to open in 2019), as well as other amenities, including a pool and water garden, fitness area, onboard cantina, and...robotic droid Butlers?! Each room can accommodate up to 4 people and would feature an interactive "view" of either the galaxy or pool/atrium.
The survey suggests the experience would be priced at roughly $900 to $1000 per guest, which is extremely pricey compared to even the most expensive hotel options on property. But this resort would offer an immersive themed experience like no other available anywhere on Earth. As a huge Star Wars fanatic, the prospect of such a fully immersive experience, even at that high price, excites me. Trouble, my wallet would be in.