'The Beguiled' Trailer: Welcome To Sofia Coppola's House Of Horror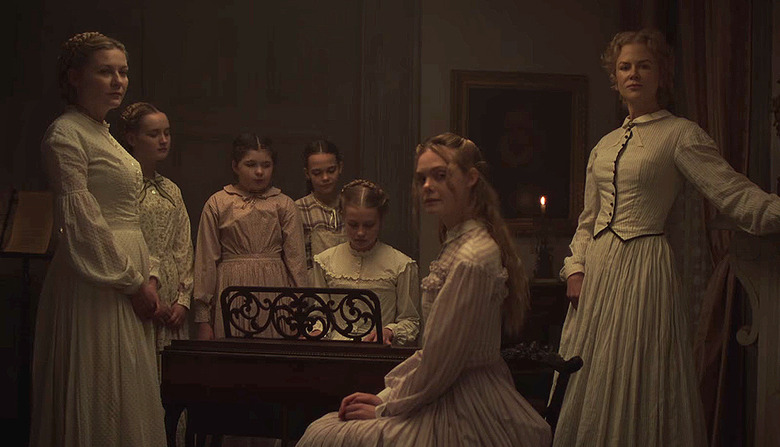 Sofia Coppola's The Beguiled is a change of pace for the filmmaker. Her remake of Don Siegel's 1971 film, or re-adaptation of Thomas P. Cullinan's "A Painted Devil," is a gothic thriller with a life on the line, not the sparse character piece we're accustomed to seeing from Coppola. Naturally, we're excited to how the writer-director behind Lost in Translation and The Virgin Suicides works with a story dripping with tension.
Below, watch The Beguiled trailer.
Colin Farrell plays wounded Union soldier John McBurney, a role previously occupied by a somewhat stilted Clint Eastwood in Siegel's unsettling film. McBurney is taken in and watched over at a Confederate girls' boarding school led by Martha Farnsworth (Nicole Kidman), the school's headmistress with a dark past. Like Farnsworth, one of the school's teachers, Edwina Dabney (Kirsten Dunst), and students, including Alicia (Elle Fanning), take an intense interest in the soldier. Things heat up and, well, let's just say not everyone plays nicely in this gothic drama.
The Beguiled Trailer
There is a beauty to some of these shots, which we've come to expect from Coppola, whose shots tend to flow and transition from one another with astonishing grace. She also always paints a vivid portrait of a location. Much of what we love about Coppola's work looks to be at work in The Beguiled. As she's previously said, she's bringing her sensibility to a genre film:
I haven't really done a genre film. It was fun to figure out how to approach that but still [keep the film] in my style, and to have this kind of beautiful, dreamy world that I like — but with a plot! [...] The main crux of the story is about the dynamics between a group of women all stuck together, and then also the power shifts between men and women. So for me, it's very universal, but it's in this exotic setting of the Southern gentility.
Here's the official synopsis:
"The Beguiled" is an atmospheric thriller from acclaimed writer/director Sofia Coppola. The story unfolds during the Civil War, at a Southern girls' boarding school. Its sheltered young women take in an injured enemy soldier. As they provide refuge and tend to his wounds, the house is taken over with sexual tension and dangerous rivalries, and taboos are broken in an unexpected turn of events.
The Beguiled opens in limited release June 23 before expanding a week later.