'The Little Hours' Trailer: Alison Brie, Aubrey Plaza & Kate Micucci Are Dirty, Horny Nuns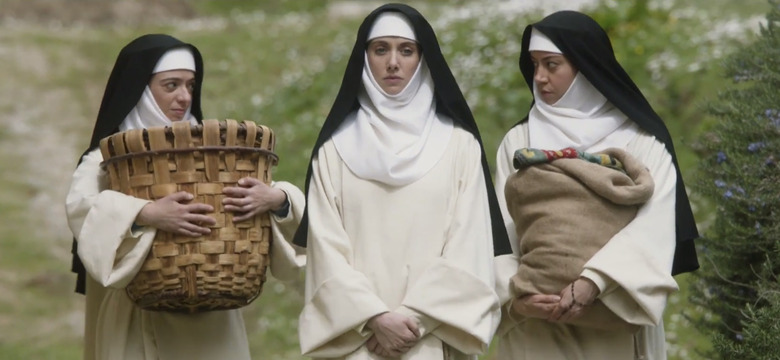 Last year, director Martin Scorsese brought us Silence, a pensive, harrowing story of 17th-century Portuguese missionaries, who embark on a perilous journey to Japan to find their missing mentor and struggle with the decision of renouncing their faith or suffering an agonizing death. This year, director Jeff Baena brings us a trio of raunchy, horny nuns who just want to f*** the new servant at their convent.
The Little Hours follows Alison Brie, Aubrey Plaza and Kate Micucci as three nuns who are anything but holy. I'll just leave it at that, because the red band trailer does a much better job of showing you just how wild these sisters can get. Watch red band The Little Hours trailer below. Yes, this is NSFW because of ample dirty language and even some nudity.
This looks positively ridiculous, almost like Monty Python and the Holy Grail by way of David Gordon Green (though the filmmaker who tried that with Your Highness has nothing to do with this production), and I love everything I'm seeing here. An especially nice touch among the critical acclaim from the Sundance Film Festival is a nice quote from The Catholic League saying, "It is trash. Pure trash." Though pure trash sounds like a contradiction in terms, you couldn't ask for a more ringing endorsement for a movie like this.
In addition to our three nuns, the supporting cast includes Dave Franco as the new servant Massetto, John C. Reilly as Father Tommasso, Nick Offerman as Lord Bruno, Fred Armisen as a bishop, Molly Shannon as Mother Superior, and supporting roles filled out by Jemima Kirke, Paul Reiser, Adam Pally and more. That's a great array of comedic talent to upset the establishment, if you ask me.
Medieval nuns Alessandra (Alison Brie), Fernanda (Aubrey Plaza), and Ginevra (Kate Micucci) lead a simple life in their convent. Their days are spent chafing at monastic routine, spying on one another, and berating the estate's day laborer. After a particularly vicious insult session drives the peasant away, Father Tommasso (John C. Reilly) brings on new hired hand Massetto (Dave Franco), a virile young servant forced into hiding by his angry lord. Introduced to the sisters as a deaf-mute to discourage temptation, Massetto struggles to maintain his cover as the repressed nunnery erupts in a whirlwind of pansexual horniness, substance abuse, and wicked revelry.
The Little Hours gets a limited release on June 30 and will expand in the following weeks.