'The Hero' Trailer: Sam Elliott Is A Western Icon Looking For A Comeback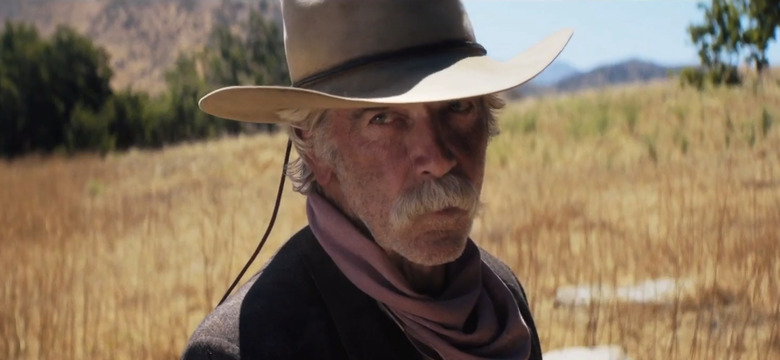 Now that summer is getting closer, not only will we get the usual onslaught of studio blockbusters looking for box office dollars, but we'll get plenty of indies looking to attract the niche audiences, including plenty of films that debuted at the 2017 Sundance Film Festival earlier this year. One of those indies just debuted its first promising trailer.
The Hero follows Sam Elliott as Lee Hayden, a former western star past his prime at a point in his career when he's receiving lifetime achievement awards while he's still looking for one more career-defining role. Funnily enough, this leading turn for Sam Elliott is getting plenty of praise for being just that.
One can't help but notice that most of the blurbs picked out from reviews are all praising Sam Elliott, and that's mostly because the rest of the movie is rife with indie cliches. The Hollywood Reporter writes:
"The bottom line is that while the film is restrained and sensitively crafted hokum, it's still hokum, and you may find it hard not to feel cheated; Elliott and Prepon create vivid characters who are summarily plugged into a male-weepie formula that leaves little room for complexity or idiosyncrasy."
The good news is that it appears the lead performance from Sam Elliott elevates the movie. That same review also notes:
"Elliott succeeds in pulling you into Lee's emotional orbit and holding you there even when the movie falters. It's a low-key, largely reactive performance, and all the more moving for it: The actor's most memorable moments don't come via tantrums or tearful breakdowns, but in scenes where he simply looks and listens — wounded, hopeful, resilient and, yes, heroic."
The Hero was one of the movies that I missed at Sundance, but I want to see it if only to hear Sam Elliott's rich voice featured so prominently. In addition the supporting cast includes Laura Prepon, Krysten Ritter, Nick Offerman and Katharine Ross, directed by Brett Haley (I'll See You in My Dreams).
Lee Hayden (Sam Elliott) is an aging Western icon with a golden voice, but his best performances are decades behind him. He spends his days reliving old glories and smoking too much weed with his former-co-star-turned-dealer, Jeremy (Nick Offerman), until a surprise cancer diagnosis brings his priorities into sharp focus. He soon strikes up an exciting, contentious relationship with stand-up comic Charlotte (Laura Prepon), and he attempts to reconnect with his estranged daughter, Lucy (Krysten Ritter), all while searching for one final role to cement his legacy.
The Hero opens on June 9.