'Star Wars' Standalone Movies: Kathleen Kennedy Teases Summer Announcement And What They Mean By Han Solo's 'Real Name'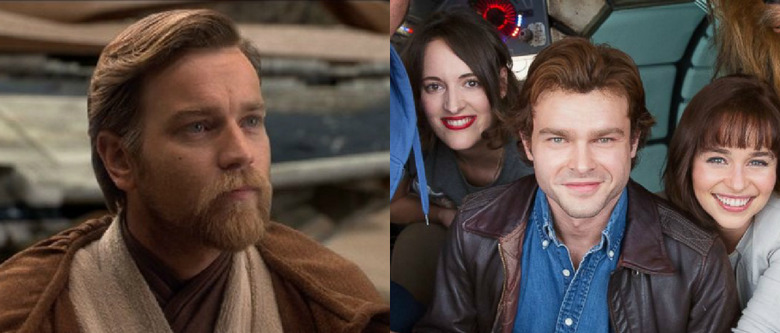 Star Wars Celebration continues to be the gift that keeps on giving...provided that you like Star Wars movie news.
It's been two days since the Orlando, Florida, convention ended, and we're still getting news about Star Wars anthology films — including a possible Obi-Wan Kenobi spinoff! — as well as clarification over Disney CEO Bob Iger really meant about how Han Solo "got his name," thanks to a recent MTV interview with Lucasfilm President Kathleen Kennedy.
The Star Wars universe is ever-expanding, and plans for that expansion are ever in flux, Kennedy said in a Star Wars Celebration interview with MTV's Josh Horowitz. Even now, Disney and Lucasfilm are still deciding on the untitled 2020 Star Wars anthology film that will follow the still-untitled Han Solo standalone film in 2018. The first standalone film, Rogue One, was a box office and critical hit in 2016, setting a high bar for the anthology films to come.
Kennedy said "We're getting close" to announcing the new spin-off movie, saying she hopes it will be around the summer that they start the process of creating the film and revealing it to the public. She didn't deny Horowitz's question over whether the new spinoff would be focused on Obi-Wan Kenobi — a popular theory pushed by fans and by prequels actor Ewan McGregor himself — stating, "I never want to predict the creative process because that's it's own thing. We're in the midst of those discussions right now."
Fan theories are rampant over what the mysterious standalone film will be about, with many hoping that it will follow Obi-Wan Kenobi after the events of the prequel trilogy. Other fan theories include a Lando Calrissian spinoff, a Boba Fett story, a Yoda spin-off, or onscreen iterations of expanded universe characters from the video games, comic books or TV series, like Doctor Aphra or Ahsoka Tano.
As for the standalone film we do know about? Kennedy set out to assuage fears that Phil Lord and Chris Miller are going a little overboard with their creative license thanks to the confusing quotes from Disney CEO Bob Iger, who implied that Han Solo's actual name is not Han Solo. Kennedy said:
"I'm not sure that's entirely what Bob [Iger] meant. There's more to Han Solo's name, but it's not that it's not his name. It's obviously his name. It will always be his name."
Kennedy wasn't entirely clear herself, but at least we can be assured that Han Solo is in fact Han Solo's name. Good.
The untitled Han Solo film is set to hit theaters on May 25, 2018.