Watch: Hans Zimmer Rocks Coachella With 'Inception' Medley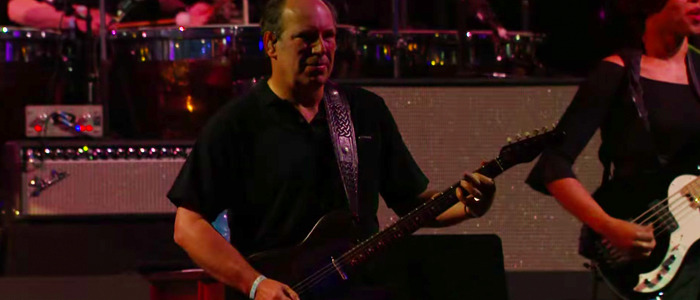 2017's Coachella music festival is under way in Southern California, and while attendees may have flocked to the desert to seek out shows from Kendrick Lamar and Lady Gaga, one of the festival's acts that might be of more immediate interest to a film-loving community like /Film's is composer Hans Zimmer.
Last night, Zimmer took the stage with his orchestra and delivered an impressive rendition of songs from Christopher Nolan's Inception, and you don't even have to brave the heat to see it. Check out the Hans Zimmer Coachella video below.
Hans Zimmer at Coachella
Since Coachella is an arts and music festival that takes place out in the middle of the desert every year, it's probably safe to say that the amount of people who were tripping balls last night was pretty high. I'm guessing those huge monitors playing the kaleidoscopic videos behind the orchestra on the stage added a tremendous amount to the live experience for those folks, because I felt like I was starting to spin out after watching this completely sober in the middle of a Monday work day.
It's hard to believe Inception is almost seven years old. That score is a deep, propulsive piece of work (especially the percussion-heavy "Mombassa," the song that comprises the second part of this live performance), and it has an immediacy to it that a lot of modern composers can't quite capture. It's one of only a handful of film scores I own and listen to regularly, and the fact that Zimmer's musicians were able to nail the huge sonic swells of these songs on a live stage just as well as an orchestra in a studio is a testament to their abilities as performers. Watch closely: Zimmer himself is content with sitting back and letting other musicians have the spotlight, which is rare for someone with his pedigree.
Our own Jack Giroux spoke with Zimmer about the composer's teachings at MasterClass not too long ago, which sounded like a challenging, rewarding experience. They chatted about Zimmer's collaborations with Ridley Scott, Terrence Malick, and more, and how he's still nervous every time he plays a film score for his director for the first time. It's a fun conversation that provides some good insight into Zimmer's process, and considering that he's one of the premiere composers in Hollywood – and arguably among the most notable in cinematic history – it's worth reading.