Was Ahsoka's Fate Revealed In The 'Star Wars Rebels' Season 4 Trailer?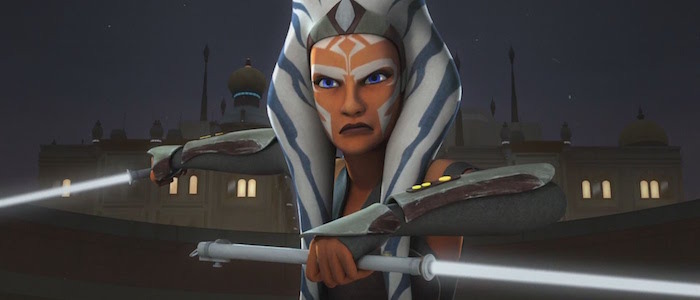 The fate of fan-favorite character Ahsoka Tano has been kept a mystery since that climactic confrontation in the season two finale of Star Wars Rebels. A whole season has gone by, and it seems like we are no closer to getting any answers. But did the Star Wars Rebels season 4 trailer secretly reveal the fate of the former Jedi? Let's dive into a new theory that involves some exclusive comments from executive producer Dave Filoni.
The Mystery of Ahsoka's Fate
The Star Wars Rebels season two finale "Twilight of the Apprentice" ended with a confrontation between Ahsoka and her old master Darth Vader in an ancient Sith temple on Malachor. Ahsoka declares that she is no longer "a Jedi," which is a convenient excuse to allow the character to survive the series and live on during the New Hope era. But Ahsoka stays within the crumbling temple and stalls Vader, allowing the Ghost crew to escape.
The ending leaves Ahsoka's fate as a bit of a mystery, with the character following an owl into the darkness just before the temple collapses. Fans have been clamoring for answers ever since. Season 3 of the series has come and gone, and still, we have little to no information about the fate of the former Jedi.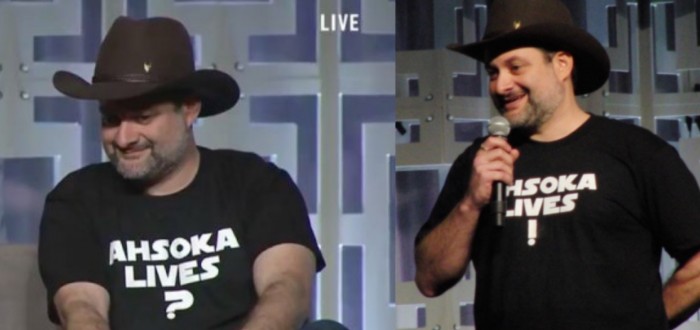 Dave Filoni on Ahsoka's Fate at Celebration 2017
Star Wars Rebels creator Dave Filoni teased throughout the weekend that he would have information about Ahsoka's fate at Saturday morning's Star Wars Rebels Season 4 presentation. But Filoni didn't say anything about Ahsoka during the panel. He wore a t-shirt that said "AHSOKA LIVES?", but after they premiered the trailer, he appeared on stage with a slightly modified version of the shirt.
When asked about the t-shirt change during the press conference, Filoni jokingly acted like he didn't know what the reporter was talking about. But as you can see in the screenshots above, Filoni's t-shirt changed to "AHSOKA LIVES!" I asked Filoni about Ahsoka in an exclusive interview following the panel, and here is what he told me:
"Well, first of all, the character and the way people feel about her really amazes me. She's really become this thing within Star Wars that I think transcends Rebels or Clone Wars. People love that character, they believe in that character. They've read the book, it's fantastic, it sold really well. Which is something I was really interested in with the book. I wanted to see could Ahsoka hold her own like any of these major characters who get their own books. So I'm very careful with all of her moves as a character, and what we do. One of the biggest challenges I had was that episode where she has the confrontation with Darth Vader. I was able to think about that for a long time and get it right. I love those episodes. We'll see. I have to be very careful where I go from here. I feel like there is a lot built up, almost to the point that anything I do won't satisfy. But I've had a plan, and I plan on executing that plan as we move forward, and we'll see what that means."
As for what that plan might be, the following is entirely speculation, but the result might line up with reality. So if you don't want to theorize about how the new trailer may have confirmed Ahsoka's fate, please turn away now.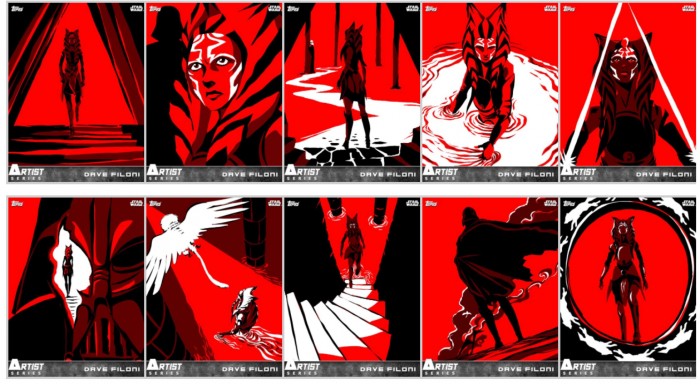 What Happened to Ahsoka?
The key to this mystery might lie in a set of 10 digital trading cards that were released for Topps' Star Wars: Card Trader app. The set was announced at last year's Star Wars Celebration Europe, with Dave Filoni releasing never-before-seen bold three-color (red, black, and white) artwork depicting the final moments of "Twilight of the Apprentice."
The cards show Ahsoka walking through a triangular arch into the remains of the temple, and what Filoni has described as her "psychological, subconsciousness" journey "into the underworld." We see her follow an owl-like creature, known in the Star Wars universe as a convoree, through the water to a set of stairs...her ascension from the underworld perhaps?
The last image in the series shows Ahsoka stepping through what appears to be a portal circled by a series of white Wolves. Could these wolves be the key to solving this mystery?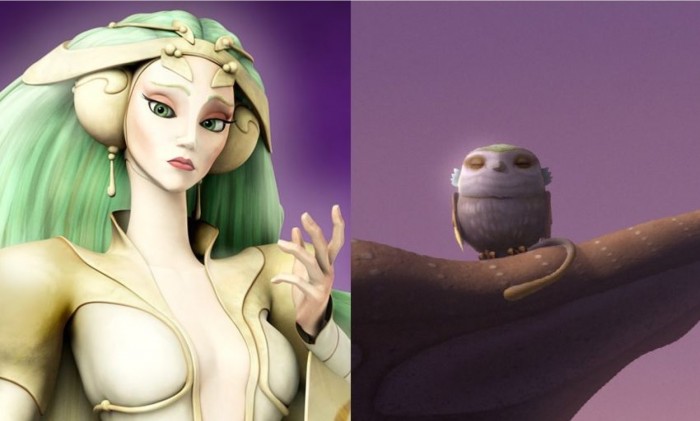 The Mantis Daughter Theory
/Film reader Alessio Pasquali points out that the convoree might be a reference to the Mortis arc from The Clone Wars. That series featured two Force users, Daughter and Son, who could transform into animals – a griffin and gargoyle. Ahsoka is poisoned by the Son and becomes a servant of evil. In order to save her, the Daughter sacrifices her own life, giving over her remaining life force to the Jedi.
In the season two finale of Star Wars Rebels, we saw a convoree fly by just as Ahsoka walked towards the arches in the temple. Could this convoree be a visualization of Daughter from Mortis? The winged, owl-like bird shows up twice in the series: once in "The Mystery of Chopper Base" right as Ahsoka and Ezra are getting ready to depart for Malachor, and again after we see Ahsoka's retreating in the temple.
Is Ahsoka the Wolf in the Star Wars Rebels Season 4 Trailer?
And then we can jump back to this weekend, where DisneyXD premiered the trailer for the fourth and final season of Star Wars Rebels. For the most part, the trailer is character-based with no big visual surprises. But after the voice over reveals "we never imagined it would end like this," we see a shot of Ezra and Sabine riding a mythical looking white wolf through the foggy darkness.
Remember that last piece in Dave Filoni's art series featuring Ahsoka walking through a portal surrounded by white wolves. Is it possible that Ahsoka now has the power to transform herself into this wolf-like creature? Before coming upon this theory, I asked Filoni about the wolf in the trailer, and he laughed:
"It's in there because I love wolves, and I think I've threatened to put wolves in Star Wars and the Story Group all know that I love wolves. It was really all of them saying let's do this. And in the very beginning of the show, season one when I was working with Greg Weisman, Ezra says a little rhyme: 'Loth-cat, Loth-cat, Loth-wolf run. Pick a path and all is done.' And so it really cues into that. Loth-wolves are a thing that have been there and we'll find out why we haven't seen them. It's exciting. It's something ever since Carroll Ballard's Never Cry Wolf, which was a film that hugely inspired me as a kid. I've always been interested in, and I've found a way to weave them in to the tapestry of this story. I won't say what they are about. I'm glad people are interested in them, and that's probably a good thing. We'll have to see where it goes."
What do you think? Is Ahsoka the Loth-Wolf? Star Wars Rebels season 4 will premiere on DisneyXD in Fall 2017.