'Alien: Covenant' Promos: Messages Of Hope From A Doomed Crew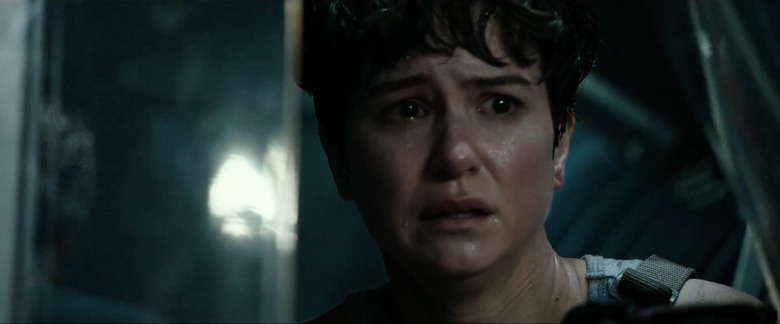 The crew aboard the Covenant are in for one rude awakening. They're all hopeful for their colony expedition and ready to start new lives, but what they don't see coming are Xenomorphs, chest bursters, and your friendly neighborhood homicidal droid, David (Michael Fassbender). Daniels (Katherine Waterson) and friends are mostly doomed, but they don't know that yet in some new Alien: Covenant promos, which features the film's heroine and Captain Oram (Billy Crudup) sending messages back home intercut with some found footage of everything going to hell.
The first of the crew message comes from Daniels, who's sending a heartfelt one back home to her father, who she'll never see again. Like the film's six-minute prologue, this clip gives a good sense of Daniels' personality and motivation. The quick flash of Daniels' smile at the 0:50 mark is a nice, unsettling little touch.
One character who we do know something happens to? Captain Oram (Billy Crudup), whose first encounter with a face hugger doesn't go so well in the Alien: Covenant trailer. Oram's transmission back home is more rigid and scripted than Daniels'. Here's the Captain before he discovers he hasn't landed on the most magical place in the galaxy:
Before we watch the crew of the Covenant, including Tennesse (Danny McBride) and Karine Oram (Carmen Ejogo), get picked off one-by-one, Alien fans have the opportunity to celebrate the franchise once again with Alien Day. At participating Regal Theaters, you can purchase tickets to see Alien, Prometheus, and some exclusive new footage from Alien: Covenant on April 26. That's about three weeks before Scott's latest film comes out, so maybe we don't need to see more footage from it...but the opportunity to see Alien on the big screen, especially if you haven't before, isn't something to pass up. I know I won't.
Here's the synopsis for Alien: Covenant:
Ridley Scott returns to the universe he created with Alien: Covenant, a new chapter in his groundbreaking Alien franchise. The crew of the colony ship Covenant, bound for a remote planet on the far side of the galaxy, discovers what they think is an uncharted paradise, but is actually a dark, dangerous world. When they uncover a threat beyond their imagination, they must attempt a harrowing escape.
Alien: Covenant stars Michael Fassbender, Katherine Waterston, Billy Crudup, Danny McBride, Demián Bichir, Carmen Ejogo, Amy Seimetz, Jussie Smollett, Callie Hernandez, Nathaniel Dean, Alexander England, Benjamin Rigby, and James Franco.
Alien: Covenant opens in theaters May 19.