'Outlander' Season 3 Trailer: Jamie And Claire Are Still Separated By Time And Space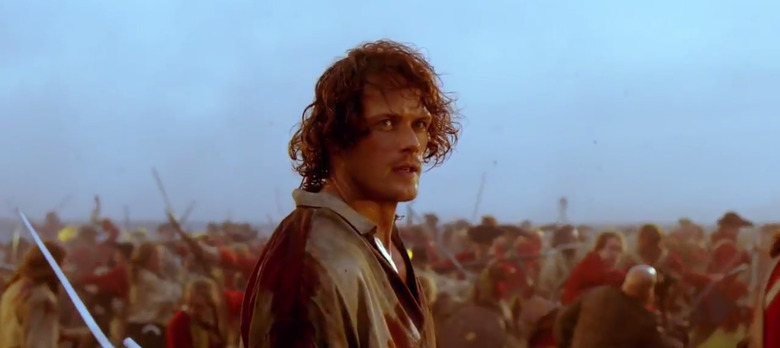 The star-crossed lovers of Outlander continue their heartbreaking attempts to reunite across time and space in the third season of the Starz show.
But it looks like the unlucky lovers have had no improvement in their fortune, as Claire's hair, fashion, and teenage daughter suggest that it's been decades since she and Jamie separated.
After the peril, passion and adventures that Jaime (Sam Heughan) and Claire (Caitriona Balfe) had together, 20 years apart is nothing. Right? The third season, for which Starz released a teaser trailer for, explores the two lovers in the wake of their separation, attempting to reunite despite facing the obstacles of time and space.
The Season 3 teaser takes our breath away! Relive #Outlander with the @STARZ app before it returns this September: https://t.co/fgpSCykDgx pic.twitter.com/nL2ureO9eT

— Outlander (@Outlander_STARZ) April 17, 2017
The third season takes place after a pregnant Claire, at Jaime's urging, returns to her time of 1948 to raise their child in safety. Meanwhile, Jamie is left to fight and presumably die in battle in 1743 Scotland after a failed stand at Culloden. Distraught at her husband's supposed death, Claire goes back to her 1940s-husband Frank(Tobias Menzies) to raise her daughter, Brianna (Sophie Skelton) in England. But 20 years later, Claire returns to Scotland and discovers that Jamie did not in fact die at Culloden.
Here's the official synopsis for Season 3:
In Season Three of "Outlander," the story picks up right after Claire travels through the stones to return to her life in 1948. Now pregnant, she struggles with the fallout of her sudden reappearance and its effect on her marriage to her first husband, Frank. Meanwhile, in the 18th century, Jamie suffers from the aftermath of his doomed last stand at the historic battle of Culloden, as well as the loss of Claire. As the years pass, Jamie and Claire attempt to make a life apart from one another, each haunted by the memory of their lost love. The budding possibility that Claire can return to Jamie in the past breathes new hope into Claire's heart... as well as new doubt. Separated by continents and centuries, Claire and Jamie must find their way back to each other. As always, adversity, mystery, and adventure await them on the path to reunion. And the question remains: when they find each other, will they be the same people who parted at the standing stones, all those years ago?
Though the two of them begin the season separated, hopefully it won't be for long, as the steamy chemistry between Heughan and Balfe is a huge driving factor in the show. Of course, the political intrigue, the period drama within a period drama, and the tragic love across generations are components as well, but nothing can beat the romance between Jamie and Claire.
Outlander returns on Starz with 13 new episodes this September.