Why Charlie Hunnam Chose Not To Star In 'Pacific Rim: Uprising'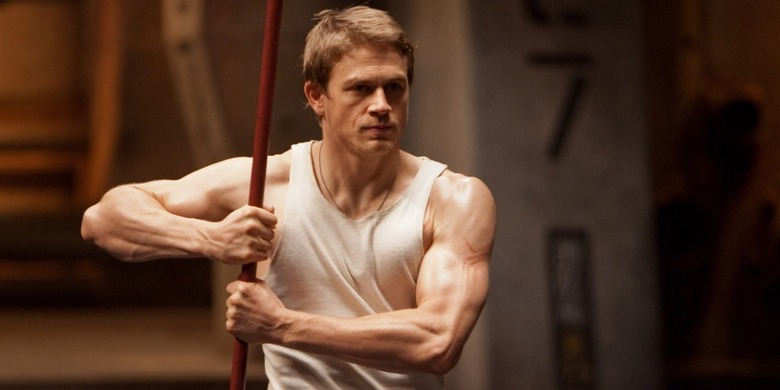 Raleigh Becket, the hotshot Jaeger pilot who tends not to play well with others, isn't returning for next year's Pacific Rim: Uprising. Long before director Steven S. DeKnight (Daredevil) started shooting the sequel, Charlie Hunnam was expected to get back in a Jaeger – but the actor eventually parted ways with the project. According to Hunnam, the split was perfectly amicable, thanks to former Legendary Pictures CEO, Thomas Tull.
Below, The Lost City of Z star shares his reasons for opting out of the sequel.
There was an early draft of the Pacific Rim sequel which had Becket as the lead again, perhaps referring to the version director Guillermo del Toro was developing. As Hunnam has explained before, scheduling issues arrived once the sequel, which initially had trouble getting the greenlight, was up and running.
After the Wanda Group had acquired Legendary Pictures, the Chinese company was intent on making the sequel made as soon as possible. Hunnam explained the situation to Den of Geek:
Although it underperformed in other territories in the world, [Pacific Rim] was an enormous success in China. All of a sudden, it became their primary focus to make [Pacific Rim: Uprising] and they wanted to do it very, very rapidly ... I think their schedule subsequently changed, and I might have been able to do both, but at that time, they were writing the script and they needed to know, was I in or was I out?
When it came to deciding whether he was in or out, it was between Pacific Rim: Uprising and the remake of Papillion, which has already wrapped filming. Hunnam was contracted to star in the Pacific Rim sequel. Legendary could've forced him out of Papillion, but Tull didn't want to do that to the actor:
He was like, 'Dude, you were going to do that other film and that's where your heart is. I don't want you being on set if you're not going to be happy, so go do the other film,' which was ludicrously generous of him. But that's just the type of man he is.
Hunnam wasn't dispassionate about Pacific Rim: Uprising; it's just that he was already deeply invested in Papillion. Creatively, all around, Beckett's absence from the sequel sounds like the right move – allowing the world to grow with some new characters along with a new vision. Plus, it let Hunnam star in another drama, which is what I want to see after his fantastic turn in The Lost City of Z.
Pacific Rim: Uprising opens in theaters February 23, 2018.