'Star Wars Rebels' Season 4 Trailer: Get A Peek At The Final Season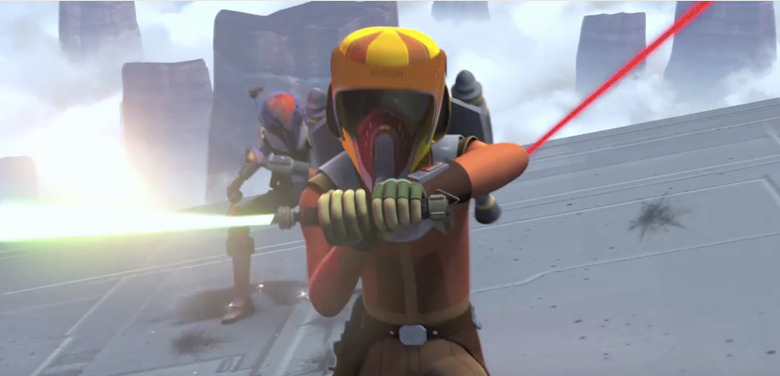 Saturday morning at Star Wars Celebration Orlando 2017 began with a bang, with a sneak preview of the fourth season of Star Wars Rebels. Creator/executive producer Dave Filoni and the crew of the Ghost were on hand to debut the first trailer for the hit Disney XD animated series.
Along with the new trailer, Dave Filoni also revealed that this will be the final season of Star Wars Rebels. Hit the jump to watch the first Star Wars Rebels season 4 trailer now.
Star Wars Rebels Season 4 Trailer
The third season of Star Wars Rebels ended with the Rebellion suffering a massive defeat to the Empire, thanks to the masterful guidance of Admiral Thrawn. Ezra recruited the help of Sabine Wren, reuniting the family that is the Ghost crew.
Speaking of which, now that Sabine is back, we're going to dive into more of her issues with her Mandalorian family. In addition to the new Mandalorians showing up, the panel hinted that we might see the most famous Mandalorian, the bounty hunter known as Boba Fett, make an appearance at some point.
Now that they're back together, the Ghost crew is facing the Empire for one last season. Admiral Thrawn is still at large, and this time his bodyguard Rukh (voiced by Return of the Jedi star Warwick Davis) from the Star Wars Legends side of things is being brought into the series as another villain to contend with.
Plus, as the series gets closer to the timeline of when A New Hope begins, we'll see a little bit of crossover with Rogue One. Saw Gerrera can be glimpsed in this trailer, voiced by Forest Whitaker himself, and his co-pilot Two Tubes will be alongside him in a U-Wing. There also appears to be at least one Death Trooper popping up as well, so who knows what other Rogue One pieces will make it into the fourth season of Star Wars Rebels
Star Wars Celebration is screening the first episode of the fourth season at the time of this writing, and our own Peter Sciretta will have a reaction from the season premiere sometime this weekend, so stay tuned.
What did you think of the Rebels season 4 trailer? Leave your thoughts in the comments below. While no premiere date is scheduled, expect season four of Star Wars Rebels on Disney XD sometime in fall 2017.