'Star Wars: Episode 9' Won't Have Carrie Fisher Appear After All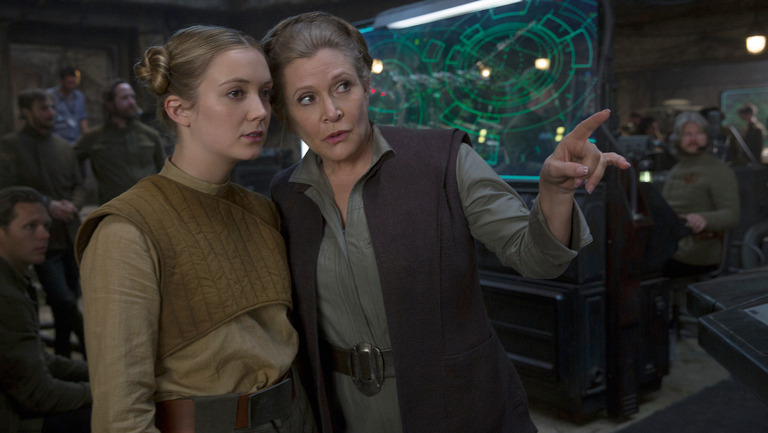 Ever since Carrie Fisher passed away before the end of 2016, Star Wars fans have wondered how her character General Leia would be handled as the Star Wars saga continued. Disney CEO Bob Iger revealed that Star Wars: The Last Jedi would not have to be altered following her passing, despite reports indicating that Carrie Fisher was meant to play a bigger role in Star Wars: Episode 9. Part of the solution was to use existing footage of Carrie Fisher in Episode 9 that was shot during production of The Force Awakens and The Last Jedi, according to Carrie Fisher's brother Todd Fisher. But now Lucasfilm has done a complete 180 on that proposed plan.
Lucasfilm president Kathleen Kennedy recently sat down for an interview after debuting the teaser trailer for Star Wars: The Last Jedi (watch it over and over again right here, and then check out our trailer breakdown), and she said that we will not see Carrie Fisher in Star Wars Episode 9 after all. Find out what Kathleen Kennedy said about the matter after the jump.
Here's the interview from ABC News where Kathleen Kennedy clarified Carrie Fisher's future in Star Wars:
EXCLUSIVE: Lucasfilm President Kathy Kennedy says Carrie Fisher will NOT be in @StarWars Episode 9 as General Leia. #SWCO #TheLastJedi pic.twitter.com/gxH80QteYb

— Good Morning America (@GMA) April 14, 2017
If you can't watch the video for some reason, here's what she said about Todd Fisher's recent remarks about his sister being revived by way of repurposed footage from the most recently shot Star Wars movies:
"[Todd] was probably confused, because we finished everything in [Episode] 8, and Carrie is absolutely phenomenal in the movie. We're so happy that we were able to complete shooting in the summer.
Unfortunately, Carrie passed away, so by the time we were well underway with Episode 9 – in our thoughts, we had not written the script yet – we regrouped, we started over again in January, so sadly Carrie will not be in [Episode] 9. We'll see a lot of her in [Episode] 8."
More than likely, Disney and Lucasfilm wanted to make sure they had as many options at their disposal when it came to deciding what to do following the death of Carrie Fisher. Though they may have asked Todd Fisher, as well as Carrie Fisher's daughter Billie Lourd, if they had permission to use existing footage that wasn't used in either The Force Awakens or The Last Jedi, that didn't mean that was definitively part of their plan.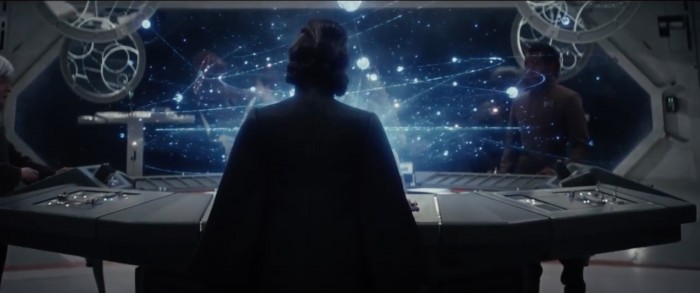 What Happens to General Leia in The Last Jedi?
The question that many fans now have is what will happen to Carrie Fisher's character in Star Wars: The Last Jedi if she's not going to appear in Star Wars: Episode 9? As we mentioned before, Disney CEO Bob Iger said that The Last Jedi would not be altered following Carrie's death. If that remains true, then how will we say goodbye to the character properly?
When Paul Walker died a few years ago in the middle of production on Furious 7, his two brothers helped complete shooting as stand-ins while visual effects were used to replace their faces with a digital recreation of Paul Walker's face, including the emotional farewell given to his character Brian O'Conner in the final scene of the movie. However, Bob Iger has said that visual effects will not be employed to create new footage of Carrie Fisher, despite the fact that they were able to complete such a feat when they brought back Peter Cushing as Grand Moff Tarkin in Rogue One: A Star Wars Story.
From my perspective, it looks like one of those statements will be made false. The Last Jedi will likely have been changed in some capacity in order to compensate for Carrie Fisher not appearing in Star Wars: Episode 9. The only way that statement could remain true is if there was already a plan for General Leia to be killed off in the movie anyway. But if that was the case, then Episode 9 wouldn't need to have changed their approach to the story and started from scratch.
The only way I could see Bob Iger being 100% right is if the opening crawl of Star Wars: Episode 9 explains that General Leia has been killed, and the opening scene of the film is a funeral for the character. That would be a touching way to say farewell to Leia without needing any new footage of Carrie Fisher. It would also serve as a good plot device to kick off whatever happens next.
At the end of the day, it wouldn't be a big deal if part of The Last Jedi had to be changed due to Carrie Fisher's passing. But whatever happens with General Leia, we just hope Disney and Lucasfilm have figured out how to give her a proper send-off since this is the last time we'll see Carrie Fisher as this character.
In the meantime, if you'd like to check out a heartfelt farewell tribute to Carrie Fisher, watch the video honoring her work, including a lovely speech from Billie Lourd, right here.