'Star Wars: The Last Jedi' Trailer Breakdown: Breathe. Just Breathe.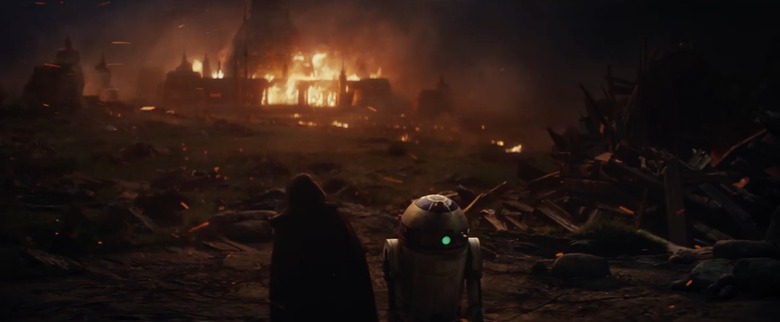 This morning, the Star Wars: The Last Jedi teaser trailer arrived just as fans hoped and expected it would. We've been waiting for our first official glimpse at the sequel for a long time, and this teaser did not disappoint. Some exciting new details were revealed that raised more questions than answers, but that's exactly what a Star Wars teaser trailer is supposed to do.
Because we're obsessed with all things Star Wars, you knew that we were going to do a Star Wars The Last Jedi trailer breakdown diving into all the important details that you might not have noticed. But beware of some possible spoilers.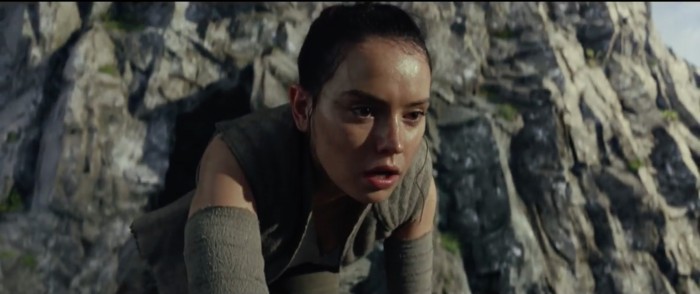 The orchestra slowly rises and an image comes into view...and it's interrupted by the sudden appearance of someone, just like the teaser trailer for The Force Awakens. Interestingly enough, I think this might actually end up being the first shot of the movie since the image fades from what looks like stars in space (the kind we traditionally see after the opening crawl is done) to the glistening of rocks on the ground. But this time it's not Finn who pops into the image. It's Rey, and she looks like she's tired and out of breath. It would appear that she's started training with Luke Skywalker, which is interesting considering what we'll hear him say at the end of the trailer.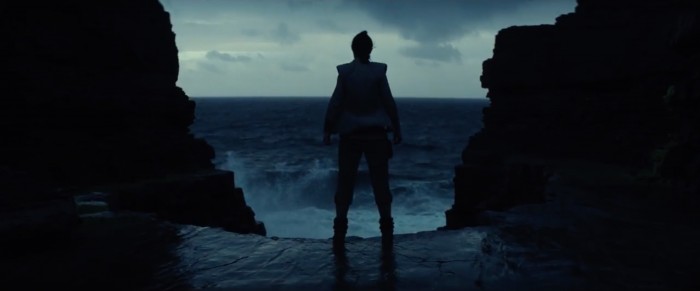 As we see picturesque shots of Skellig Michael, we hear Mark Hamill's voiceover say, "Breathe." He's talking to Rey, but he might as well be talking to excited fans as they watch this trailer. Here Rey stand looking out over the ocean, perhaps in a moment of self-doubt, or maybe in a moment of frustration. After all, Daisy said during the film's Star Wars Celebration panel that Rey has to deal with the fact that meeting your heroes doesn't always turn out how you expect. So perhaps she and Luke Skywalker will not get along so easily at first.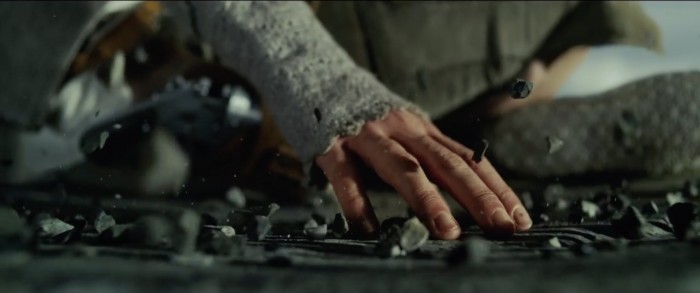 Luke's voiceover continues as he tells Rey to "Reach out," as we see Rey's hand touching the ground and pieces of rock start floating around her. This looks to be another part of her training as she tries to figure out how to use the Force in a more focused way. We cut to black as Luke says, "What do you see?"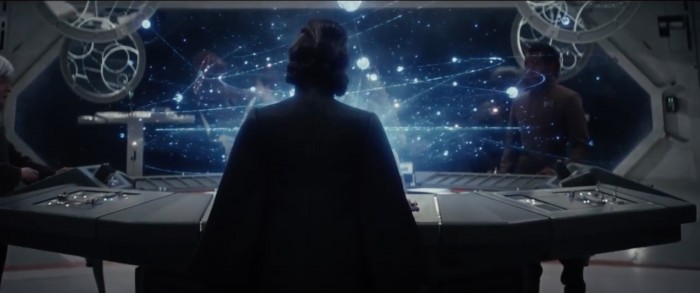 We, the audience, see this shot of General Leia on the bridge of a ship. Which ship, we do no know, but it might be one of the larger ships we see in a later shot in space. It's clearly the reverse shot of one of the behind-the-scenes photos that emerged online during the panel for Star Wars: The Last Jedi (which you can check out over here). If I'm not mistaken, I believe you can hear a faint whisper of Leia's signature line "Help me Obi-Wan..." as this shot fades through, just before Rey more firmly says "Light."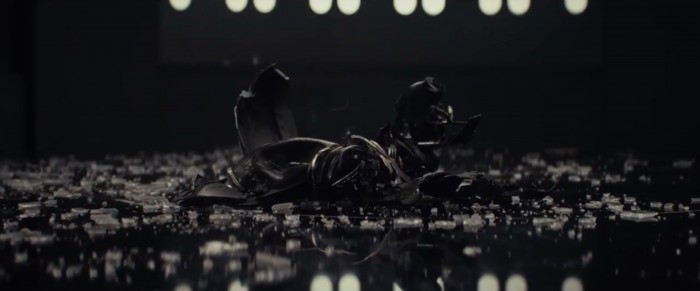 The music changes a bit, giving us a cue of what the score sounds like when Kylo Ren is around in The Force Awakens. That makes sense since it appears that his mask has been destroyed in this scene. Did Kylo smash it himself in anger? We've seen him throw fits before, so I wouldn't be surprised. During this shot we hear Rey say "darkness," but just before that there's another faint line of dialogue that sounds like Alec Guiness as Obi-Wan saying something about the "dark side."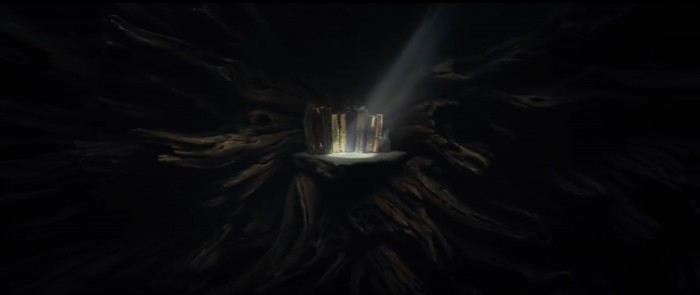 Then this mysterious shot shows up. It appears to be a collection of books sitting on a shelf that's part of a tree. This is likely that tree we've seen in photos from the set of The Last Jedi. We've heard rumors that Luke is protecting a tree from an old Jedi temple, which was first explored in the Star Wars: Shattered Empire comic, but it looks like we'll get more of an explanation as to its significance this time. There's also another faint voice before the next shot and line in the trailer. It sounds like Yoda, but for the life of me, I can't make out what he's saying. Could it be "You have the power. Use it"? But then another time I thought I heard, "Control your anger." I'm sure someone who can isolate the audio will figure it out soon enough.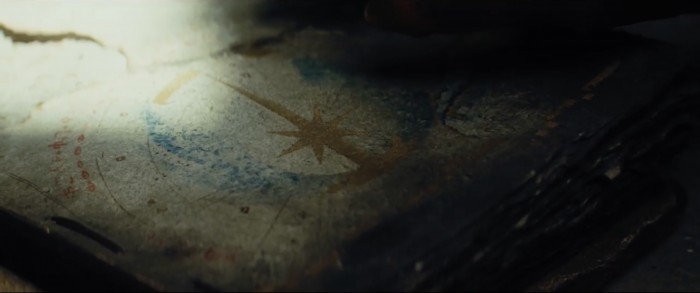 Inside the book we see this symbol, it looks like a variation on the symbol of the Jedi Order we've seen in various places before, as Rey says, "The Balance." Rey is looking through the books, but is she doing so with permission, or is she reading where Luke does not want her to look just yet?
UPDATE: Reader Dave Gvozden suggests that this may be the Journal of the Whills:
Good point. The iconography on it is similar to that of the original script translation from Dark Horse's The Star Wars.

— Dan Gvozden (@dangvozden) April 14, 2017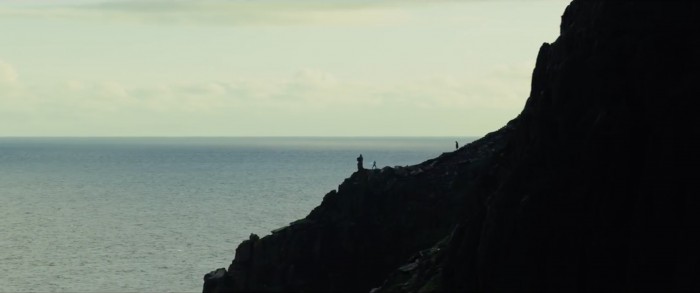 As Luke's voiceover says, "It's so much bigger," we see Rey swinging around Luke's old blue lightsaber as the Jedi Master looks upon her. Again, it's clear that he's training her, but what's the point if he truly believes what he says at the end of the trailer?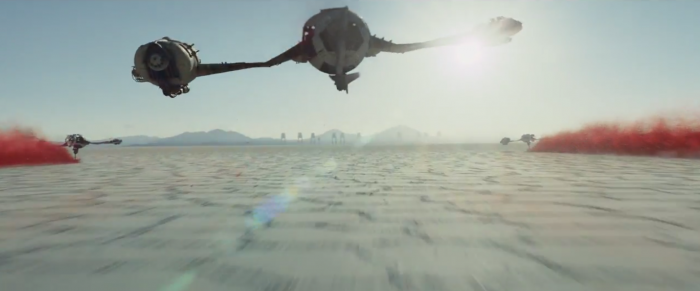 The music swells as we cut to this shot in the desert. There's a new ship we haven't seen before that appears to have some trouble flying at first. In the distance we see some First Order walkers ready to face off against what we assume are Resistance ships. But where are they?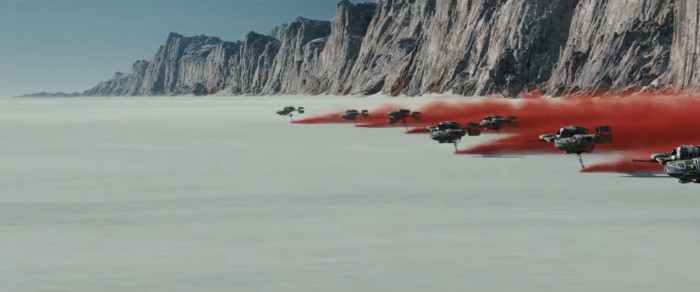 Whatever these ships are, they're intentionally kicking up red dust as they fly, perhaps to make them not so easily visible to the incoming First Order troops. Speaking to Entertainment Weekly, Rian Johnson reveals that the planet is called Crait, a mineral planet. Crait houses an old abandoned Rebel base that's now been abandoned. So what are First Order walkers and Resistance ships doing there? Johnson only says that it's something "very pressing and immediate."
Interestingly enough, there have been rumors of the planet that Snoke resides on having snow that covers red soil. Could he be hiding on this planet in an abandoned Rebel base? It would be the last place that the Resistance would think to look and it would explain why there are a bunch of walkers there.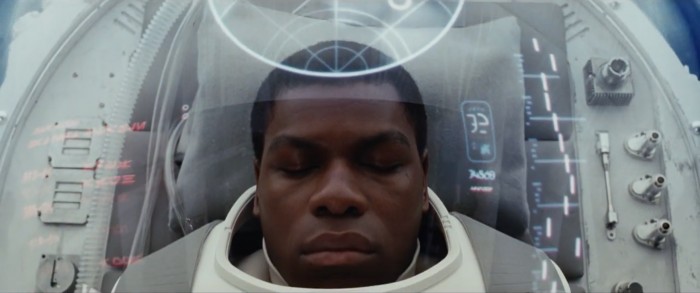 Here's the only shot of Finn that we get in the trailer, and it looks like he's still recovering from his encounter with Kylo Ren in The Force Awakens. Will he be out of commission for part of the movie? Does he need time to recover before he heads back into action? Rumors have pegged him having a secret mission that takes him back into First Order territory, so he likely gets back on his feet at some point.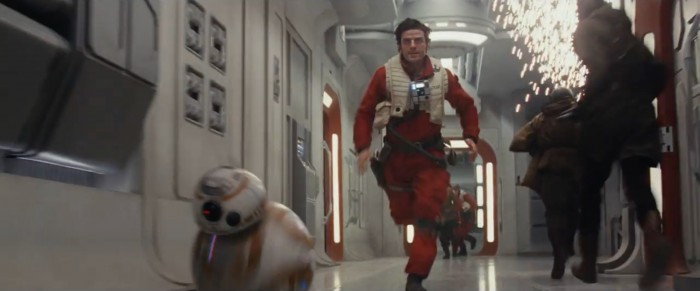 Poe Dameron and BB-8 are in quite a hurry, and it appears they're on the same ship, or at least the same type of ship, that we've seen General Leia on in previous shots and behind-the-scenes images. It looks like they're being attacked, as sparks fly behind him and other Resistance members scurry around the ship.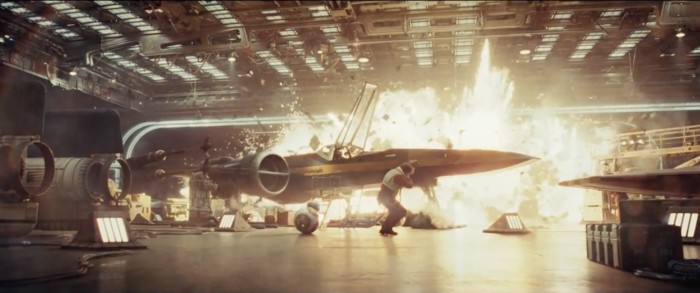 Poe Dameron is running towards his X-Wing, but once he gets there, an explosion catches him off guard. It gets pretty close to his black and orange X-Wing, but it's not clear if he'll lose yet another one of his ships or not.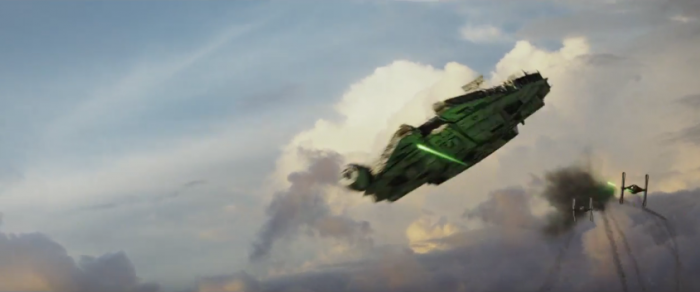 The Resistance aren't the only ones getting beaten up though ,as a TIE Fighter explodes thanks to the lasers from the Millennium Falcon, which has two TIE Fighters in close pursuit. Since Rey and Chewbacca took the Falcon to Ach-To to find Luke Skywalker, is this them making a getaway after the First Order tracks them down?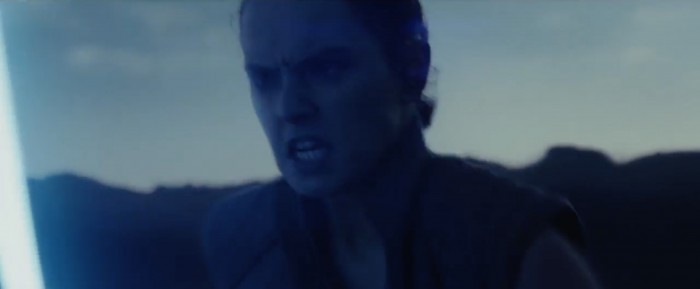 A quick shot shows Rey running with her lightsaber ignited. It's not clear if it's dusk or dawn in this moment, but Rey looks pissed. What is she running after? Who is she running towards?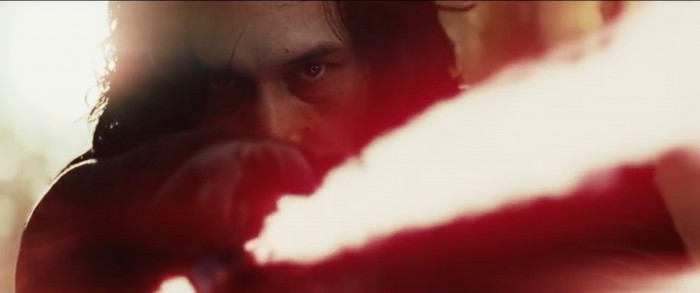 This is one of my favorite shots of the trailer. Kylo Ren holds out his lightsaber, and you can see the blade reflecting in his eyes, one of which has a scar over it after his last encounter with Rey. Is he intimidating her with this motion, or is he about to face Luke? Wherever he is, there's fire all around him, which may have ties to another shot that we're about to see towards the end of this trailer. During the preceding two shots, we heard Luke say, "I only know one truth."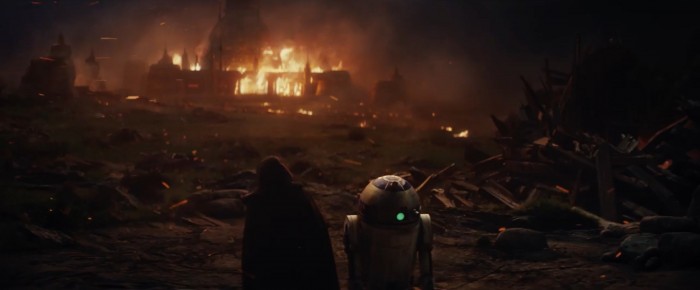 This appears to be a Jedi temple burning to the ground. Luke drops to his knees beside R2-D2. I wonder if this is a flashback to some of the time Luke spent on his own. This could easily be set in present day, though. Maybe the First Order has found the first Jedi temple that look was said to be looking for in The Force Awakens? Perhaps that shot of Kylo Ren comes from this scene...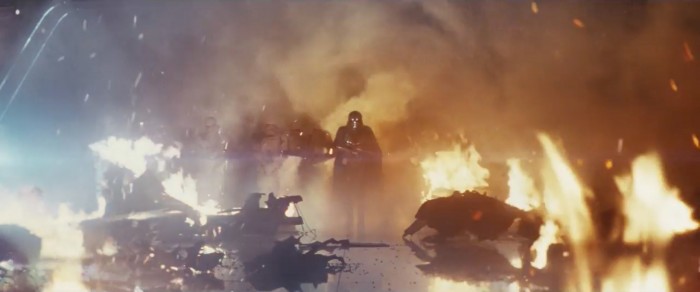 The plot thickens as we see Captain Phasma and some Stormtroopers walking through some burning rubble. However, this does not appear to be in the same scene with the burning Jedi temple. If you look in the upper left hand corner, that's the glowing window of the docking bay of the ship where we saw Poe Dameron's X-Wing. If you go back to the shot of the explosion behind Poe's X-Wing, you'll notice the same window. This appears to be after that explosion, and Phasma boards the ship with her troops.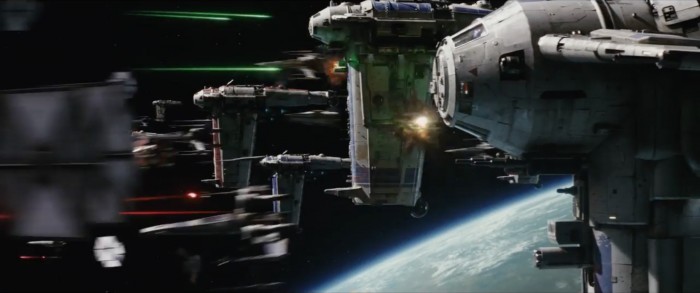 Presumably, Phasma's invasion is all part of the space battle that we see in this shot. Those ships are likely the Resistance ships that we've seen General Leia and Poe Dameron on, and the First Order is clearly laying into them. But there are some X-Wings out there, and if you look closely, there appears to be a new A-Wing in the mix.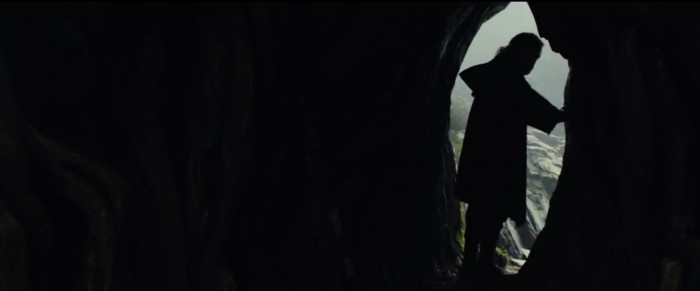 Here's our final shot of the trailer with Luke's silhouette standing in the opening of a cave on Ach-To. He says, "It's time for the Jedi to end." But if there are no Jedi, then how can there be balance? Does Luke think that all the belief in the Force and finding balance should be abandoned? That would be quite a compelling direction for his character to take.
***
So there you have it. We are now made of even more questions when it comes to Star Wars: The Last Jedi, but I couldn't be more excited to see where Rian Johnson takes us in this next chapter of the saga.
Star Wars: The Last Jedi arrives on December 15, 2017.