J.C. Chandor's 'Triple Frontier' Loses Tom Hardy, Channing Tatum, And Paramount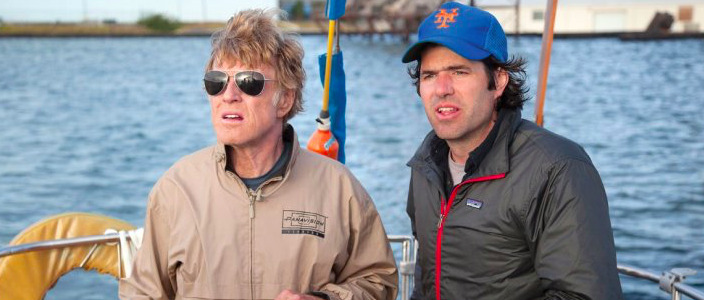 J.C. Chandor's (A Most Violent Year) drug smuggling thriller, Triple Frontier, has just been dealt a brutal blow. The project, formerly called Sleeping Dogs, has been at Paramount for several years and has pulled in all kinds of talent. At one point, Kathryn Bigelow was going to direct Tom Hanks in the film before Chandor got Tom Hardy and Channing Tatum on board to star, but they've dropped the project, along with Paramount.
Below, learn more about what's going on with Triple Frontier.
Making this scrapped Paramount project more heartbreaking? Chandor was preparing to begin production next month, according to Deadline. For the past few days, the outlet was hearing rumblings of trouble. Today, Deadline confirmed the studio pulled the plug after some creative differences threatened to cause problems for the drama, which is about drug smuggling and the border zone that exists between Paraguay, Argentina, and Brazil in South America, also known as "la triple frontera."
Chandor did some rewrites on Academy Award winner Mark Boal's (Zero Dark Thirty) script that made Tatum and Hardy apprehensive. Hardy made requests for changes, which could've caused issues for the modestly scaled project. Triple Frontier had a tight schedule and budget, but once these differences showed signs of trouble, the studio decided not to move forward. There's also the fact that the person who got the project rolling at Paramount, former CEO Brad Grey, is no longer at the studio.
There are four key roles in Triple Frontier, one of which Johnny Depp was circling. For years, Depp and Hanks have expressed interest in the thriller. Denzel Washington was recently considering the project, but he chose to make Dan Gilroy's (Nightcrawler) Inner City instead. Ever since Paramount started working on the project, it's attracted some serious talent, including rOscar winner Mahershala Ali (Moonlight) and an actress on the rise, Adria Arjona (Pacific Rim: Uprising).
The good news is that Chandor isn't abandoning Triple Frontier. The All is Lost director is going to attempt to get the project up and running again with replacements for Hardy and Tatum. There's no word if Ali and Arjona are still involved.
Triple Frontier stumbling is disheartening, considering what a talent Chandor is. With only three films under his belt, he's established himself as a filmmaker not interested in cookie cutter drama. The All is Lost director takes chances, which is maybe why he's had some trouble since A Most Violent Year getting another movie made. The director was also set to direct Deepwater Horizon, but creative differences ultimately led to his departure.