Universal's Wizarding World Of Harry Potter Is Getting A Holiday Makeover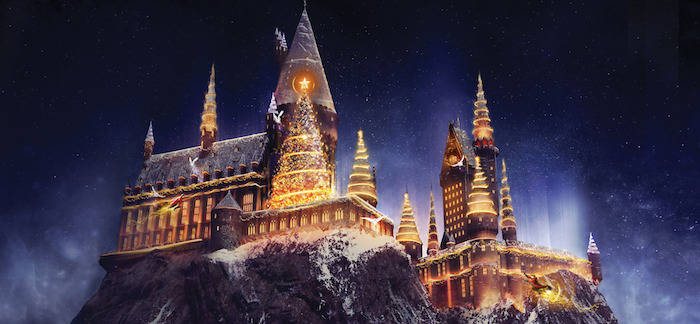 It's easy to sound like a broken record when you're talking about Universal Studios' Wizarding World of Harry Potter, but it really is that impressive, that spellbinding, and that meticulously designed. If you're a theme park fan, you owe it to yourself to check it out in either California or Florida if you haven't already.
And because the folks at Universal are wise in the ways of wringing your wallet until every last dollar falls out, they're introducing a new holiday makeover for the area, transforming the already magical world into something even more delightful.
Each of the Harry Potter novels (and a few of the movies) pause for the holiday season, exploring what Harry and his friends do with their time off from school. So it's entirely appropriate and in keeping with the spirit of the J.K. Rowling's story for the Wizarding World of Harry Potter to embrace the season.
Beginning in November, the Orlando, Florida version of popular theme park land will be covered with festive decorations, new food will be available to purchase, special entertainment will fill the streets, and Hogwarts castle itself will transform via projection mapping, the same tech used in many Disney theme park shows. Naturally, the makeover will take place in both halves of the Wizarding World, with Hogsmeade in Islands of Adventure and Diagon Alley in the neighboring Universal Studios both getting touched up.
Here are more details, should you be curious:
Christmas is a special time in the Harry Potter series, and fans from around the world have long wanted to enjoy that part of J.K. Rowling's compelling story for themselves. This November, the new Christmas experience in The Wizarding World of Harry Potter will give guests a special opportunity to see, feel and even taste what it's like to celebrate the magic of Christmas in J.K. Rowling's Wizarding World.
As night falls, a magical holiday transformation of Hogwarts castle will take place right before guests' eyes.  Incredible state-of-the-art projection mapping and special effects will wrap the iconic castle – bringing holiday spirit and memorable Christmas moments from the Harry Potter series to life like never before.
Festive décor like ornate garlands will line the streets of both Hogsmeade and Diagon Alley.  Each storefront will be decked out with uniquely-themed decorations, and guests will enjoy special holiday themed food, drink and entertainment.
While this is certainly fun in a "gee-wiz!" sort of way, it's clear why Universal is pursuing this: holiday re-theming is a great way to draw visitors into a theme park, especially the regulars who are looking for a new excuse to return. Walt Disney World and Disneyland have been making bank for years with Christmas and holiday-themed entertainment and Universal has made a habit of nipping at their heels. If there's a way for them to steer tourists in their direction, they'll take it. They've gotten very, very good at it, igniting the "theme park cold war" that currently exists between the two companies (which has resulted in upcoming themed areas based on Avatar, Star Wars, and Nintendo video games).
The seasonal re-theming of the Wizarding World of Harry Potter will begin on November 18, 2017 and last through January 6, 2018.