'Star Wars: The Last Jedi' Won't Feature The Return Of Lando Calrissian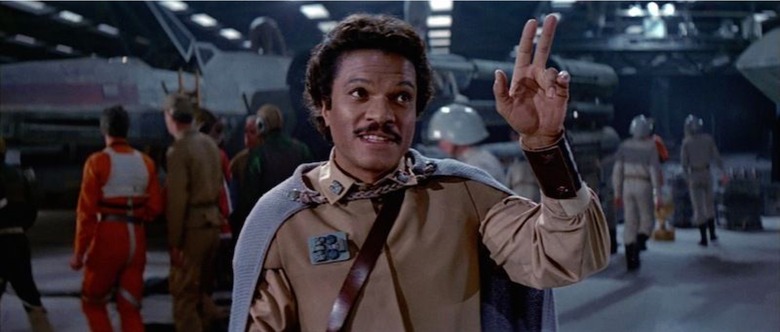 Contrary to the rumors that have been swirling around the internet for the better part of a year, actor Billy Dee Williams has made it official: Lando Calrissian does not have a role in this year's Star Wars: The Last Jedi.
The news came out of Star Wars Celebration in Orlando, Florida, where Williams was headlining a panel dedicated to his work in the saga. Of course, it's entirely possible that Lando is in The Last Jedi and Williams is denying it to maintain a surprise, but that's certainly not the tone of the reports coming out of the panel.
An old smuggler buddy of Han Solo, Lando Calrissian was introduced in The Empire Strikes Back before playing a key role in The Return of the Jedi (where he led the assault on the second Death Star). Williams later reprised the role in an episode of Star Wars Rebels and made a cute voice cameo in The LEGO Movie.
Williams has been protective of Lando over the years, first expressing his dismay when Donald Glover was cast as a young version of the character in the upcoming Han Solo spin-ff movie before actually meeting with him and warming up to the idea:
He's a very delightful young man, I must say. We had a very nice lunch and we talked for a very long time and it was very easy. He had questions about [Lando]. I guess he was doing what normal actors do, they just want to find out what direction they want to take so they gather their information. So, we just sat and talked, and I didn't want to impose on anything he wanted to do — he's got his own ideas, I would imagine. I know he has his own ideas. He's a very talented young man. In fact, I was listening to some of his music [Childish Gambino, Glover's musical alter-ego] and it's pretty good stuff.
So we're definitely getting more Lando in the years to come. The question now is whether or not we'll ever get to see Williams play the character again. After all, The Last Jedi should offer the perfect opportunity for him to stop by – surely he'd attend the funeral of his old buddy, Han Solo, right? And if he is occupied elsewhere, you have to wonder what kind of scheme he's cooking up to keep him away. Maybe he's gone full "retired celebrity" and has used his infamy to kickstart a galactic casino?
In any case, perhaps Colin Trevorrow will find a part for him with Star Wars: Episode 9.