'Coming To America' Sequel Officially In Development At Paramount Pictures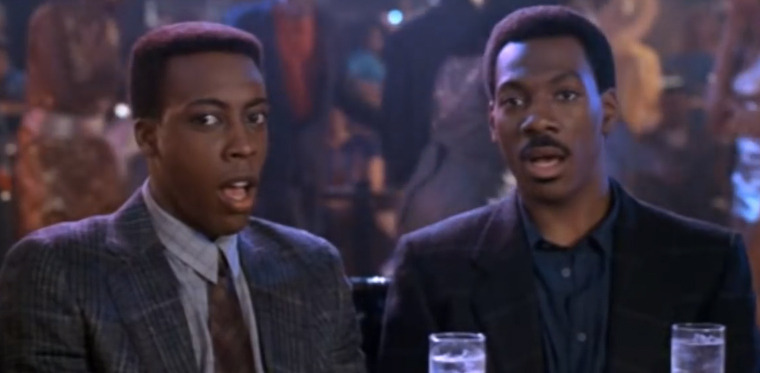 Just last month, a rumor suddenly surfaced claiming that Eddie Murphy was working on a sequel to his hit 1988 comedy Coming to America, arguably the last great comedy he made before stumbling into the realm of constant mediocrity. Since the news came from a seemingly hacked, then non-existent Twitter account and TMZ was the only outlet that affirmed existence of a sequel, plenty of fans were skeptical. However, against all odds, a Coming to America sequel is truly in development.
Paramount Pictures is currently working on Coming to America 2 (or maybe Coming 2 America), and they've brought the film's original writers to script it.
The Tracking Board has news of the Coming to America sequel courtesy of their editor-in-chief, Jeff Sneider. He has a strong track record for breaking scoops like this, so there's almost certainly some truth to this.Barry Blaustein and David Sheffield will be writing, just as they did the original movie for director John Landis, but there's no director attached to the sequel just yet. Furthermore, details of the film are being kept under wraps, so we don't even know what the sequel will be about yet.
The original Coming to America followed Eddie Murphy as Prince Akeem Joffer, the royal heir to the throne of the fictional Africa nation of Zamunda. The African prince becomes frustrated with the marriage arranged by his father King Jaffe Joffer (James Earl Jones), so he heads to the United States with his loyal squire Semmi (Arsenio Hall) to find a bride that he truly loves.
When it's explained in brief, it sounds like a bit of a cheesy romantic comedy, and in some ways, it is. But the film was created at the height of Eddie Murphy's powers, and it's full of some outstanding writing and jokes. It's also one of two cases where Eddie Murphy played multiple characters and it's not annoying as hell (the other being Bowfinger). Case in point: this scene, Eddie Murphy plays the main barber and the white Jewish customer playing checkers, while Arsenio Hall appears in one of his multiple roles as well.
What Can We Expect?
While I'm fully interested in seeing what Blaustein and Sheffield have in store for this sequel, almost all of the comedies Eddie Murphy has made in the years since Coming to America was released make me think he no longer has the sharp comedic mind that a great sequel like this would require. Even more disconcerting is the fact that Blaustein and Sheffield also wrote both of The Nutty Professor movies that Eddie Murphy made. Plus, comedy sequels in general are extremely hard to pull off. What would this one even be about?
The easy money is on this being a sequel that will have Eddie Murphy as the king of Zamunda now, and he maybe accompanies his own son on a trip to the United States to find a bride. Having Eddie Murphy accompany his son on the trip would allow him to see how the dating scene has changed in the years since he's been to America, and considering the state of things in the country today, would also allow for some biting satire as well.
However, that seems like it's a little too easy and uninspired. Whatever the story is, I hope that we get to see some of the original cast members return, even if they're just in cameo roles. It would be great to see that Louie Anderson is still working at McDowell's.
Anyway, we'll keep our ears to the ground for more information on Coming to America 2.