'Labyrinth' Spinoff Will Be Directed By 'Don't Breathe' Director Fede Alvarez...Uh, What?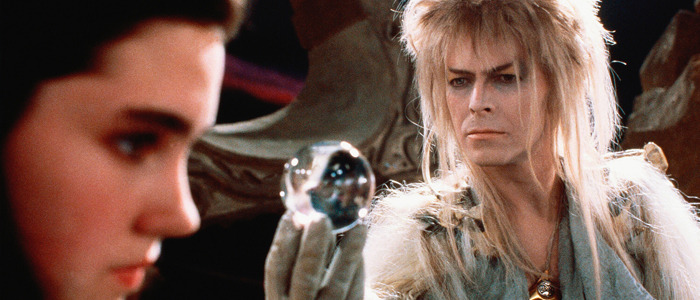 Are you ready to return to the mystical world of Jim Henson's 1986 film Labyrinth? TriStar Pictures sure hopes you are, because after years of stops and starts, they've hired director Fede Alvarez to helm a continuation. Yes, I assure you that you read that correctly: the guy who made Don't Breathe and the Evil Dead remake is making a new Labyrinth movie.
Labyrinth wasn't a hit upon initial release, but the movie has since become a cult classic and a cultural touchstone, especially for women who grew up in the '80s and '90s. I came to the film late – I only saw it for the first time a few years ago – but it has great characters led by a young Jennifer Connelly and an absolutely mesmerizing performance by David Bowie, and I can see why a generation holds it close to their hearts.
A sequel or continuation of has been in the works since at least 2014, and last year, it was reported that Guardians of the Galaxy writer Nicole Perlman was tapped to write the screenplay for a remake. She quickly took to Twitter to clarify the situation:
Guys, please don't fall for all the clickbait. No one is remaking "Labyrinth." That movie is perfect as it is.

— Nicole Perlman (@Uncannygirl) January 24, 2016
Labyrinth is my favorite film from childhood, so I share your concerns that any continuation of the world be handled with love and respect.

— Nicole Perlman (@Uncannygirl) January 23, 2016
But now Deadline reports that TriStar has hired Alvarez to direct and co-write the screenplay with Jay Basu (Monsters: Dark Continent), and there's no mention of Perlman's name anywhere, so it seems like she's off the project. She's currently writing Marvel Studios' Captain Marvel with Inside Out writer Meg LeFauve.
But let's take a step back and talk about how strange of a choice Alvarez is for this material. Deadline's sources assure them that this Labyrinth movie will be a "new story within the universe created in the original movie," it's specifically "not a remake," and David Bowie's character – Jareth the Goblin King – won't be involved. So even though we don't know anything about its plot, it's safe to assume The Henson Company and TriStar, who are co-producing this film, will attempt to recapture the original's tone so they can aim at a similar age group. (Jim Henson directed the first film, and his daughter Lisa Henson will be a producer on the new installment.)
Alvarez has directed a violent Evil Dead remake, the disturbing and suspenseful Don't Breathe, and he's now working on The Girl in the Spider's Web, Sony's sequel to The Girl with the Dragon Tattoo. None of those projects are anywhere near "family friendly," so this strikes me as a peculiar choice. But when I was watching Don't Breathe, I remember being incredibly impressed by his ability to stretch tension to its breaking point, so if he's able to tackle a more lighthearted tone with that same level of control, he might actually do the impossible and make a Labyrinth movie that lives up to expectations of fans who adore the original.
What do you think? Is Alvarez the right guy to tackle a new Labyrinth movie?