VOTD: An Emotional Tribute To Carrie Fisher From Star Wars Celebration 2017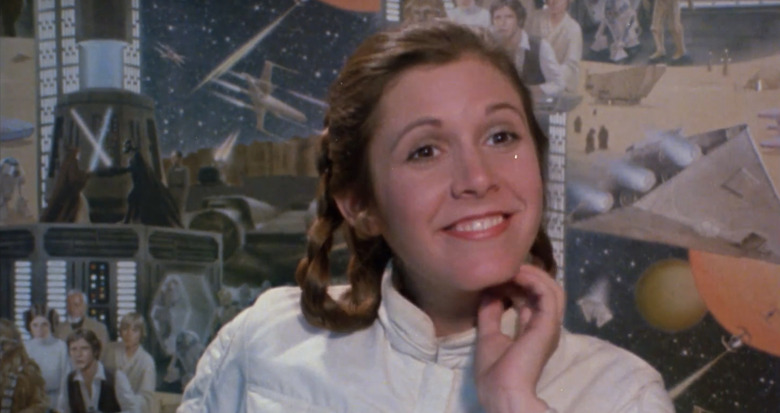 It's been a few months since we all felt the pain of losing the wonderful talent who was Carrie Fisher. Not only was she an accomplished star on the big screen, but she was also responsible for touching up scripts all over Hollywood with her biting wit and sharp intellect.
With Star Wars Celebration happening in Orlando, Florida without her in attendance, a tribute to the people's princess, senator and general was put together, complete with an emotional reel of footage from Star Wars, archived interviews and behind-the-scenes moments. Plus, there's a shot of her on the set of Star Wars: The Last Jedi.
Watch the Star Wars Celebration Carrie Fisher tribute below.
In addition, if you're looking to shed some more tears over this tribute to Carrie Fisher, watch a heartfelt speech from her daughter Billie Lourd, who addressed fans at Star Wars Celebration today. We've embedded a video from the livestream of the Star Wars 40th anniversary panel that should start right at the point her speech begins:
This is such a wonderful portrait of who Carrie Fisher is and always was. She was one of the most candid, funny and brazen people in the entertainment industry, something that's hard to find in an industry that requires stars to always put on a show and create a persona for the cameras. Carrie Fisher never did that. She was always herself and no one else, and that's one of the reasons fans loved her so much.
My favorite part of this tribute video are the moments where Carrie is just being herself, from dancing on the set of Star Wars: The Force Awakens with co-star Daisy Ridley to full-on making out with a fan who asked for a photo with her during a livestreamed panel. She brought so much light into everyone's life, whether you were one of her colleagues or just a complete stranger.
For those of you who came here for the shot of Carrie Fisher on the set of Star Wars: The Last Jedi, here you go: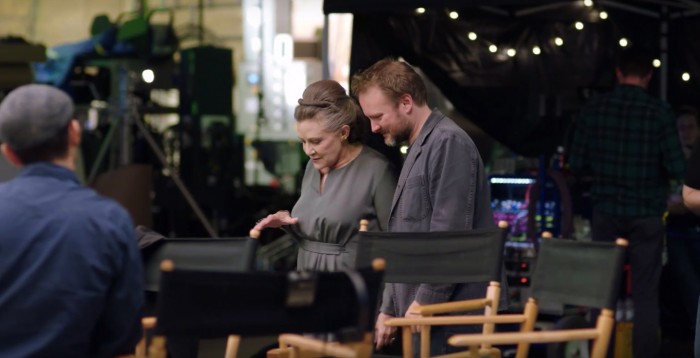 It doesn't reveal any of the set that Carrie Fisher was working on that day with director Rian Johnson, but that's our first look at one of General Leia's outfits in The Last Jedi. Here's hoping we get to see more as Star Wars Celebration continues. Stay tuned for even more Star Wars coverage as the week goes on.