'Transformers: The Last Knight' Trailer: Yep, This Is Another Michael Bay-Directed 'Transformers' Movie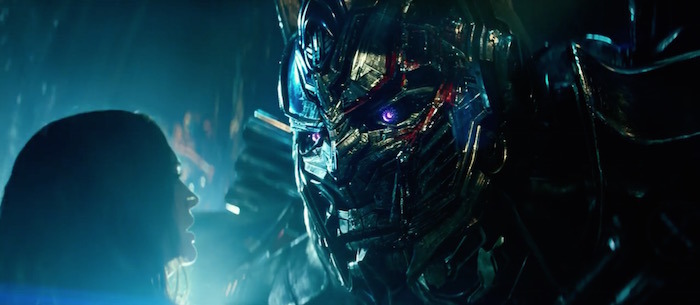 Michael Bay has been directing Transformers movies for literally a decade now, so you should know exactly what to expect before you click play on the new Transformers: The Last Knight trailer. By now, you know whether or not these movies are for you – you're either one of the people who loves them to death or one of the people who hate-watches them with a grimace throughout their very long running times. Either way, we've all contributed to them being enormous hits.
To be fair, this new one does feature Transformers fighting alongside medieval knights in flashbacks, so at least it has that going for it.
So here it is: the new Transformers: The Last Knight trailer, a motion picture where Mark Wahlberg and Anthony Hopkins get to chat about robots that turn into cars. What an age we live in.
Our own Peter Sciretta saw footage from the film at CinemaCon, where he had a mixed reaction. On one hand, a lot of it looks cool...and on the other hand, there's Cogman:
To be honest, the mythology and Arthurian legend material looked fantastic. I didn't know I wanted to see Michael Bay direct a King Arthur movie, but after seeing this footage, I think I do. The other side of this film seemed a bit less interesting. The comedy, which is always bad in these films, seems even worse in this one. Anthony Hopkins' character has a Transformer butler named Cogman who is just plain unbearable, bringing scenes to a complete standstill.
Transformers: The Last Knight opens on June 23, 2017. Here's the official synopsis:
When all seems lost, a few brave souls can save everything we've ever known. The Last Knight shatters the core myths of the Transformers franchise, and redefines what it means to be a hero. Humans and Transformers are at war, Optimus Prime is gone. The key to saving our future lies buried in the secrets of the past, in the hidden history of Transformers on Earth. Saving our world falls upon the shoulders of an unlikely alliance: Cade Yeager (Mark Wahlberg); Bumblebee; an English Lord (Sir Anthony Hopkins); and an Oxford Professor (Laura Haddock). There comes a moment in everyone's life when we are called upon to make a difference. In Transformers: The Last Knight, the hunted will become heroes. Heroes will become villains. Only one world will survive: theirs, or ours.