'Sand Castle' Clip: Henry Cavill Will Fix This Iraqi Water Problem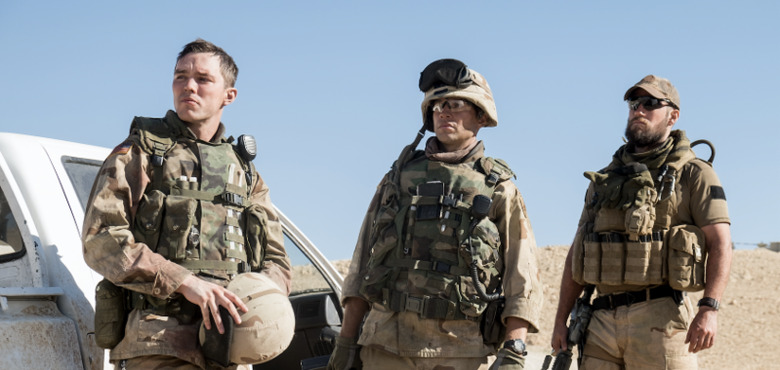 Two Brits don American — and in Henry Cavill's case, heavily Southern — accents to portray soldiers in the upcoming Netflix war drama, Sand Castle.
Set in 2003 during the occupation of Iraq, a group of American soldiers are tasked to repair a water pumping station in a dangerous rural village, but things don't go quite as planned. Nicholas Hoult is the naive American private at the center of this drama, based on the experiences of screenwriter Chris Roessner, who "learns the true cost of war."
The new clip from the Netflix film depicts Cavill, casually wearing a red T-shirt and an impressive beard, introducing a unit of new soldiers to an Iraqi soldier who will lead them to repair a broken water system in a rural village.
"Your job is real simple," Cavill tells his team in the clip. "You keep that water flowing, open the hearts and minds and then the Iraqis start pointing fingers and giving me and the boys some targets to hit."
Iraqi soldier Mahmoud (Sammy Sheik) arrives to playfully ask Cavill's character for his $20, and Cavill introduces the team of soldiers to him as Mahmoud's face falls. "These boys are going to fix your water problem," Cavill says. But judging by Mahmoud's chilly reaction to the team, and the soldiers' awkward silence, it seems like it won't be as simple of a job as Cavill's character assumes.
Read the official synopsis for Sand Castle:
"Set in Iraq in 2003, Sand Castle follows a group of American soldiers in the early days of the second Gulf War. Bearing witness to the heat and the horror is the inexperienced Private Matt Ocre (Nicholas Hoult), who together with several fellow soldiers is ordered to the outskirts of Baqubah to repair a water pumping station damaged by U.S. bombs. But as Ocre discovers, in an atmosphere where resentment and anger fester, trying to win the hearts and minds of the locals is a task fraught with danger. It's here, in the streets, squares and schools that he discovers the true cost of war."
Directed by Fernando Coimbra and written by Roessner, Sand Castle also stars Logan Marshall-Green (that's the Tom Hardy lookalike), Neil Brown Jr., Beau Knapp and Glen Powell.
Here's the full trailer for Sand Castle:
Sand Castle premieres on Netflix on April 21, 2017. This is actually one of two modern war movies Netflix is premiering in the near future, with War Machine (starring Brad Pitt) arriving a month later.