'Baby Driver' Trailer: Volume Up, Pedal Down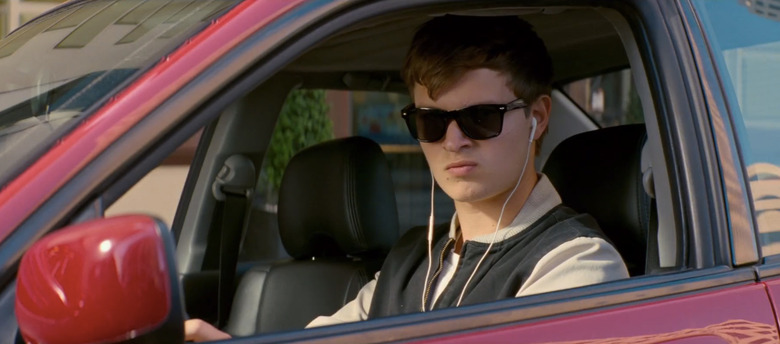 Last month, Edgar Wright's latest film Baby Driver played SXSW and received plenty of rave reviews, including one from our own Jacob Hall. The critical acclaim and the buzz that followed was enough to convince TriStar Pictures to bump the film from its initial August release date all the way up to the end of June. They've got a lot of confidence in this one, and after seeing the first trailers, so do we.
Now another Baby Driver trailer has surfaced, this one set entirely to the Golden Earring tune "Radar Love," which was featured in the theatrical international trailer that was released last month, but is used a little more effectively in this quick new trailer. Watch it below!
We get some adorable new shots of Ansel Elgort falling for a waitress played by Lily James, not to mention some slick new shots of the incredible stunt driving done in the movie. But even more importantly, we continue to get a vibe of how the music will work in this film, where Baby makes things happen to the beat and tune of whatever is playing from his iPod. Case in point, he has to stop the song at one point and rewind to give him the right rhythm for his drive.
In case you need any more explanation as to how music will really make this film pulse, Jacob Hall wrote in his review:
Baby Driver would be a fine action/heist movie if it was just that, but Baby's music-driven existence gives the film an immediate and clever hook. With virtually every scene set to our hero's eclectic soundtrack of oldies, indies, and everything in-between, the film becomes a musical. No one breaks into song, but they might as well. The rhythm of machine gun fire aligns with the beat of the soundtrack. Cups of coffee placed on a table act as a percussion back-up to the song blasting through the speakers. A walk through the city streets becomes a full-blown musical number that only we can notice, as the mundane choreography of day-to-day living syncs up with the music playing in Baby's ears.
When it comes to Edgar Wright, I'm all-in, and the more I see from this movie, the more excited I get. Thankfully, trailers can only show much of how perfectly music works in this film, and with about 35 songs on the soundtrack (as confirmed by Wright himself), there will be plenty of musical moments that we won't get to see until we're sitting in the theater. I'll be there opening day.
The rest of the Baby Driver cast includes Jon Hamm, Jamie Foxx, Elsa Gonzalez, Lily James, Jon Bernthal and Kevin Spacey. Baby Driver is arriving this summer on June 28.