James Gray Will Direct Brad Pitt In 'Ad Astra' This July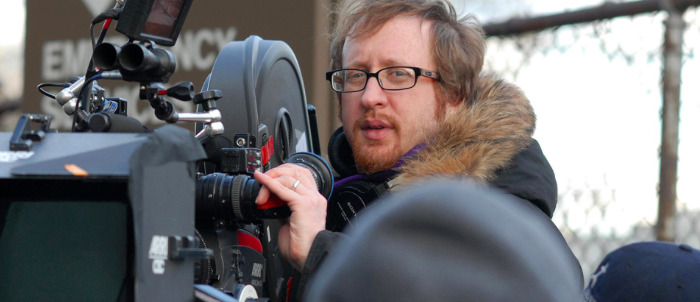 For years, Brad Pitt and filmmaker James Gray (The Immigrant) have talked about working together. Pitt almost appeared in We Own the Night, as well as a scrapped project of Gray's, The Grey Man. At one point, the actor was even going to star in the director's new epic, The Lost City of Z, but he decided to remain behind-the-scenes as a producer with his production company, Plan B.
His banner is also behind Gray's next film, Ad Astra (translation: "Through hardships to the stars"), which Pitt is now confirmed to star in. Below, learn more about the James Gray sci-fi film.
After talk of Pitt considering the lead role of space engineer Roy McBride, Collider confirmed that he's starring in the movie, which starts shooting on July 17. The story takes place 20 years after Roy's father took a one-way ticket to Neptune in search of extra-terrestrial life, a mission that was a failure for unknown reasons. During Roy's long and isolated journey to learn what happened, he'll experience a mental breakdown.
Gray told Collider he's hoping to make "the most realistic depiction of space travel":
I'm terrified by it. The science-fiction genre is so tricky because there are elements of fantasy usually involved, and there are also fantastical elements. What I'm trying to do is the most realistic depiction of space travel that's been put in a movie and to basically say, 'Space is awfully hostile to us.' It's kind of a Heart of Darkness story about traveling to the outer edge of our solar system. I have a lot of hopes for it but it is certainly ambitious... It starts shooting July 17th, so not too far away. I'm filled with terror, but that's fine [Laughs].
The filmmaker has previously said his "intention is to make a film which is almost science fact," and "something conceptually amazing, not visually amazing." Gray co-wrote the script Ad Astra with Ethan Gross (Fringe), who also co-storied the director's first script, Mecca. When Plan B started working on the project, they were trying to lock down a reasonable and manageable budget for the original sci-fi film, so it looks like they figured it out.
If you want to a glimpse of what a James Gray epic looks like, you don't have to wait until Ad Astra comes out. His new film, an adaptation of David Grann's The Lost City of Z, is a beautiful, lush, and heartfelt epic, featuring a moving performance from Charlie Hunnam. It's Gray's biggest film to date, and it's also his most emotional. It's a movie that's the perfect marriage between drama and spectacle.