'Enter The Warriors Gate' Trailer: Dave Bautista Rules With An Iron Fist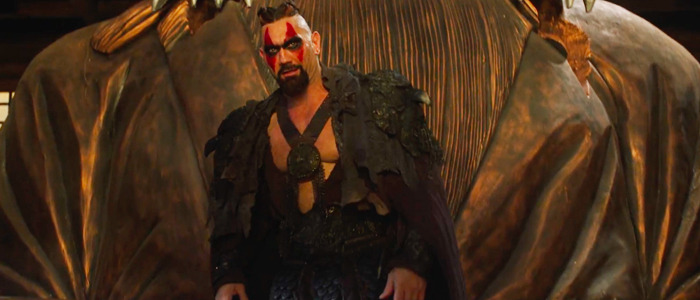 We're about to see Dave Bautista get back in action as the hilariously literal Drax the Destroyer in James Gunn's Guardians of the Galaxy Vol. 2, but the former WWE superstar actually has another movie coming out on the exact same day. It's called Enter the Warriors Gate, a fantasy martial arts film written by Luc Besson (The Fifth Element) and Robert Mark Kamen (Taken). Watch the Enter the Warriors Gate trailer below.
Enter the Warriors Gate trailer
*sighs, closes eyes, rubs bridge of nose*
A video game-obsessed white kid (who's known in the video game world as "The Black Knight) is given a magical gift by a wise Asian man. He's transported into an ancient world of mysticism, and though he has no martial arts experience, he sets out to become The One – the sole savior of the entire ancient kingdom. Not only that, he must also rescue a beautiful princess from a tyrannical ruler who intends to marry the maiden against her will.
Guys. It's 2017. You can't do this shit anymore. This level of cultural appropriation may have worked in the '90s, but we're in the middle of an important conversation about Asian representation in today's pop culture, and stuff like this is not a positive contribution. And especially not right now, with heated debates raging about things like Iron Fist and Netflix's upcoming Death Note adaptation. This looks like it might end up being filed as "Exhibit B" next to Paramount's Ghost in the Shell adaptation in the case of Common Sense v Tone-Deaf Ideas of the Entertainment Industry.
Matthias Hoene (Cockneys vs Zombies) directed this film, which looks like a low-budget mix of The NeverEnding Story, Gamer, and Crouching Tiger, Hidden Dragon: Sword of Destiny. Bautista, Uriah Shelton (13 Reasons Why), Ni Ni (The Flowers of War), Francis Ng (Exiled, Infernal Affairs 2) and Mark Chao (So Young, Monga) star. Here's the poster, which is clearly using Bautista as a major selling point: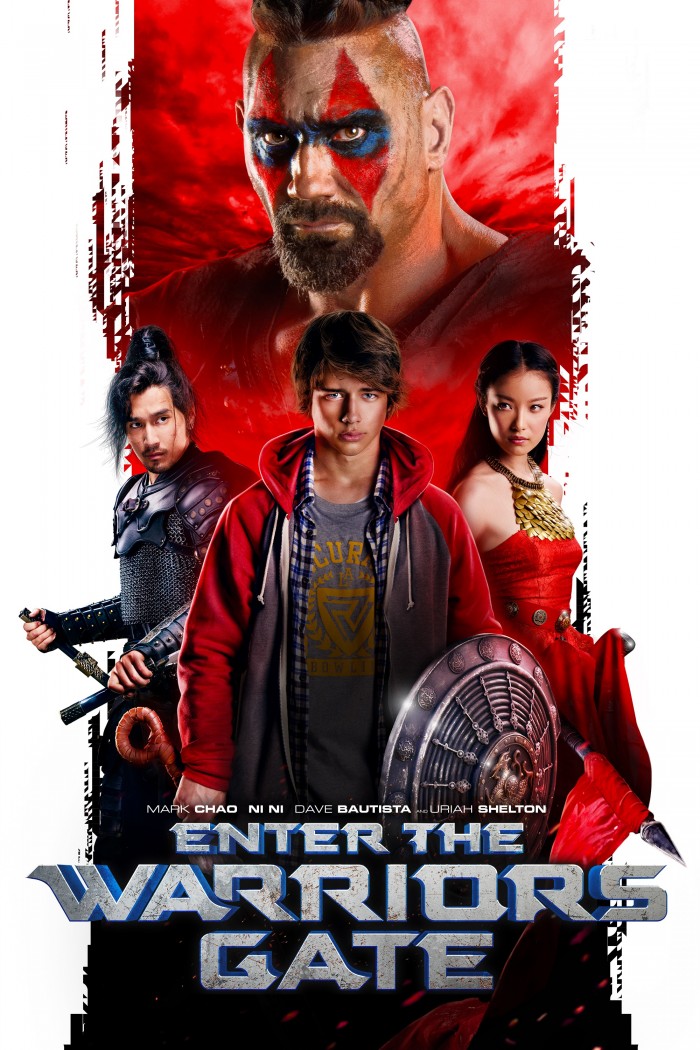 Enter the Warriors Gate hits theaters, On Demand, iTunes, and Amazon on May 5, 2017.
Epic fantasy-adventure meets martial arts action in this thrilling film written by Luc Besson & Robert Mark Kamen. After a mysterious chest opens a gateway through time, teen gamer Jack (Uriah Shelton) is transported to an ancient empire terrorized by a cruel barbarian king (former WWE superstar Dave Bautista). Jack will need all of his gaming skills as he battles to defeat the barbarian, protect a beautiful princess, and somehow find his way back home.