'The Haunting' TV Series Coming From Netflix And Director Mike Flanagan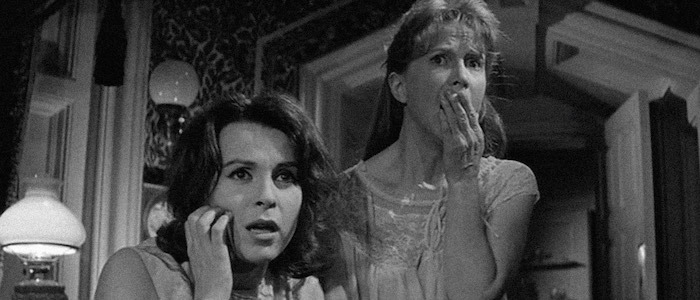 It looks like Netflix is happy to stay in the Mike Flanagan business. The ever-busy horror director has signed on to make a 10-episode series based on Shirley Jackson's novel The Haunting of Hill House, which has been previously adapted for the big screen twice, once in 1963 and once in 1999. In both cases, it was retitled The Haunting. However, there are a few intriguing details about this project that make it seem like the culmination of...well, something.
The news comes to us via Deadline, who report that Flanagan will write, direct and executive produce the series, with his producing partner Trevor Macy also serving as an executive producer. The pitch, which is described as a "modern re-imagining" of Jackson's 1959 novel and originated with Amblin TV's Darryl Frank and Justin Falvey, received a straight-to-series order from Netflix. Paramount TV, which owns the rights to the book, is also on board.
Before we delve into why this project feels like some sort of inevitable milestone for Netflix, let's talk about why this is such a cool idea. Jackson's novel is one of the great genre novels of the 20th century, but Robert Wise's 1963 film adaptation is even better – it's one of the best haunted house movies ever made, a stunning, scary, emotional, and surprisingly internal horror movie.
The story is one that we've seen before, but it's rarely been told as well: a paranormal investigator and a handful of guests investigate a haunted mansion. Things get weird and then they get dangerous. While the original novel is slim and the film runs a fat-free 114 minutes, it's easy to imagine how this barebones premise could be extended. Imagine a series interested in actually delving into the process of paranormal investigation, a horror tale where the time spent living in an evil house is allowed to ease itself under your skin over the course of 10 hours rather than two. There's the possibility for something very cool here.
The 1999 movie is garbage and we won't speak of it again.
Why This All Feels Inevitable
Anyway, Flanagan has spent the past few years carving out quite the name for himself in the horror genre. Although he's had a miss here and there (Before I Wake, anyone?), his track record has been otherwise solid: the very creepy Oculus, the far better than it should have been Ouija: Origin of Evil, and the very clever home invasion movie Hush. It's the latter that inspired his relationship with Netflix, who picked it up last year following its run on the festival circuit. Flanagan is currently attached to Netflix's adaptation of Stephen King's Gerald's Game as well. While they're not married to each other, it's clear that these two are more than happy to be acquainted.
The other connection here is Amblin TV, who had a hand in producing Netflix's excellent documentary miniseries Five Came Back. Flanagan, Netflix, and Amblin TV represent a tight circle of entities who seem to have found some kind of groove with one another.
But wait! There's more! A series adaptation of The Haunting of Hill House continues the trend of novels being adapted for television, a model that Netflix recently embraced with 13 Reasons Why. It also follows the trend of horror stories finally finding a home on the small screen, a charge led by The Walking Dead and American Horror Story. It remains to be seen how this series will actually turn out, but it feels like something that we've been building toward for some time – the right people, the right companies, the right genre, and the right source material, all converging together at once.
This certainly sounds promising.
Correction: This article incorrectly stated that Mike Flanagan was directing Annabelle: Creation, which is being helmed by David F. Sandberg. We apologize for the error.