'Thor: Ragnarok' Trailer Breakdown: Things Aren't Going So Well For The God Of Thunder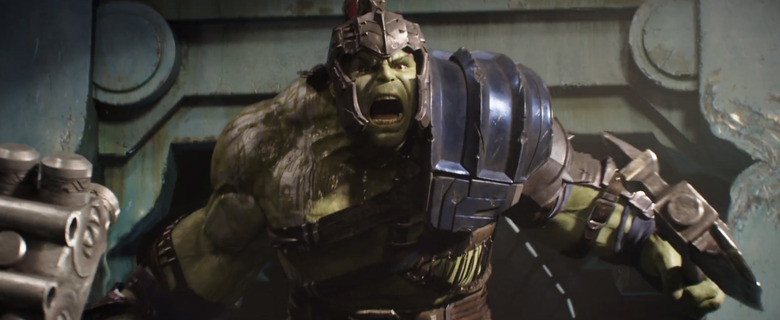 This morning, the Thor: Ragnarok trailer caught everyone off guard. Not only does it look like it will easily be the best film in the Thor franchise, but it looks like it could be on the higher end in ranking all the Marvel Studios movies. Of course, this is just a teaser trailer, and we need to keep our hype in check.
Even so, there are a lot of details to notice in this teaser and some new elements to the story that hadn't officially been revealed until now. Let's dig deep with our Thor Ragnarok trailer breakdown, where we go through the whole thing frame-by-frame.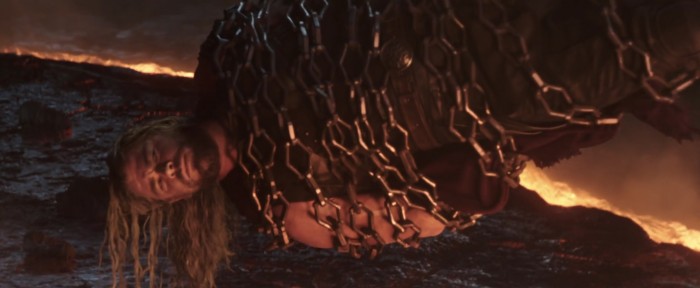 From the beginning, it's clear things aren't going well for Thor (Chris Hemsworth). His voiceover alone tells us, "I know what you're thinking. How did this happen?" Since he's telling the story, one would assume that he's okay at some point, especially since he has to appear in Avengers: Infinity War. But right now, he's chained up in a fiery place that is likely Muspelheim, one of the nine realms where the demon Surtur resides. Since concept art showed Thor fighting the large, flaming demon in a sizzle reel at Comic-Con, the god of thunder will likely tangle with him at some point. Still, we don't know why he's there, and we don't have long to think about it, because then something far worse happens.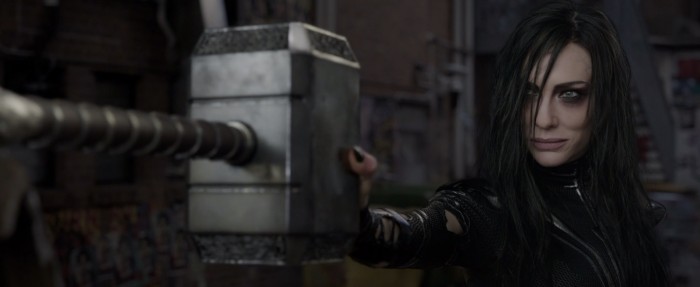 "Well, it's a long story," Thor says as we are shocked to see that this confrontation with Cate Blanchett as the villain Hela ends with her stopping Mjolnir in mid-air. But that's not the end of Marvel's surprise for Thor fans.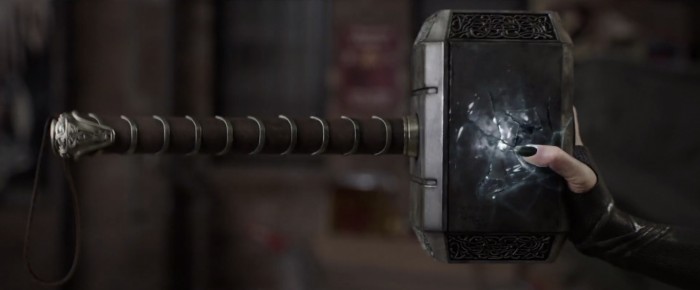 Cracks begin to appear in Thor's trusty hammer of which only he's been worthy to wield, and it explodes into pieces.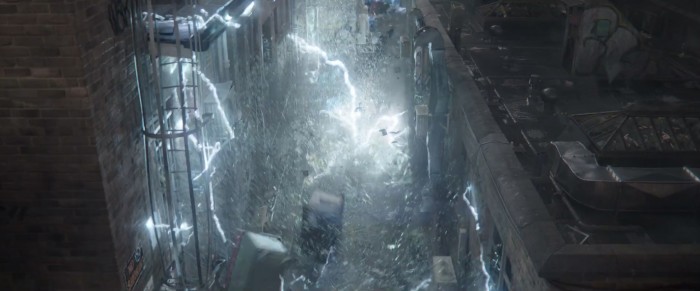 The force of the explosion is enough to send a wave of lightning through the alley in which he's met Hela. Speaking of which, that alley looks like it's on Earth. Maybe it's after this that Thor needs to seek the help of Doctor Strange (as seen in that film's post-credits sequence), since he'll be in a pretty dire situation.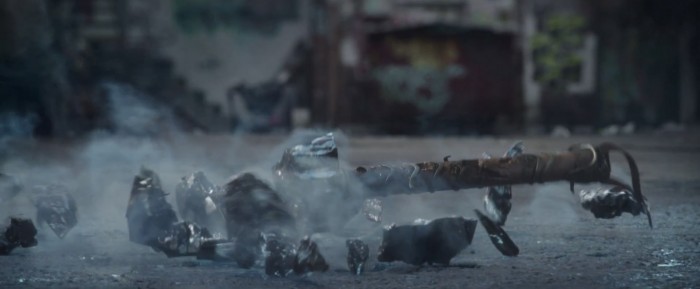 Just in case you thought there was a chance Mjolnir was okay, we get one quick shot of the hammer absolutely decimated before the Marvel Studios logo flashes, charged by Led Zeppelin's "Immigrant Song." After this, the trailer is running at full steam and it never slows down.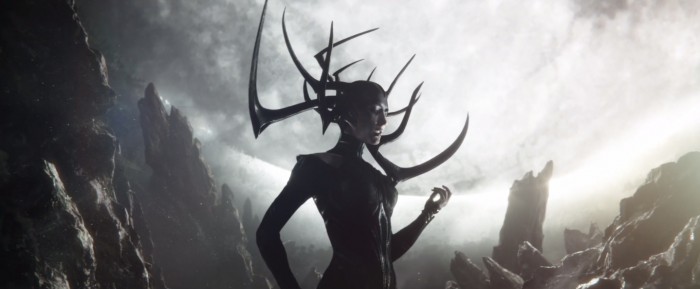 Here's another shot of Hela, wearing a creepy mannequin style mask and helmet with antlers all over it. She's standing in the mountains, and this doesn't appear to be Asgard, which is where we'll see her in the next shot. This makes me think that this is part of a sequence that we see a few brief shots of later, one that looks like a flashback that might set the stage for Hela's origin. But we'll talk more about that later.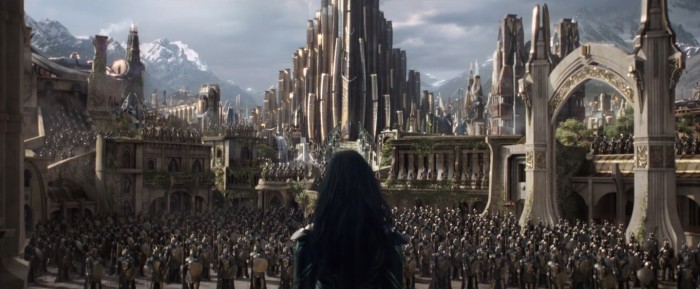 Hela stands, unmasked, in front of an army of Asgardians ready to defend their city. But the villain proclaims, "Asgard is dead."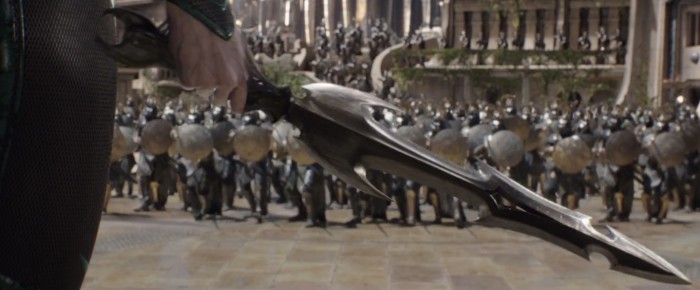 Hela unsheathes a deadly blade to take on her enemies. We don't know if it gives Hela any more strength or abilities, but if she's strong enough to stop Mjolnir, you can bet she'll be a force to be reckoned with when she has a weapon in her hand.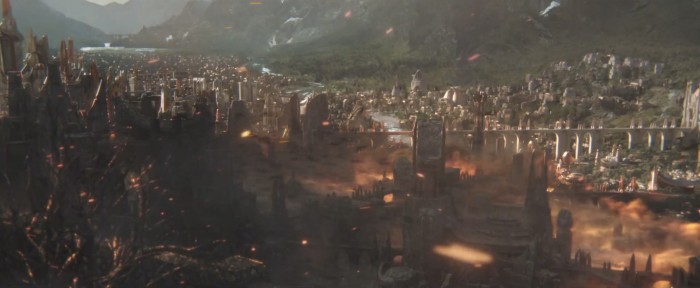 It appears Hela wasn't just making an idle threat to Asgard as we see the city swept up in flames, reduced to a burnt shadow of what it used to be. It's not clear if this is a vision or dream sequence that shows Asgard getting destroyed or if Hela really does end up destroying Thor's home. Since the title "Ragnarok" means the end of all things, it wouldn't be surprising if Asgard ended up getting annihilated.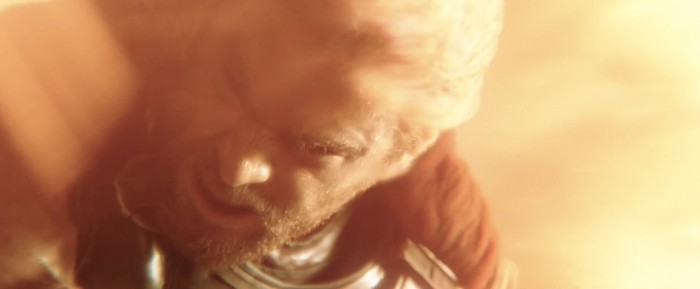 This next shot makes me think that the flames engulfing Asgard aren't part of a dream sequence or vision since Thor is seen in the middle of them, clearly struggling to resist. Of course, the next shot doesn't clear that up for us either.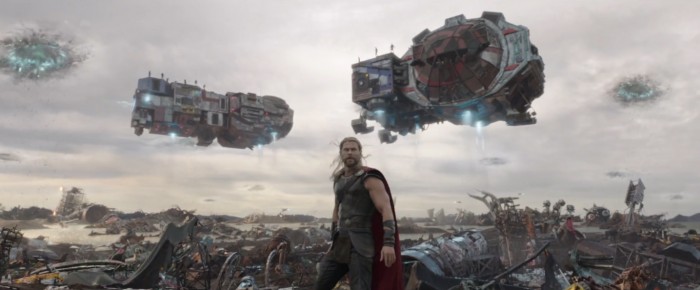 Thor is rocketing through the air and crashes on Sakaar, a junkyard planet, as you can see by all the trash littered around. There are two ships circling the god of thunder, but what are those portals in the sky? Perhaps Thor is blasted from Asgard and knocked into one of those portals, which sends him to Sakaar?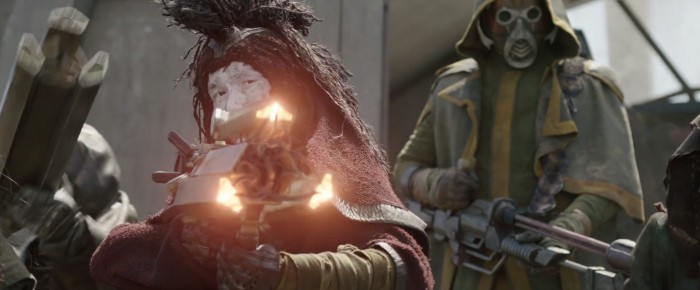 Despite a friendly greeting, the diverse people of Sakaar aren't wasting any time dealing with Thor as one shoots a charged net at our hero and ensnares him. However, it's not that man who ends up taking him away.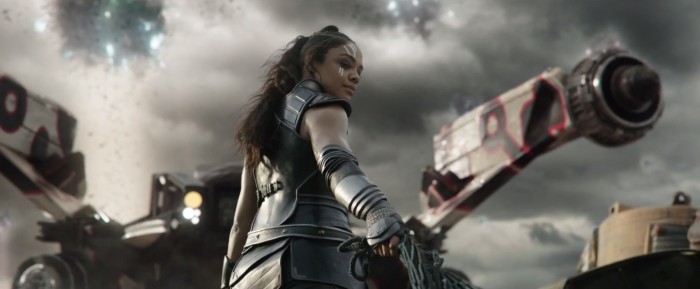 Instead, it's Creed star Tessa Thompson as Valkyrie, who ends up dragging him, presumably to that ship that's behind her. As we'll learn later in the trailer, she's working for The Grandmaster and bringing him worthy contenders for the gladiator arena.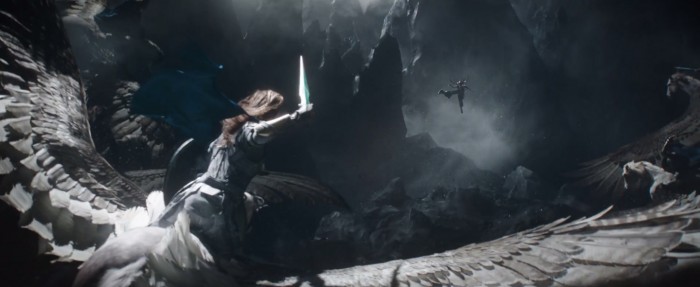 But before that, it looks like we're getting some of Vaklyrie's backstory. In the comics, Valkyrie (also known as Brunnhilda) is the leader of the Valkyrior, a group of nine warrior goddeses of Asgard who ride winged horses. They were tasked with taking mortally wounded human heroes from Earth and bringing them to Valhalla until Odin vowed to the Celestials (a species of powerful extraterrestrial cosmic beings) that he would limit the contact Asgard made with Earth.
After this, Valkyrie roamed Asgard in pursuit of something meaningful to do until she met Amora the Enchantress, who offered her a life of adventure. They completed conquests together, but they came to be at odds when she realized Amora was seeking immortality in addition to adventure. However, I don't think we'll see any of that play out in the movie.
In the shot above, that's clearly the Valkyrior flying through the air, swords drawn as they ride their winged horses. In the background we see Hela, and it appears to be the same setting where that earlier shot of the villain came from.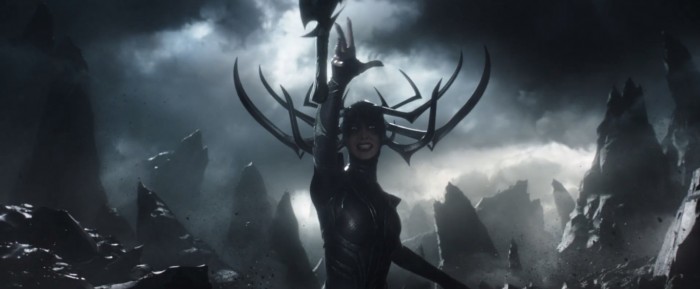 If you need anymore evidence of that, there's this shot with Cate Blanchett's face, visible this time, as she throws her sword at the incoming warrior goddesses. As I said before, I think this is some kind of flashback or prologue because every scene is hazy, darkly lit and moving in slow-motion. It has the same feel of previous expository sequences we've seen in the other Thor movies. The question is whether Valkyrie had temporarily joined forces with Hela before turning on her or was merely tasked with defeating her.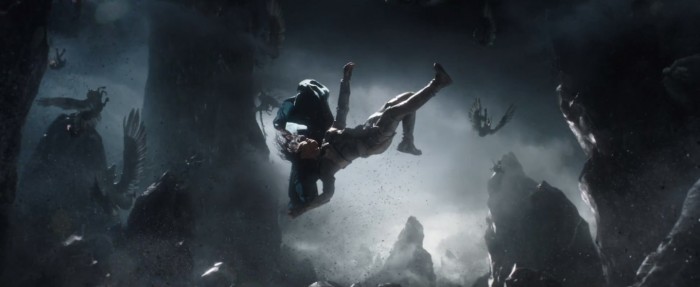 Whatever Hela did with her sword must have worked, because here we see Valkyrie and the rest of her team falling out of the sky in a shot that looks like a gorgeous painting.
Hela's plan in the comics was to expand her power to include the dead of Valhalla. And since the Valkyrior are responsible for those people, it would be their place to defend it from Hela. I'm betting we'll see Valkyrie banished from Asgard as a disgraced warrior after failing to defeat Hela. That's presumably why she's hanging out at a place like Sakaar and has resorted to bringing in potential gladiator contenders to The Grandmaster. It will also give her a reason to be hesitant to help Thor at first since she'll likely hold a grudge with Odin and Asgard.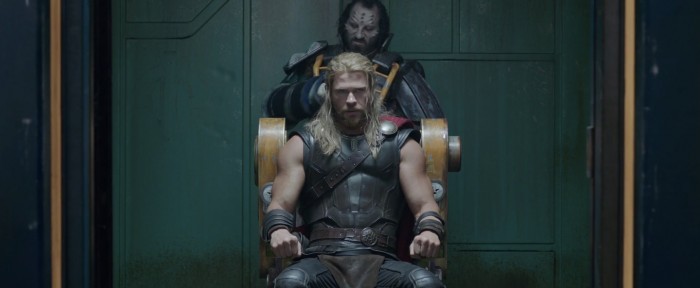 After being apprehended, Thor is restrained in this chair, and he doesn't look too thrilled to be getting a haircut by someone whose face looks like it has seen better days.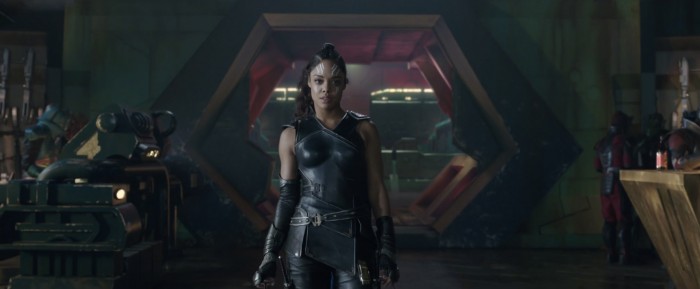 Valkyrie looks on in this scene (there's a nice touch where Valhalla is mentioned in the Led Zeppelin song during this shot as well), but what's she holding in her hand? Could that be her fee for bringing in Thor?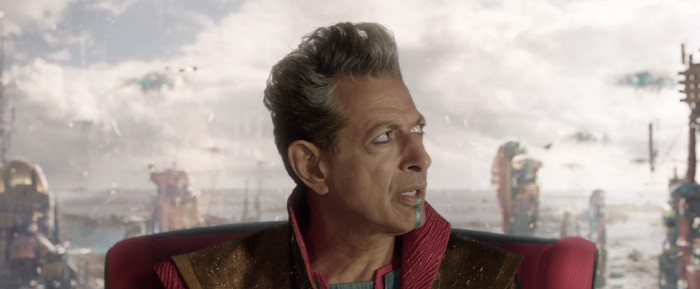 There's nothing particularly special about this shot of Jeff Goldblum as The Grandmaster, I just wanted to feature it because he looks so damn cool, and I want to see all of his scenes right now. He asks Valkyrie what she's brought him, and she responds simply, "A contender." A contender for what? We won't find out until after a series of cool shots that show us even more.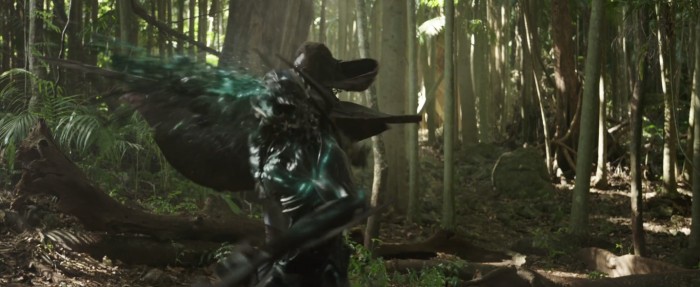 In a jungle somewhere, a warrior slices what looks like Hela (since there are antlers on the back of the suit), but since the slice results in the head exploding in green splatter, it may just be some kind of henchman that fights along with her.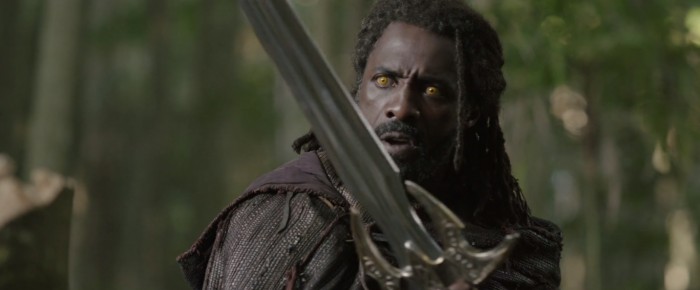 What's cool is that the warrior who was slicing whatever that thing was is none other than Idris Elba's  Heimdall, but he looks drastically different than we've seen before. He no longer has his gold armor and helmet and he has much longer hair, though he still wields the same sword. What is Heimdall doing here?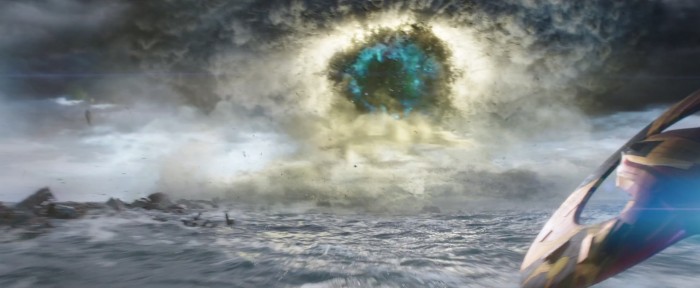 In the previous shots of Sakaar, we see some portals around the planet, and they appear to be a normal part of the environment. However, there's something much more intense happening with this particular portal. Also, there's that ship on the right that's swooping in, and we know it's going to be rather important, because a logo representing that ship is on the hats given to members of the Thor: Ragnarok production crew.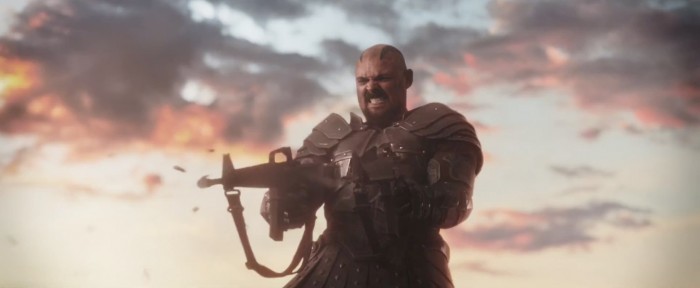 We finally have our first look at Karl Urban as Skruge the Executioner in a quick shot. He's wielding two assault rifles, which seems weird for someone in the Thor franchise, but it's pulled straight from the comics. Funnily enough, in the comics, Skurge also finds himself enamored with Amora the Enchantress and does her bidding because of it. It seems that some of Amora the Enchatress' elements are being transferred to Hela in the Marvel Cinematic Universe.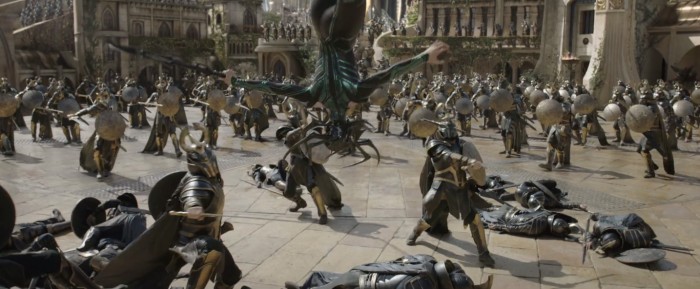 Here's another quick shot of Hela as she fights Asgardians. She flips through the air, and it looks like she's having no trouble dealing with an entire army. What's it going to take to stop her?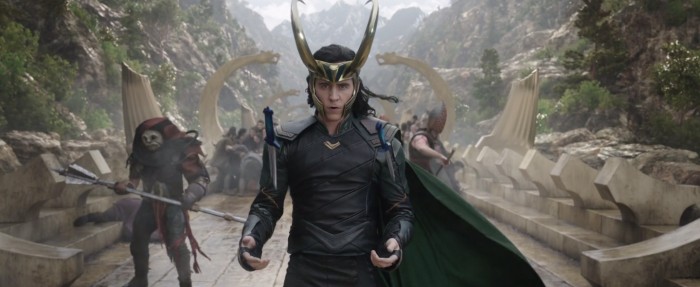 Next up, we get this killer shot of Tom Hiddleston as Loki, tossing a couple daggers into the air as he walks across a bridge that appears to be on Asgard. He's wearing his horned helmet and looks like a badass, but who is he walking towards in this instance? Could he be trying to defend Asgard from Hela at first before running away and leaving her to take over the city? Last we saw him, he was pretending to be Odin and ruling over Asgard, so he might be the only one there left to defend it. But what's that thing with a staff on the left and how are all those people behind him?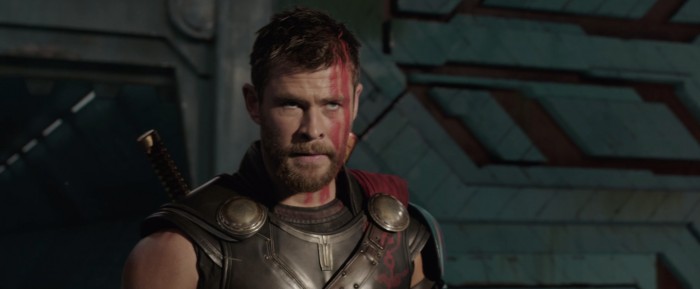 Now we're back to what Valkyrie brought Thor to The Grandmaster for the in first place. We've seen this look on Chris Hemworth from the first Thor: Ragnarok photos, which revealed his haircut and war paint. We hear Jeff Goldblum say it's main event time.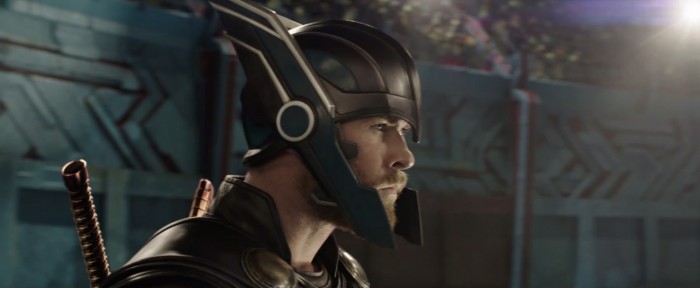 As the doors across the arena start to open to reveal his opponent, Thor puts on a new helmet, which looks like a futuristic version of his classic helmet as he locks the wings into place before battle.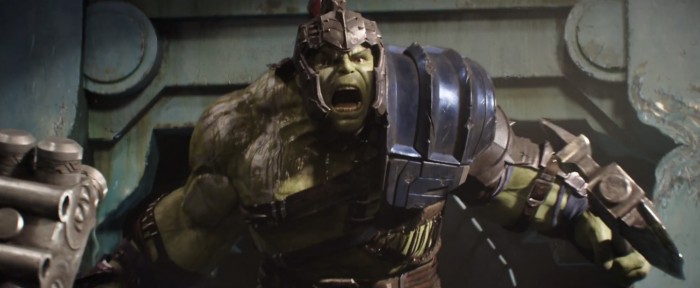 Then we get the money shot. Thor's opponent is none other than the Incredible Hulk, all decked out with gladiator armor and huge weapons. You would think Thor would look defeated and worried at this point, but instead...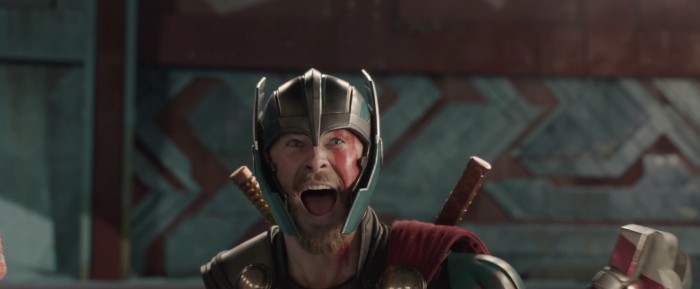 He couldn't be more thrilled. The look on Hemsworth's face is priceless and hilarious. He looks like what Marvel fans would look like if they encountered Hulk in real life.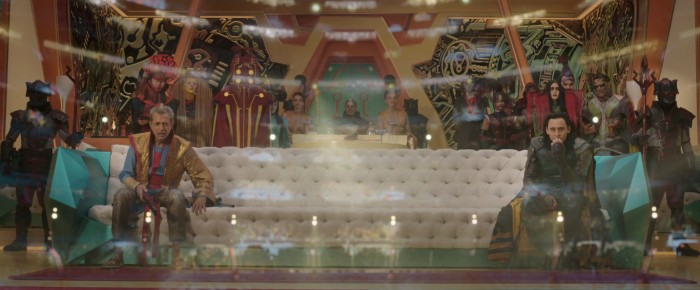 This creates some confusion among the spectators, including The Grandmaste,r who is watching from his luxurious box seat. And look who's there to watch the fun: none other than Loki. How did he end up on Sakaar?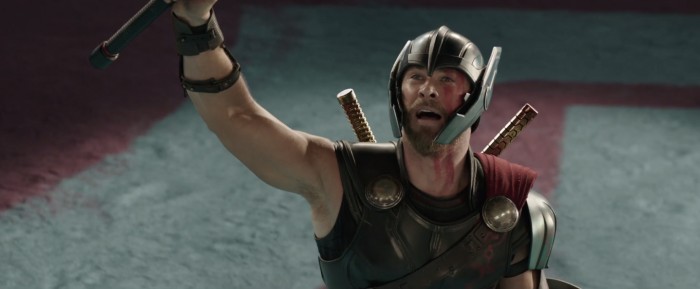 Thor delightfully explains that he knows Hulk as a friend from work, which is about the funniest way to describe being on the Avengers together and saving the world. However, it looks like someone doesn't care.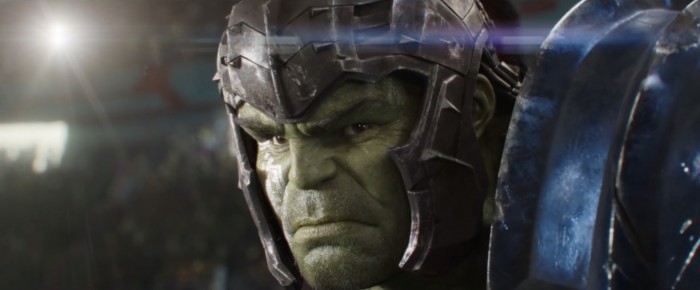 We know Bruce Banner (Mark Ruffalo) can't always control Hulk when he's in full "big guy" mode, and either that's what's happening here, or Banner knows that he has to keep up a certain appearance while on Sakaar or risk being in trouble himself. From previously released photos, it looks like when Thor and Bruce Banner (in human form) meet on Sakaar, it's somewhat in secret. That means Hulk and Thor are going to have to duke it out in the arena.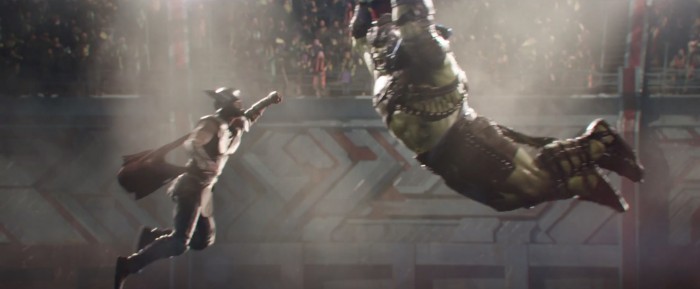 In a shot that feels straight from the comics: Thor and Hulk leap at each other before we smash to the Thor: Ragnarok title.
***
There was so much good stuff in this teaser trailer and I can't wait to see more. Again, we have to keep our hype in check, but this looks absolutely incredible so far. After this, director Taika Waititi is going to be a huge filmmaker (instead of just being a great filmmaker), and we're going to see some very exciting things from him in the future.
Thor: Ragnarok arrives on November 3, 2017.