'Star Wars: The Last Jedi' Rumors: New Details About Snoke, Laura Dern's Secret Role, First Preview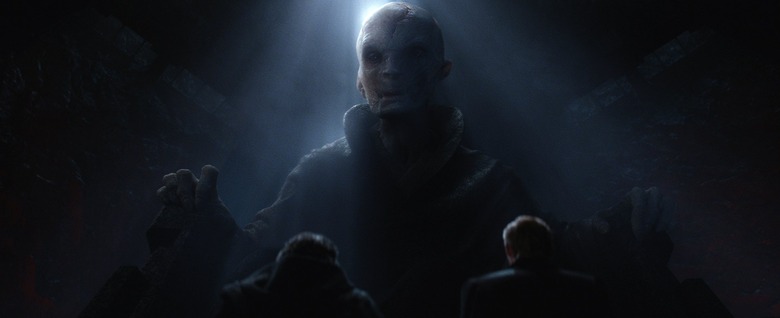 We're still eight months away from the theatrical release of Star Wars: The Last Jedi, but with Disney gearing up for Star Wars Celebration and a surge of new details emerging about Supreme Leader Snoke, Laura Dern's mystery character, Poe Dameron's increased role, and a battle on a newly named planet, the buzz for the eight episode of the Skywalker Saga is greater than ever.
Spoilers abound with these new rumors and leaks, so don't read past this sentence if you don't want to know more about The Last Jedi. And as is always the case, take all of this with the amount of salt you deem necessary – even an accurate rumor can change as a film evolves in post-production.
Supreme Leader Snoke Lives Large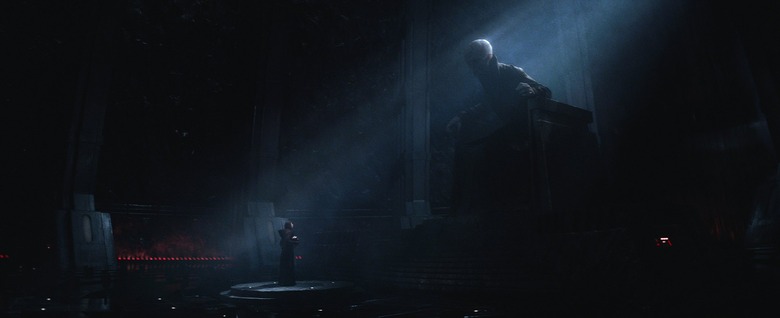 Until now, Snoke has been a shadowy figure in the back of fans' minds, looming over Kylo Ren in holographic, black-robed form in his brief scenes in The Force Awakens. But as fans speculate about Snoke's true identity, a few details about the character and his past have emerged thanks to Making Star Wars.
Snoke wears a "gold silky robe with a very ornate pattern on it" in The Last Jedi, Making Star Wars says, and resides in a very "opulent" throne room with a white and marble gold trim, suited to a former "playboy of sorts." Snoke wears a huge black ring on his left hand that is likely a kyber crystal, the Force-sensitive element that powers lightsabers, while his feet are adorned with gold "genie slippers" or "jester shoes." He is obviously a character obsessed with money, about which Making Star Wars notes, "Unlike the Sith, I think wealth means a lot to Supreme Leader Snoke based on his appearance."
As for where this ostentatious throne room will be located, Snoke is headquartered on on his Mega Destroyer during The Last Jedi, a flying wing shaped ship that may even be the biggest spaceship seen in Star Wars since the Death Star and Starkiller Base. While a classic Star Destroyer has three large engines, it's believed the Mega Destroyer has at least ten double stacked engines.
Laura Dern is a Resistance Admiral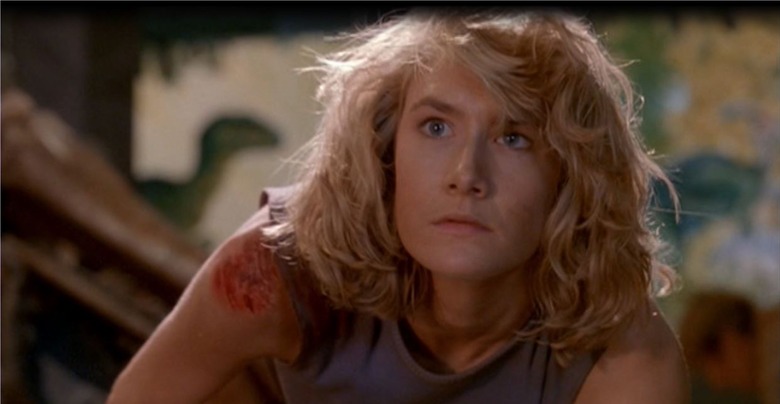 We may finally know the name of Laura Dern's mystery character in The Last Jedi: Admiral Holdo. At least, that's what she's been called in production, according to Making Star Wars. Dern "doesn't look like an admiral in the classic sense," wearing a long mauve regal gown with a short cape that hangs down in back with a concealed laser pistol. She caps off that outfit with metallic braces around her wrists pink hair curled with a "flapper vibe."
"She's kind of the antithesis of Leia's new general look of a brown dress with her old A New Hope blaster pistol," Making Star Wars observes. Though she's on the side of the Resistance, she appears to be Poe Dameron's nemesis in The Last Jedi, hinting that there's some division within the Resistance.
Poe Dameron Gets an Upgrade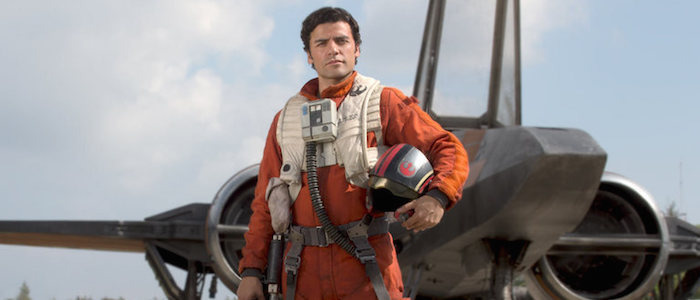 Poe will be getting a larger role in The Last Jedi, guiding remnants of the Resistance Fleet as they outrun the First Order fleet. In addition to his screentime, Poe's X-Wing will also get an upgrade, with some new engines making the ship even faster for the "helluva pilot."
He and Holdo seem like they will be clashing over the direction of the Resistance, as Holdo brings in new Resistance ships to the fleet and presumably a new perspective on the Resistance's role.
The Battle of Crait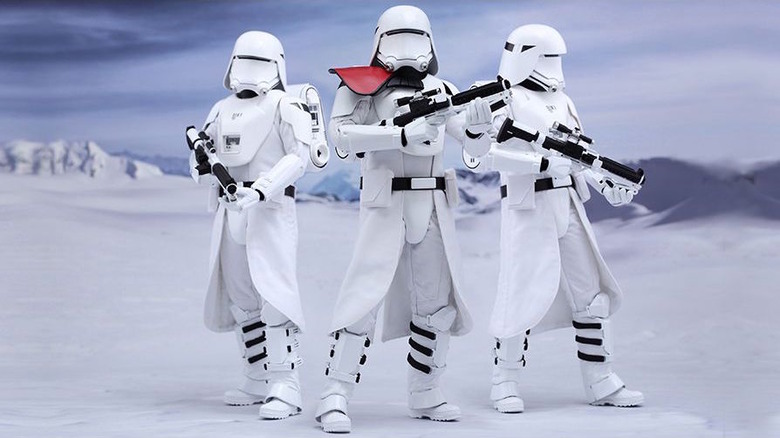 The big battle of The Last Jedi is set to take place on Crait, with the First Order's "gorilla walkers" (apparently called the "AT-4X") as the Resistance defends their base. According to background lore, the planet was a Rebel Alliance base the Resistance converted so they could mine the planet's gems, which they sell to fund their operations. The sequence appears to have been filmed in Bolivia on the Salar de Uyuni salt flat, which the presence of Snow Troopers indicate will actually be turned into snow through VFX work.
The Hoth parallels are obvious, though Star Wars Net theorizes that the battle could be more similar to the Battle of Scarif, thanks to ship designs with more effective firepower and explosive gems from the planet itself.
A Preview With a "Full Trailer Feel"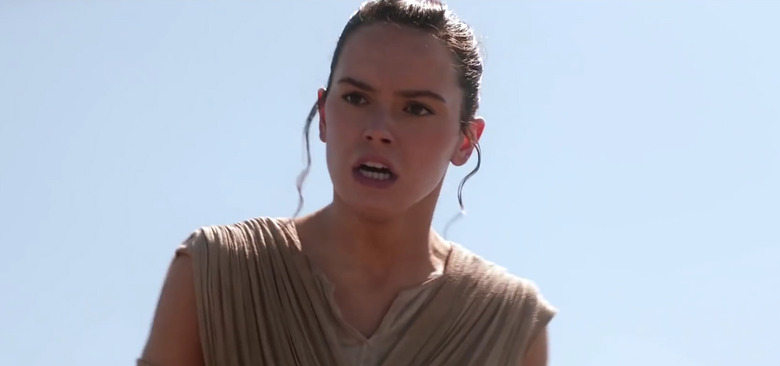 The first preview for The Last Jedi will supposedly premiere at Star Wars Celebration this week, and word has it that we'll be getting something closer to a full trailer than a sneak peek.
According to Star Wars News Net, the Celebration trailer has what they call a "full trailer feel" and not just "a brief teaser." No specifics beyond that are mentioned, though Disney recently showcased a sizzle reel at an investors' meeting, which may offer a template for what Star Wars Celebration attendees will see Friday.