'The Fate Of The Furious' Featurette: The Family Pays A Visit To The Big Apple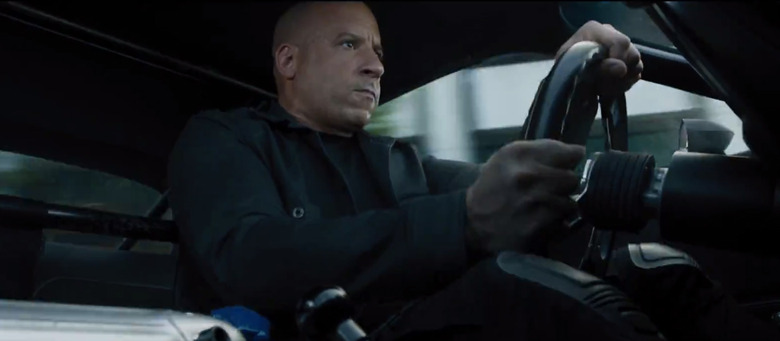 Director F. Gary Gray knows how to shoot a good car chase. When he took on The Italian Job remake, the bar was set high for the third act mini cooper chase. In the end, he directed a chase that didn't completely pale in comparison to the original film. No small feat. With the eight addition to the Fast and Furious franchise, he's again facing high expectations.
Based on a new The Fate of the Furious featurette, which teases the set piece in New York City, it doesn't look like Gray's action is, at the very least, going to lack scope.
Gray and screenwriter Chris Morgan have the team going on another globetrotting adventure in the new sequel, which is about Dominic Toretto (Vin Diesel), for reasons that better be good, turning his back on his family and doing the bidding of Cipher (Charlize Theron).
Whether his turn to the dark side is convincing at all, or if there's more of a story than Dom going rogue, we'll find out for ourselves next week. The early buzz is positive with our Peter Sciretta saying the sequel "takes the ridiculousness of the franchise to a whole new level, yet feels very different."
The Fast & Furious crew are now bringing their signature brand of ridiculous to New York City:
Anytime, anywhere, it's a pleasure to see Kurt Russell, but it'd be a mild disappointment if he doesn't get behind the wheel at least once in The Fate of the Furious. After Grindhouse, which recently turned 10 years old, who wouldn't want to see Russell partake in another car chase? Not just any car chase, a Fast & Furious car chase. We'll likely see him light up whatever scene he's in and make some exposition sing, but him driving alongside Dwayne Johnson or Jason Statham is an image maybe a few of us wouldn't mind having in our lives.
Here's the synopsis for the next chapter in the franchise:
Now that Dom and Letty are on their honeymoon and Brian and Mia have retired from the game—and the rest of the crew has been exonerated—the globetrotting team has found a semblance of a normal life. But when a mysterious woman (Charlize Theron) seduces Dom into the world of crime he can't seem to escape and a betrayal of those closest to him, they will face trials that will test them as never before.
From the shores of Cuba and the streets of New York City to the icy plains off the arctic Barents Sea, our elite force will crisscross the globe to stop an anarchist from unleashing chaos on the world's stage...and to bring home the man who made them a family.
The Fate of the Furious opens on April 14.