Brett Ratner Producing The Hugh Hefner Biopic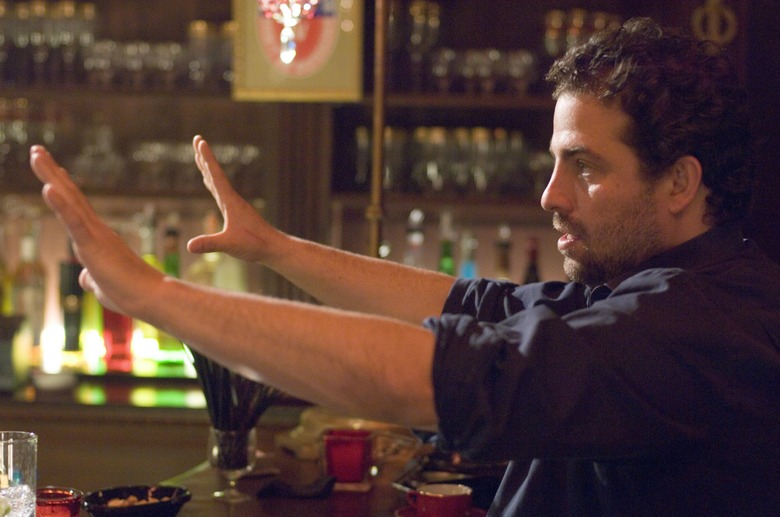 Over a decade ago, director Brett Ratner (Tower Heist) began developing a Hugh Hefner biopic called Playboy. Brian Grazer was going to produce the film about the founder of Playboy, which Oliver Stone once developed a few drafts for alongside 8 Mile screenwriter Scott Silver. Ratner and all involved talked about Robert Downey Jr. and Hugh Jackman for the role, but eventually Universal dropped the project and Ratner moved on. Now, he's circled back to it and intends to produce the film.
Below, learn more about the potential, long-gestating Hugh Hefner movie.
According to Deadline, RatPat Entertainment has secured the life rights to Hefner's story. The film, which doesn't have a writer or director attached, is a co-production between RatPac and Playboy/Alta Loma Entertainment. Hefner is executive producing.
When the project was at Warner Bros., director David Dobkin (Wedding Crashers), screenwriter Peter Morgan (Frost/Nixon), and the late, great Jerry Weintraub (Ocean's 11) were behind it. Hefner believes the perfect creative partners are now working on his life story:
In recent years there has been plenty of interest and much conversation about doing a feature film based on my life. I have always believed that when the timing was truly right, the perfect creative partners would come together for this project. I believe we've found those partners in Brett Ratner and RatPac Entertainment. I'm very much looking forward to this collaboration."
Ratner spent the last several months making this deal happen. He discussed the project's ups and downs in his statement, including when Universal wasn't interested in screenwriter Diablo Cody's (Young Adult) take:
I thought it was such a brilliant idea [when Grazer first got the rights] that I sent Brian a Playboy pinball machine from that 70s. Scott Silver wrote a script but they could never crack it and then I told Brian there was nobody better for this than me. And then I spent years unable to crack it, as a straight drama, or as a musical. Finally, Diablo Cody pitched a take that seemed promising, but Universal let it go and Jerry Weintraub and Warner Bros grabbed it. And they couldn't crack it either. In the meantime, I went from a seller to a buyer and I'm relieved to have it back so that we can develop it without the impatience from studios.
A decade ago, Ratner, the director, wanted to portray Hefner's "First Amendment struggles to his first orgy to the stroke in the 1980s that almost killed him." Now, he won't reveal what exactly they have planned for Hefner's biopic, but he sees a man who "had a dream and changed the world" and "cared about civil rights, women's rights, the preservation of the arts, jazz..." Hefner's story is a long and iconic one, which you can learn more about from Amazon's now streaming American Playboy.
Now the question is: Who could play the Playboy founder? I personally don't mind imagining Sam Rockwell or Joaquin Phoenix in the role.