'Game Of Thrones' Season 7 Costumes Revealed In New HBO Promo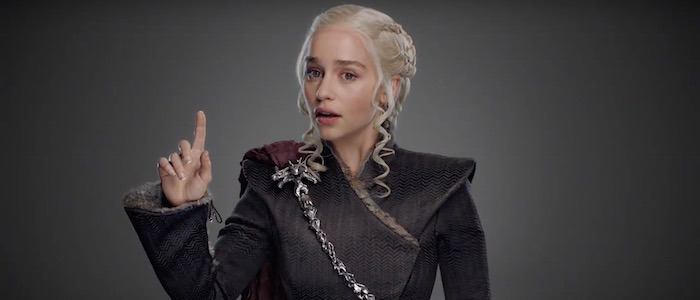 Do you see what you've done to us, HBO? By delaying the start of Game of Thrones season 7 until later in the summer, we're forced to pick through your video promos like hungry stray dogs in search of our next meal, desperate to find something, anything, to keep ourselves occupied. Winter has come, indeed.
I kid because I love. In fact, I love so much that I've gone through a new trio of HBO videos to pick out the shots that reveal the Game of Thrones cast in their season 7 costumes, some of which are brand new and some of which say a great deal about where we find these characters in the penultimate season.
The promos (which you can watch below) feature the cast members of various HBO shows imitating the familiar hum that follows the network's logo. This is why everyone's mouth is hanging open in the gallery below and why everyone looks more than a little silly.
So let's talk about what we can gather from these images. First of all, Daenerys Targaryen wins the style award here. Now that she's finally leaving sunny Essos behind and leading her army across the Narrow Sea to the Westeros (where winter has officially arrived), a change of clothing was a requirement. Her new outfit looks like it will keep her warm while also making it very clear that she's very much a war queen. The militaristic touches there are no accident. Team Fire and Blood looks great overall: Missandei and Tyrion Lannister have also received winter-friendly, stylish upgrades (and Tyrion is proudly wearing a Hand of the King pin, representing his dedication to Daenerys' cause).
The other big change is Arya Stark, who has also come back from Essos and has changed into something more appropriate. Her combination of cloak and sword make her finally look like the northern warrior she's always wanted to be.
Speaking of warriors killing people around the north, Sandor Clegane has ditched the farmer look in favor of something a little heavier, darker, and more intimidating. It's not armor, but it is something more appropriate for his new duties as a member of the Brotherhood Without Banners.
Game of Thrones season 7 premieres on July 16, 2017. If you need more, there's always that first teaser trailer.