LOL: Watch As HBO's 'Girls' Becomes 'The Golden Girls' In The Year 2067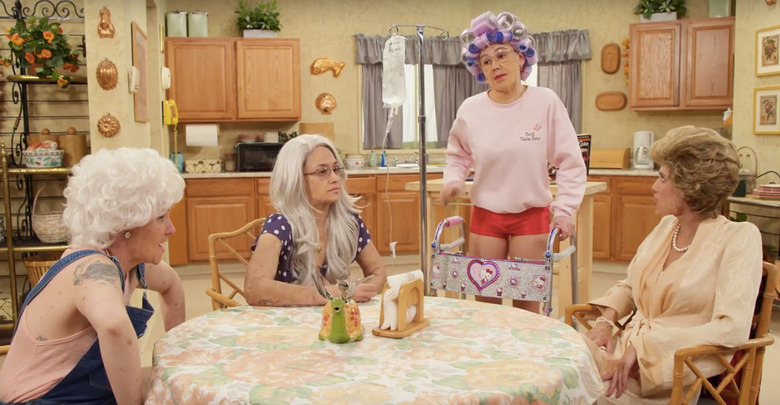 HBO's comedy series Girls is nearing an end to its sixth and final season. We're not sure where the stories of Hannah (Lena Dunham), Marnie (Allison Williams), Jessa (Jemima Kirke) and Shoshanna (Zosia Mamet) will end up, but we won't have to wait for long. Though this is the final season of the show, Lena Dunham has said that she would love to bring these characters back for a movie, but not until enough time has passed for them to be in a completely different place in their lvies.
That brings us to one Girls project that's even further down the road. In honor of the final season of Girls, the folks at Jimmy Kimmel Live decided to round up the four stars of the HBO series to put together a pilot for an update of The Golden Girls, featuring Hannah, Marnie, Jessa and Shoshanna living together like Bea Arthur, Betty White, Rue McClanahan and Estelle Getty did in the original version of the series.
Watch The Golden Girls spoof after the jump.
Honestly, if this show was real, I'd watch the hell out of it. I could maybe do without the laughtrack, but seeing what these inherently flawed characters have come to in their older years would be fascinating. This approach is obviously much more tongue-in-cheek, but there are flares of what life with these characters as old women would really be like. Plus, they've matched up each of the characters perfect with which of The Golden Girls they represent.
Meanwhile, I have to say that including Andrew Rannells as their roommate who hasn't aged at all is a nice touch. I'm kind of amazed this wasn't a Saturday Night Live sketch when Lena Dunham hosted. But I think it works better this way since all the Girls cast members were on board.