Legendary Comedian And 'Toy Story' Star Don Rickles Has Died At 90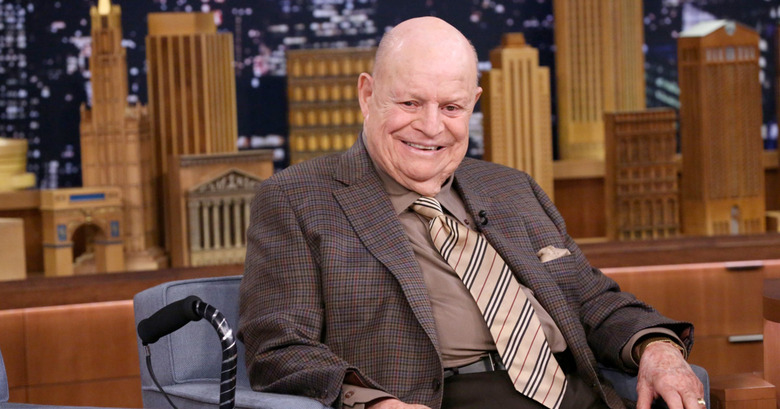 Don Rickles has been dubbed the king of insult comedy, known the world round for being able to throw jabs at some of the biggest names in entertainment. You'd be hard pressed to find a comedian working today who wasn't influenced by the long-running career of the comedian who turned roasting celebrities into an art form. Sadly, Don Rickles has passed away today at 90 years old.
We remember the life and career of the legendary comic after the jump.
News of Don Rickles dead was confirmed by his publicist Paul Shefrin (via Variety) after the comedian suffered kidney failure at his home in Los Angeles this morning.
Rickles was a well-known name not because of his iconic roles in film and television, but because of his legacy as a comedian. Though Rickles did spend some time on the big and small screen, he never became a big movie or TV star simply because audiences never really seemed to be able to accept him as anything but an abrasive insult comic. In many ways, that worked in his favor, because he was performing at nightclubs in Las Vegas and other venues up through his 1980s.
It was appearances at the various celebrity roasts he attended that brought him the most acclaim and respect. Rickles was brought in to take jabs at everyone from Ronald Reagan to Bob Hope. But Rickles was even more recognized for becoming an honorary member of the Rat Pack, the famous group composed of Frank Sinatra, Dean Martin, Sammy Davis Jr., Peter Lawford and Joe Bishop. In fact, Rickles earned a lot of respect for hilariously ripping into Sinatra during a celebrity roast:
Beyond his seemingly abrasive comedy side, Don Rickles was actually quite the sweetheart. That's why he kept coming back to The Tonight Show with Johnny Carson after his breakthrough appearance in 1965. We also got to see his more serious side with appearances in movies such as Run Silent, Run Deep, and Martin Scorsese's Casino. It's a shame that he didn't get more of an opportunity to showcase that talent having studied acting at the Academy of Dramatic Arts in New York after serving in the Navy during World War II.
Though he was never really a full-fledged TV star, Rickles' success in the world of comedy resulted in him getting his own TV show, called The Don Rickles Show. Sadly, it only lasted one season, but he would go on to have a job guest starring in plenty of shows like Archie Bunker's Place, The Lucy Show, F Troop, Get Smart, Newhart, Murphy Brown and most recently Hot in Cleveland. Personally, my favorite appearance he made was in a cameo role in Norm Macdonald's movie Dirty Work.
But today's audiences are probably more familiar with the voice of Don Rickles because he lent it to the character Mr. Potato Head in every installment of the Toy Story franchise. He even voiced the character in various video games, shorts, and other Toy Story tie-in media. He was slated to return for Toy Story 4, which is currently in pre-production, but it's not clear what will happen with the character now.
Rickles' popularity ebbed and flowed with time, just as the tastes of comedy changed over the years. He was one of the hardest working, kind-hearted, hilarious individuals from the old days of entertainment, and he will be missed greatly.
If you're interested in learning more about Don Rickles and seeing how funny he really is, you should watch John Landis' documentary Mr. Warmth: The Don Rickles Project. It's available on Netflix right now, and it resulted in an Emmy win for the comedian. Here's the trailer: