'GLOW' Photos: Alison Brie Leads The Gorgeous Ladies Of Wrestling In Netflix's New Series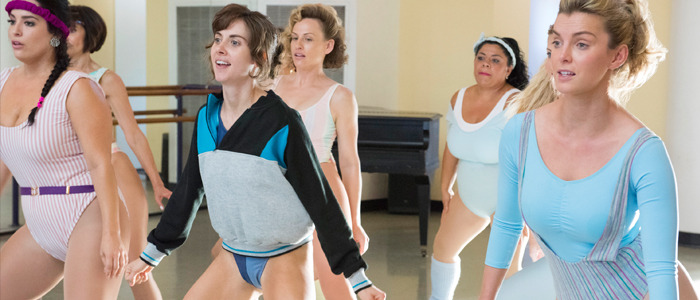 Netflix has been bolstering its stable of original content over the past few years, and since money doesn't seem to be a problem for them, they can shell out the cash necessary to make expensive period pieces like The Crown and the now-cancelled Marco Polo. But the streaming service seems to have a particular affinity for the 1980s, because along with things like Narcos, Stranger Things, and Wet Hot American Summer: First Day of Camp, Netflix is releasing a new show called GLOW that's also set in that decade.
The show premieres later this summer, but in the meantime, take a look at a batch of new photos featuring cast members Alison Brie (Community, Mad Men), Marc Maron (WTF with Marc Maron, Almost Famous), and more.
GLOW stands for "Gorgeous Ladies of Wrestling," and was based on a real-life wrestling TV series from the '80s. Take a look at the new photos and you'll instantly see how it represents the vibe of the era.
GLOW Photos
I'm getting a real Dodgeball vibe from these pics, which do a great job of capturing the down-and-out feeling of Alison Brie's character, a struggling actress who gets into the world of wrestling as a last attempt to salvage her career. Maron looks like he's a good fit to be the ringleader of this bunch of misfits, but more importantly, it looks like this show is putting its female characters front and center. You can watch the first teaser right here.
The show is the brainchild of Liz Flahive (Homeland, Nurse Jackie) and Carly Mensch (Nurse Jackie, Orange Is The New Black, Weeds). Orange Is the New Black creator Jenji Kohan and EP Tara Herrmann are executive producers on this series, but Flahive and Mensch are the showrunners.
All ten episodes of GLOW season one will arrive on Netflix on June 23, 2017.
Inspired by the short-lived but beloved show from the 80s, GLOW tells the fictional story of Ruth Wilder (Alison Brie), an out-of-work, struggling actress in 1980s Los Angeles who finds one last chance for stardom when she's thrust into the glitter and spandex world of women's wrestling. In addition to working with 12 Hollywood misfits, Ruth also has to compete with Debbie Eagan (Betty Gilpin) a former soap actress who left the business to have a baby, only to be sucked back into work when her picture perfect life is not what it seems. And at the wheel is Sam Sylvia (Marc Maron), a washed-up, coked-up B-movie director who now must lead 14 women on the journey to wrestling stardom.